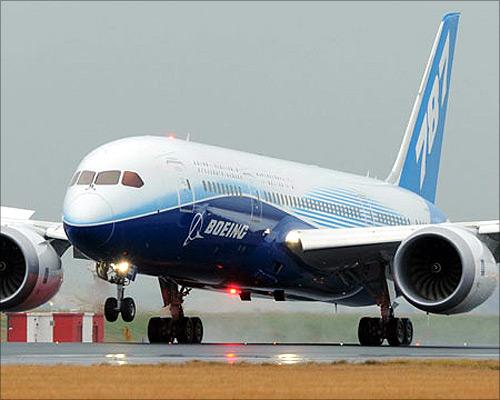 Air India is aiming to improve its financials by pruning loss-making flights, improving fleet use, increasing web sales and selling & leasing back 14 Boeing 787s by March-end, top airline executives said on Monday.
The state-owned airline could reduce its full-year loss to Rs 3,900 crore (Rs 39 billion) for this financial year from Rs 5,200 crore (Rs 52 billion) in the past one. Operating costs have risen sharply on higher fuel prices and a weaker rupee against the dollar, making it critical for the airline to increase savings.
The airline has sold and leased back two Boeing 787s, at a profit of $30 million, and will complete the sale and lease-back for the remaining planes by March-end. It also plans to sell three remaining fuel-guzzling Boeing 777-200LRs. Air India sold five of these to Etihad last year for about $350 million.
"We are rationalising all loss-making routes. Our fleet utilisation in the domestic sector has improved from earlier eight hours to 10 hours daily. The Boeing 787 have given positive results on routes on which the airline was incurring a cash loss. The fuel burn on these aircraft is 15 per cent lower than Boeing 777s," said S Venkat, director (finance).
"We have been able to reduce our cash losses and we expect this trend to continue. The interest cost has reduced by about Rs 250-300 crore each year," he added. The airline plans to turn Ebitda (earning before interest, taxes, depreciation and amortisation)-positive this financial year but challenges persist. Some big-ticket items such as asset monetisation have not generated enough revenue, with the airline earning about Rs 40 crore of its targeted Rs 1,200 crore (Rs 12 billion).
Venkat said the hiving off of ground-handling and engineering departments was also showing results. "Private airlines are approaching us to carry out overhaul of their aircraft," he said. The airline has repair and overhaul units in Nagpur, Delhi, Hyderabad and Thiruvananthapuram. Air India will cut head count by 17,000-20,000 after hiving off the departments.
"We have improved our load factors, time performance and yields. The load factor target has exceeded the target set in the turnaround plan," he said. Anil Mehta, executive director (corporate affairs), said the focus was also on increasing sales from its website. Its proportion in the total revenue has increased to 17 per cent from eight-nine per cent earlier, he said. He added the airline had begun accepting the American Express credit card to increase international sales.
The airline will upgrade its website to allow users check expected time of flight arrivals by linking to its operational control centre. At present, customers can check an aircraft's location on the website.