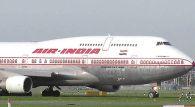 Air India on Tuesday announced the launch of daily international flights from Melbourne to Delhi from first November this year.
The new service was announced after AI Chief Arvind Jadhav signed a deal with Victorian Premier, John Brumby.
"AI's decision to make Melbourne the destination for its first direct international flight to Australia shows it was recognising Victoria as Australia's premier destination for Indian tourists and businesses", Brumby said. Air India has also decided to establish their regional headquarters in Melbourne.
John Brumby said this will create upto 78 jobs and see upto 123,000 new tourist and business arrivals from India to the state each year.
"With growing Indian community living in Victoria we are also seeing more relatives and friends visit the state, which is great for local jobs and the economy as tourism grows", he added. Melbourne Airport CEO Chris Woodruff said Indian community was growing fast with 34 per cent rise in visitors from India to Victoria last year.
 "By choosing Melbourne as their base, AI has seized this market opportunity", he said. Sources in AI said the company was now eyeing tourist market in Australia by offering flights to the US and the UK via Delhi at competitive prices.
The deal, apparently, will also help improve strained relations between the two countries after media reported 'racially motivated' attacks on Indian students in Australia during 2009-2010.
Australia India Business Council vice chairman Ravi Bhatia said the AI new venture was a great step forward in India-Australia business and trade relationship. "The new alliance of AI is a huge part of rebuilding our relations with Australia that has been slightly dented in the past", he said.