In a turnaround plan vetted by financial advisory firm Deloitte, Air India has asked for equity infusion of Rs 2,000 crore (Rs 20 billion) more from the government in the current financial year.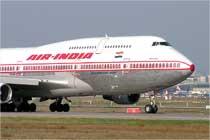 This demand is over and above the Rs 1,200 crore (Rs 12 billion) the airline is likely to receive soon and will be presented to and discussed by the civil aviation ministry on Monday.

"This Rs 2,000 crore (Rs 20 billion) equity infusion will give us enough strength to negotiate with the oil companies and airport operators and get some discounts. Fresh money will also help boost the morale of employees," said a senior Air India official, who did not wish to be identified.

State-run oil companies, to which the national carrier owes around Rs 2,300 crore (Rs 23 billion), have already refused the airline credit from December 13, forcing it to pay them around Rs 12.5 crore (Rs 125 million) daily for the fuel it requires for national and international flights. Air India also owes over Rs 600 crore (Rs 6 billion) to the Airports Authority of India.

Air India received Rs 800 crore (Rs 8 billion) last fiscal, increasing its equity base to Rs 945 crore (Rs 9.45 billion) and has a total debt of Rs 40,000 crore (Rs 400 billion) (over Rs 19,000 crore (Rs 190 billion) is high-cost working capital debt).

"The Rs 2,000 crore, over and above the Rs 1,200 crore (Rs 12 billion), will help us bring down our debt-equity ratio to 1:40. With such a ratio, we can renegotiate with banks to bring down our interest rate by 3 percentage points to 8.5 per cent, saving over Rs 600 crore on interest payments," said the official.

Air India's annual interest payment is around Rs 1,800 crore (Rs 18 billion) and the airline has accumulated losses of over Rs 15,000 crore (RS 150 billion). The carrier lost Rs 2,226 crore (Rs 22.26 billion) in 2007-08, Rs 7,189 crore (Rs 71.89 billion) in 2008-09, and Rs 5,551 crore (Rs 55.51 billion) in 2009-10.

The turnaround plan also talks about increasing domestic marketshare to over 30 per cent by 2014, operating a fleet of 280 aircraft and around 10 per cent of employees retiring.

"In the coming three years, Air India will also see around 2,600 employees retiring. We also have plans to shift one third of the employees to different subsidiaries. All these initiatives will reduce our employee per aircraft to 60 from over 250 now," said the official.

Currently, Air India has around 30,000 employees. It has created a ground-handling subsidiary called Air India-Singapore Airport Terminal Services and is awaiting Cabinet approval for an aircraft maintenance subsidiary called Air India Engineering Service.

Meanwhile, the national carrier has also deputed Executive Director Deepak Brara as chief operating officer of the ground handling subsidiary. He will report to Air India COO Gustav Baldauf, who reports to Air India chairman & managing director Arvind Jadhav.