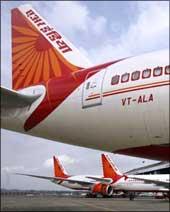 Air India top brass on Thursday met leaders of two pilots' unions and assured them that their problems would be looked into, especially those relating to the wage structure.
A demand for parity in wages between the pilots of erstwhile Indian Airlines and Air India was among the major issues raised by the Indian Commercial Pilots Association (ICPA), the apex body of erstwhile Indian Airlines pilots.
Air India CMD Arvind Jadhav and other top officials held separate meetings with the leaders of the ICPA and the Indian Pilots Guild of Air India at the Mumbai headquarters, two days after the newly-constituted Board of the national carrier met for the first time.
As part of its cost-cutting and restructuring plans, Air India board had on Tuesday set up four committees -- audit, finance, strategy and human resources -- to provide inputs to the management through which progress of the turnaround plan could be monitored.
The ICPA's demand for parity in salary and allowances of pilots of the two former airlines came in the backdrop of strong recommendations of the Parliamentary Standing Committee and the Committee on Public Undertakings.
Both parliamentary panels had recommended pay parity among all sections of staff and to ensure that there was "no loss of emoluments and a feeling of alienation amongst the employees of the two organisations".
ICPA sources said the management assured them that they would look into this demand as part of rationalising and restructuring the wage structure.
The ICPA also raised the issue of recruitment of trainee pilots by the management. It had earlier opposed it on grounds that the existing strength was not being fully used.
The management informed them that a decision had been taken to recruit only 40 trainee pilots, the sources said. The Indian Pilots Guild leaders also raised certain demands relating to their working conditions, they said.
Recently, the ICPA had threatened not to operate to the Afghan capital of Kabul if the management did not draw up "clear-cut guidelines" for flying to the troubled nation.
Maintaining that life of the crew and passengers were being put in 'jeopardy', the ICPA had claimed that air traffic control in Kabul was poor and airspace "not free of conflicting traffic'. It had also said 'no special procedures" had been devised after the December 1999 Kandahar hijack of the Indian Airlines flight IC-814.
The AI CMD had then said the airline was not flying to an unsafe zone and all procedures and safety requirements laid down by the DGCA were being complied with for the flight operations to Kabul.