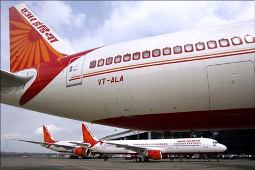 Air India has not taken any decision about importing aviation fuel directly, Civil Aviation Minister Ajit Singh said on Tuesday.

In reply to a question in Rajya Sabha as to whether Air India was eyeing Rs 300 crore (Rs 3 billion) saving via direct fuel import, the Minister said, "AI has not yet decided about import of Air Turbine Fuel directly".

The minister had earlier informed the House that five domestic airlines -- Kingfisher Airlines, SpiceJet, IndiGo, Go Airlines and Air India -- had been granted permission to import ATF directly.

Kingfisher has been allowed to import five lakh kilolitres of ATF worth Rs 2,233 crore (Rs 22.33 billion); SpiceJet 50,000 kilolitres worth Rs 235 crore (Rs 2.35 billion); IndiGo 7.15 lakh kilolitres worth Rs 3,200 crore (Rs 32 billion), Go Airlines two lakh kilolitres worth Rs 1,200 crore (Rs 12 billion) and Air India one lakh kilolitres worth Rs 503.93 million, he had said in written reply on August 14.

Allowing direct import of ATF has been a long standing demand of the airlines, as high taxes on ATF by the state, ranging from four per cent to 30 per cent, has been hitting them hard as they have to spend more than 40
per cent of the operating cost on fuel.
The airlines have been demanding reduction in sales taxes by the state government besides putting the ATF in declared goods category.
In reply to a separate question, Singh said that in order to generate revenue, Air India has offered to lease out the unused area of Air India Building at Nariman Point in Mumbai.
"Air India proposes to offer unused area of Air India building at Nariman Point in Mumbai on lease. Lease rental is expected to generate some revenue," Singh said in his reply.