After Coca Cola, another softdrink major Pepsi has come on the radar of the Left Democratic Front government in Kerala which has alleged that its plant in Palakkad district was extracting excess ground water and discharging effluents and solid wastes with pollutants.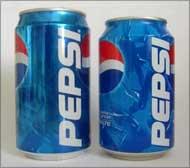 The plant at Pudussery was found to have been depleting the water table in the locality over the years, the state Assembly was informed on Thursday.
Water Resources Minister N K Premachandran said the ground water level in the area in March-April was below the seasonal average of previous years.
Officials concerned had been instructed to ensure that the effluents discharged by the plant was pollution free, he said in a written reply to the House.
Premachandran's statement comes a day after the state government decided to set up a tribunal to realise compensation from Hindustan Coca Cola Beverages Limited for polluting environment and causing health problems to the people in the area.
The Coke plant in Plachimada in Palakkad had run into trouble with protests from resistance groups and become virtually dysfunctional for the past four years.
A high-power committee set up by the government had estimated that Rs 216.26 crore (Rs 2.16 billion) had to be realised from Coca Cola for the damage it caused to the environment and the populace in the region.
Rejecting the government charges, Coca Cola had said the setting up of the experts' panel was based on "pre-determined and unproven conclusions" that the plant had caused loss to the people in the area.
Numerous scientific studies and investigations by independent experts and the state government itself had shown that the plant was not the cause of local water-shed issues, the company had claimed.