Affluent travellers from India, China and South Africa are making a beeline to Malaysia and are set to become the top source markets of big spenders for the scenic country's tourism industry over the next two years.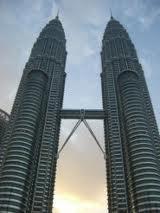 A Visa Global Travel Intentions Survey 2011 indicated that 30 per cent of affluent travellers to Malaysia would be from China, 26 per cent from India and eight per cent from South Africa over the next two years.

The South East Asian country, which is home to several beautiful islands and beaches and other tourist hostspots is among the top 10 most visited countries in the world.

At a convenient distance from India, Malaysia is already being flocked by Indians. In 2010 a little less than seven lakhs Indians travelled to Malaysia. As both Malaysia and Singapore have a sizeable number of ethnic Indians, Indian cuisine is readily available to travellers from India.

Eight per cent of Malaysia's population is ethnic Indian, mostly Tamils.

Besides amusement parks, casinos and malls, Malaysia also has a fair share of Hindu temples with the Batu Caves
Murugan temple on the outskirts of Kuala Lumpur attracting Indian visitors.
The survey said travellers from the three regions were mainly professionals, managers, executives and businessmen who earn about 13,800 ringgit or about 2 lakh rupees a month.
The online survey, conducted by Nielsen in February and March, asked 11,620 respondents from 23 countries about their past and future travel plans.
They had travelled for holidays in the past two years or intend to do so in the next two years.
The survey showed travellers visiting Malaysia would engage in outdoor activities (74 per cent), local food tours (70 per cent), water sports (66 per cent), nightlife (63 per cent), music (62 per cent) and health, wellness and relaxation (59 per cent).
Visa Malaysia country manager Stuart Tomlinson said the fact that affluent travellers from China, India and South Africa would consider visiting the country in the next two years was a bright spot for the industry.
"Malaysia is blessed with the best natural sceneries in the world, great food and dining, vibrant nightlife and is in a position to provide everything that affluent travellers seek in a holiday," he said.