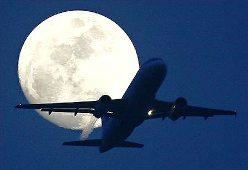 Airlines' plans to import jet fuel directly is now a step closer to realisation, with the Airports Authority of India looking at providing common infrastructure for supplying aviation turbine fuel across all major airports.

In a meeting with stakeholders last week, the authority mooted setting up a Special Purpose Vehicle along with airlines and state-owned oil marketing companies to develop common infrastructure to import ATF, among others, at Chennai and Kolkata airports.

While AAI and OMCs will hold 76 per cent in the proposed SPV, the airlines will participate in the remaining 24 per cent equity.

A senior official at AAI said, "We are looking at forming a three-way joint venture with OMCs and airlines to supply jet fuel.

The purpose is to create common infrastructure, which will help in lowering user charges."

He declined to share the details of how much ATF costs are likely to reduce once such a common structure is put in place.

Industry sources indicated that fuel expenses can drop by at least 10 per cent.

The proposed SPV would have the mandate to set up fuel farms to be operated on the lines of an open access model across major airports. A senior petroleum ministry official informed, "AAI had mooted the idea in a recent meeting between the two ministries. We are looking at ways to take the matter forward."

AAI currently manages operations at 125 airports.

The open access model -- a one-of-its-kind initiative in India -- is currently under implementation at the Delhi and Hyderabad international airports.

Under this arrangement, common storage facilities are set up for utilisation by any OMC in lieu of a pre-determined fee.

Any oil company can supply fuel to airlines according to a mutually decided agreement, resulting in increased competition and thereby enhanced service and competitive pricing. The airlines, in turn, have a choice of fuel suppliers to source from.

"It is time we segregated ownership of the ATF infrastructure at the airports and the supply of ATF.

"This is similar to the power sector, where
unbundling of transmission and distribution led to greater quality of service.
"This will help create a level playing field for companies desirous of supplying ATF to airlines at prices lower than the current levels.
For airlines, ATF is the single-biggest cost head and hence every rupee saved is a rupee gained," said Amber Dubey, partner and head-aviation at global consultancy firm KPMG.
Fuel costs currently account for as much as 50 per cent of the operational expenses of an airline in India.
The value added tax on ATF ranges from four per cent to 30 per cent, depending on sales tax levied by a state.
A senior executive at a private OMC said, "If airlines import jet fuel directly, they would only have to pay only customs duty and countervailing duty.
"But the logistical challenges make it economically unviable.
"A common infrastructure at airports based on an open access model can create a win-win situation for all involved." The Union government had allowed airlines to directly import fuel in February 2012. However, lack of infrastructure has prevented them from importing.
If the blue-print outlined by AAI goes through, infrastructural constraints faced by airlines in importing jet fuel directly would be addressed.
A BOON FOR AIRLINES
The Airports Authority of India (AAI) has mooted setting up a special purpose vehicle along with airlines and state-owned oil-marketing companies to develop common infrastructure for importing aviation turbine fuel
AAI and OMCs would hold 76 per cent stake in the proposed SPV, while the remaining equity would be with participating airlines
The proposed SPV would have the mandate to set up fuel farms to be operated on lines of an open access model across major airports in the country
Under the open access model currently at Delhi and Hyderabad International Airports, common storage facilities are set up by any OMC for a fee. Any OMC can supply fuel to airlines under a mutually decided agreement. The airlines have a choice of fuel suppliers to source from
The Union government had allowed airlines to directly import fuel in February 2012. However, lack of infrastructure has prevented them from beginning imports