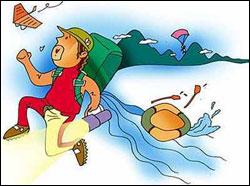 ElectraCard Services (ECS), a provider of software solutions for electronic payment systems, has partnered with UAE Exchange, a global remittance and foreign exchange brand, for the launch of gocash, West Asia's first multi-currency prepaid travel card.
ECS is the technology and processing service partner for UAE Exchange. This 'gocash' card empowers travellers with an option to load up to six currencies from a choice of fifteen.
'Gocash' is a multi-currency prepaid card, which enables the cardholders to use the appropriate currency loaded on the card, based on the country being visited or the priority pre-set by the user. The exchange rate lock facility, world-wide acceptance and the chip & PIN security are some of the features of gocash.
It also enables the users to re-load from any of the widely networked UAE Exchange branches in the UAE, accessibility to use across 34.3 million merchant locations and 1.5 million ATMs, worldwide and 24×7 customer care assistance.
Ramesh Mengawade, CEO, ElectraCard Services said, "This card is designed to meet the needs of travellers. It addresses all the major financial issues a traveller faces, while travelling to another country. As partners, we have delivered a technology which will assist a well designed product to meet the present and future needs of the customers."