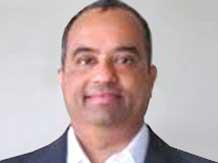 Last month, C V L Srinivas took over as GroupM's CEO for South Asia. GroupM is the big brother of the media buying business.

The WPP-owned agency is the world's largest media planning and buying firm, controlling other firms such as Mindshare and Maxus.

According to Paris-based RECMA, GroupM controls over 40 per cent of the Rs 30,000 crore (Rs 300 billion) that marketers spent on print, TV, and other mass media and below-the-line activities, in India.

Vanita Kohli-Khandekar spoke to Srinivas on his view of the business.

Excerpts.

On the GroupM role, challenges and opportunities, what is missing in the firm's portfolio?

It is exciting because GroupM has a dominating role and so do all its multiple agencies.

It is challenging because Group M is the market leader.

So the job is not just about maintenance, but about creating new practices.

If you look at the overall market, from where it was five years ago, there is so much more a media agency like ours can do.

For example as digital evolves, the role of the agency changes.

Digital blurs the line between the channel and the creative.

So if a media agency earlier was only about the spots and ads, today because of digital, it offers more solutions in the area of content.

Over the years, we have built a fairly robust digital business either through acquisitions such as Quasar or through alliances.

We have a robust mobile advertising practice, films, sports, entertainment, events and so on.

So nothing is missing. Going forward we will be looking at more integration among these services.

On the hype and reality on digital. . .

I agree that the total spend on digital is only five per cent of national, but more than 70-80 per cent of the conversations with clients are about digital.

But the time is now ripe for the floodgates to open.

And all the indicators suggest that.

Digital is already the third largest media, after print and TV, in terms of advertising spends.

It is 50 per cent more than radio.

TV is about Rs 16,000-17,000 crore (Rs 160-170 billion), print is Rs 15,000 crore (Rs 150 billion) and digital is Rs 2,000 crore (Rs 20 billion).

In the next wave of double digit growth for digital media, newspapers will lose.

On the poor margins in the media buying business. . .

Media fees from traditional media offerings have been coming down over the years. Therefore scale is important.

That will define our ability to invest back in our business.

By managing the backend with more hardware and software systems and streamlining operations and with scale, the agency business can still be profitable.

The operating profit margins in this business (20-25 per cent) are as good or bad as those in any other business.

On GroupM being accused of being a monopoly in the media buying business.

It is not just scale that matters, but the intelligent application of scale.

Within each practice we have evolved the media product to very high levels.

For example we set up a business analytics business, Meritus, in Bengaluru, seven years ago.

It does very sophisticated and evolved analytics and now clients from across the world are using it.

On the corruption in the media planning and buying business. . .

At GroupM and WPP we have a zero tolerance policy on how we conduct ourselves and following ethical practices.

This is at a local, regional and global level. So we take all precautions possible.
Image: C V L Srinivas | Photograph, courtesy: Business Standard