Peter Hill, CEO of SriLankan Airlines, is a worried man. With tourism to Sri Lanka having been hit by the tsunami disaster, the airline chief was in India to promote both the island country as well as his carrier which, currently, is the largest foreign airline operating in India with 71 weekly flights to 10 destinations in the country.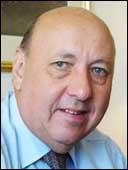 Before a spectacular evening of entertainment, Hill spoke with Kishore Singh on the resurrection of travel and passengers to Sri Lanka.
How is the trade reacting to Sri Lanka in its post-tsunami phase?
In Japan and Europe the trade has been persuaded to drop it from its programmes, as a result of which future bookings have dropped dramatically. We've been hit rather hard.
But Sri Lanka is resilient and in the past has shown it recovers very fast. But it will take us the next winter to recover arrivals to the pre-tsunami numbers.
However, our short-term message to the trade is that 85 per cent of the country has remained unaffected by the tsunami.
How has it impacted SriLankan Airlines?
Pretty significantly. Our load-factor that used to be 80 per cent is down to 40 per cent. The financial impact of the tsunami will be to the tune of $15-20 million.
Add the $40-45 million we're likely to lose because of the 75 per cent hike in aviation fuel, and we'll be taking a huge hit in the current financial year.
What are plans for SriLankan's revival?
In India we're launching a two-for-one pricing initiative that will book a package for the airline, hotels and ground arrangements at half the airline ticket price for two people. We have to get passengers coming back quickly to us.
What about important tourist-generating markets?
The travel advisories are just beginning to come off in Japan and Europe, so promotions will begin there next. Between now and October/November, we have to grow the market.
We're also looking at continuing work with India, where we can promote India as a destination for South-east Asians using Colombo as a hub. Regular travellers still don't know that Colombo is a viable option for connecting the region.
Colombo airport is going in for major re-development, and Colombo is going to be a more important transfer point in the future.
What about new initiatives?
We're working hard with our partner Emirates for flights through Colombo and Dubai. Because of a lack of demand for services to the Maldives currently affecting both airlines, we may work out a code sharing arrangement on some other sectors.
We're introducing Beijing in June, adding flights to Heathrow, and may be revamping services to mainland Europe.
What about building the SriLankan brand?
We will reinforce it through a series of 90-second commercials on Sri Lanka, post-tsunami, that will include a 15 second plug on the airline. We will target people's help in contributing to the rebuilding of Sri Lanka by flying SriLankan or coming here for a holiday.
We also have two amphibious float planes in Colombo to which you can now transfer directly from your flight at Colombo for onward travel to Kandy, for instance, cutting down on travel time considerably.
Both aircraft are 15-seaters, and most destinations from Colombo are a half-hour to 45 minutes by air.

Powered by