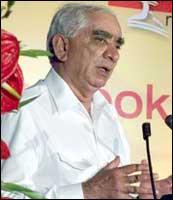 Finance Minister Jaswant Singh works seven days a week these days to the utter discomfort of his officials. But then in election time, he has many commitments to keep.
From giving inputs to Sudheendra Kulkarni in the Prime Minister's Office and to National Democratic Alliance Convener George Fernandes for the agenda released last week to campaigning in Kerala and Karnataka, Singh has had a hectic fortnight. He, however, appears relaxed.
Though busy organising his next round of campaigning in Maharashtra, Gujarat and Rajasthan, Singh has managed to add several new books like After the Enemies (on Al-Qaeda and West Asian terror), a new biography of Stalin and a biography of historian Eric Hobsbawm, to his library.
With the Gayatri mantra resonating in the background and the fragrance of incense sticks filling his chamber, Singh spoke at length on the NDA's agenda, and his commitment to fulfil it in letter and spirit in an interview with Business Standard.
Excerpts:
The NDA agenda promises to revisit the FDI limit in insurance. Do you?
Yes, it is. I believe that we need to revisit the foreign direct investment limits that we have placed upon insurance. By revisit, I mean that it is subject to Parliament approvals. Parliament is seized of the banking and insurance reforms.
I am a servant of Parliament. I cannot act outside the parliamentary will. In the last 18 months since I have been managing the country's economy, I have seen that Parliament demands of the political executives to explain and explain again. I do not have the arrogance to say that we have an answer. We endeavour to get the best answer.
Will the FDI limit in the insurance sector be increased to 49 per cent from the present 26 per cent as demanded by the industry?
We have opened the insurance sector. There are private entrepreneurs in the field now who have already provided significant competition to state-held entities. Therefore the state-held entities must really improve their efficiency.
There are two kinds of efficiency. One is the efficiency born of a monopoly position, which lends to the enterprise an exclusiveness. And the other efficiency is born when the institutions have to compete with rivals.
Will you do away with the Foreign Investment Promotion Board? There has been a lot of talk about the role of FIPB and its need in the liberalised environment.
Personally, I do not think that we need an organisation like the Foreign Investment Promotion Board. But it is not a decision that the ministry of finance alone can take. There are a number of interconnected regulations or restraints that need to be realigned.
FIPB is now part of the finance ministry and we have made it a green channel as much as we can. But is it serving a purpose? I will begin examining its vital importance. But I cannot do it single-handedly.
What about plans to re-organise the Planning Commission? What exactly does the NDA have in mind?
The Planning Commission, we have said, needs to be reformed. It is a venerable institution and it continues to serve a very important purpose. Above all, an aspect of the Planning Commission that is often ignored is its vital function of helping and assisting the economy of the country's federal structure.
The Planning Commission has had the same structure for the past 50 years and the world has considerably changed during the period. There is a need to take a fresh look at its structure and functioning keeping in view the development needs of the people.
The NDA agenda has proposed to create a new ministry for international trade. Is there a need for it?
It is our experience that there are complexities in the WTO negotiations. We need to address this issue. There is internal commerce, commercial activity, and there is international trade.
I don't say they are rival or competing functions. But they are two different functions. Now, you can counter that by asking why do you need an additional ministry? But that is for the prime minister to address.
Will the ministry of  international trade be similar to the US Trade Representative's office?
I don't think so. We must not attempt to find an answer to our questions by emulating someone else's organisation or experiences. It does not work.
I believe that India is unique and therefore we must find answers to our questions from within India and from within the genius in India.
There was an earlier plan to bring the commerce and industry ministry also under the finance ministry. Is it being considered now?
I do not wish to go into detail. The ministry of finance does not intend to spread its parish territory. It's a very large responsibility. But these things have to be thought through.
Divestment Minister Arun Shourie recently said the government can raise Rs 100,000 crore (Rs 1,000 billion) every year from the market. Is it really possible?
The market has the ability. And I recollect when these issues (the recent public offer by PSUs) were offered, the standard observations were about bunching, the depth of the market and the appetite of the Indian public.
We raised $2 billion during the course of one week. It's a very great expression of confidence in India. When my distinguished colleague Arun Shourie says that the government can raise Rs 100,000 crore a year, it can be raised. I believe we can. This is not any off-the-cuff figure.
Is a merger of IDBI with IDBI Bank on the anvil? IDBI Chairman M Damodaran recently spoke in favour of such a move.
I do not want to comment on any of the individual banks or institutions. But we need to consolidate strengths and eliminate weaknesses.
Further, we need to identify functions and improve functional efficiency. The minister deals with enunciation of the policy. How that is to be done has to be planned by the organisations themselves.
What is the thought behind NDA's plan to consolidate PSU banks?
Yes, we do. The world over we are witnessing consolidation -- a consolidation of strengths. The banks will have to do it themselves. I will just broadly say that consolidation is good.
If some of our public sector banks come together and say that these are our strengths and if we come together then the synergy will be not one plus one but eleven. That's the determination after which they will undertake a due diligence.
What about Indian banks increasing their overseas footprint?
We already have a presence overseas. If some of our banks wish to acquire branches overseas or absorb banks that are currently held by other countries, then why not? Let's get out of the mentality of an economy of want and shortages.
India is a great country and we are now an economy of plenty and surpluses. We need a mental switch.
Do you think a 8-10 per cent economic growth is sustainable in the future?
The Indian economy has grown 10.4 per cent in the third quarter. I am fairly confident that at the end of the year, we will have a GDP growth rate in excess of 8.1 per cent. All of you were calling it Mungeri Lal ke haseen sapney. The double-digit growth for India is now attainable within a single digit number of years.
Is there a cause for concern on the continuous appreciation of the rupee? Exporters are extremely worried about it.
I think we must look at the real effective exchange rate. The rupee appreciation should not be simply looked in relation to the dollar.
And the REER is currently being managed extremely well by the Reserve Bank of India. There is no need to be paralysed into anxiety because the RBI is keeping a very responsible and watchful attitude towards it.
There has been stiff opposition to opening up retail trade, not only from the Indian industry, but from all political parties, including a dominant section of the BJP. Will you stick to the agenda of allowing 26 per cent FDI in retail trade?
It is part of the agenda and we are committed to it. It's FDI and not a question of handing over retail trade. Plenty of money is waiting to come.
Our experience is that the Indian brand has huge strengths. Many said that Kentucky will drive the dhabas out of the market. The dhabas have driven out Kentucky. The Indian sherbet is still there despite Coca-Cola and Pepsi. Don't underestimate India.
Powered by