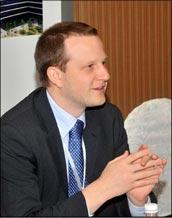 A high-level delegation from Chengdu, China's IT and outsourcing capital, is in Bangalore to promote investment in China. The team also aims at exploring an opportunity to work with the Indian IT and outsourcing industry.
Victor Johan Jansson, Vice President of Chengdu Tianfu Software Park Co Ltd and a core member of this Chinese delegation, said that the Chinese government will invest a total of $590 billion in infrastructure in 2009.
In an interview with rediff.com, Jannson said that China is a land of opportunities and an excellent country to invest in.
Why should Indian companies invest in China and what are the attractions that are not available in other investment hot spots?
China is a land of opportunities and an excellent country to invest in. The reasons for investing in China are many.
Large pool of talented engineers, especially in the research and development space.
Low operation costs.
Excellent infrastructure: The government will invest a total of RMB 4 trillion ($590 billion) in infrastructure in 2009, more than any other country in recent years.
Mature business environment. China already has 30 years of opening up to businesses.
Stable social and economical environment.
Languages: English language skills are rapidly improving. The language is now taught at all levels starting from kindergarden or primary school.
Large number of people speak Japanese and Korean since there are strong language affinities with Chinese. Also it is easier for a Chinese person to learn Japanese or Korean compared to a Western person.
Favourable policies: The Chinese central government is pushing for the development of  IT and service industry. The government wants to turn into a greener economy, as opposed to an economy based on a manufacturing. It wants to move from 'made in China' to 'innovate in China'.
Large domestic market. (Three of the top 10 banks in the world are headquartered in China).
Reasons to invest in Chengdu:
Very efficient government. It knows how to deal with foreign invested enterprises and is fully dedicated to the development of the IT and service outsourcing industry
Low operation cost in comparison to coastal cities such as Shanghai and Beijing (human resource cost is 30 to 50 per cent lower, while rental offices are at least 50 per cent cheaper).
International city: It has13 five star hotels (including Intercontinental, Sofitel, Sheraton), sixth largest airport in China in terms of passengers volume, 31 international flight connection, 9 foreign banks with presence in the city (including HSBC, Citibank, OCBC, Standard Chartered), 134 'global 500' companies (more than any other 2nd tier cities in central and west China), international schools such as Leman International School.
Good living environment. Chengdu has been ranked as one of the most suitable locations for living in China.
Stable labour force with an attrition rate of about 5 to 8 per cent (reason: housing prices are much lower than prices in first tier cities such as Shanghai, so people do not not consider changing companies for salary increase. Average price in Shanghai: $165 per square feet, whereas in Chengdu it is $50).
Well developed IT and electronics industry (Intel, Motorola, IBM, Accenture, Symantec, SAP, Alcatel-Lucent have operations in the city).
Given that China and India are considered economic rivals, doesn't it go against India's interests?
China should be an economic partner and not a rival. For example, China is the most suitable location to set up centres to back-up operations in India because with India, China has the largest talent pool in the world.
Also, IBM, Accenture, BT are all setting up back-up operations in China. Indian companies can also offer more solutions to their customers that way.
Indian hi-tech companies have developed technologies and products that can meet a demand in Chinese market.
How many companies have established operations in China? Who are the new ones? What is the kind of money they will be investing in the Dragon?
For the past 6 months the following companies have set up back-office operations in Chengdu: Accenture (500 seats), Wipro (1,000 seats, first phase), Alibaba (one building), DHL (800 seats, first phase), Maersk (1,500 seats within 1.5 year), Siemens, VXI (1,000 seats).
Is the atmosphere conducive to do business with India currently, given the border dispute between the two countries?
We have not seen border disputes affecting Indian businesses in China. In fact, Wipro set up an operation in Chengdu in May 2009 and NIIT in June 2009.
How is it doing business with India compared with other nations?
Since first establishing in China, Indian service providers (Infosys, Wipro, HCL, etc. . .) have not expanded as quickly as expected. This is quite unlike companies from the United States and Europe such as IBM, Accenture and HP, that are doing well in our country.
The reasons why Indian companies have not been as successful as expected are:
There is no -- or very little -- localisation of management (staff is mostly from India).
Cultural gap.
Little brand recognition of Indian companies in China, which makes is harder to attract talent.
Lack of reach in tier-2 cities (still mainly located in Shanghai/Beijing where competition is the hardest).
Few partnership strategies, weak government relations and conservative investment strategies.
Will India have an advantage over other countries while establishing operations in China?
There will be no special incentives for Indian companies setting up in China and Chengdu. India will be treated like any other country.