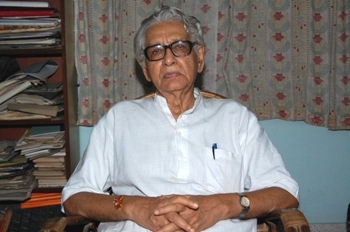 A few years ago, the film Lage Raho Munnabhai had taken the Indian entertainment industry by a storm: its sole USP being Gandhi-ism. In a lucid and highly palatable manner, the film brought forth the relevance of Gandhi-ism in the modern world.
The film's director, Rajkumar Hirani, became a hero overnight in the entire tinsel town.
Like Hirani, there are many who still believe that in Mahatma Gandhi's ideology lies the mantra of survival, they are of the opinion that Gandhi-ism is like a magic potion that will help the present world take on the toughest of challenges. Sailesh Kumar Bandyopadhyay is one of them. To him, Mahatma Gandhi is God, Gandhi-ism a religion.
Bandyopadhyay is the eastern zone in-charge of the Khadi and Village Industries Commission and former secretary Gandhi Smarak Nidhi. His honesty and integrity are part of the Khadi Commission folklore so much so that even after his retirement, he was specially summoned by the Prime Minister's Office to be part of the KVIC.
Bandyopadhyay agreed on the condition that his service will strictly be voluntary.
He firmly believes that the Khadi movement alone can offer solutions to two knottiest problems of the present times: global warming and economic meltdown.
In conversation with Assistant Managing Editor Indrani Roy Mitra, Bandyopadhyay speaks at length about the essence of the Khadi movement, his ideology, government's assistance and other issues. Excerpts:
All your life, you have never used anything else but Khadi. From drapes to handkerchiefs, whatever you use are made of khaddar. . . 
In my youth, I was overwhelmingly inspired by Gandhiji's ideology. His method of reviving Swadeshi industries through Khadi astounded me. I got so influenced by his speeches that I started turning to hand-woven textiles.
By using Khadi I try to contribute in a humble way to the movement launched by the Father of the Nation.
Don't you find it difficult when so many other options are available in the market?
No. Consumerism is a state of mind. How far will you go depends on no one else but yourself. Even when I go to the market to buy provisions, I try to buy Indian products only.
For instance, I would buy Neem toothpaste or Dabur soap.
I avoid paying to the multinationals as much as possible (Smiles). This is not to say that I have something against them but as an Indian I feel we should try and strengthen our industries first.
How does KVIC operate in the villages?
The Khadi and Village Industries Commission (ministry of macro, small and medium enterprises) is a statutory body established by an Act of Parliament (No. 61 of 1956, as amended by act no. 12 of 1987 and Act No.10 of 2006). In April 1957, it took over the work of former All India Khadi and Village Industries Board.
The KVIC has broadly re-grouped various village industries under seven heads for the purpose of implementation of its programmes. These are:
Mineral-based industry: This includes pottery, lime, etc;
Agro-based and food processing industry: This includes  pulses, cereals processing industry, gur and khandsari industry, palmgur industry, fruit and vegetable processing industry and village oil industry;
Polymer and chemical-based industry: This includes leather industry, non-edible oils and soap industry, cottage match industry and plastic industry;
Forest-based industry: This includes medicinal plants industry, bee-keeping industry and mijor forest-based industries;
list .5in">Hand-made paper and fibre industry;