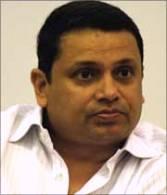 By the summer of 2007, when Uday Shankar (46) took over as CEO, Star India, the company had begun its downward slide after over six years of leadership.
Shankar began by retiring old shows, going aggressively into non-Hindi markets and focusing on non-fiction shows such as Sach Ka Samna.
This hasn't helped as flagship channel Star Plus has plunged from number one to number three in the Hindi general entertainment channel (GEC) sweepstakes. New rivals (Colors) and old ones (Zee) continue to pummel it in the largest segment of the Rs 9,000 crore TV ad market. However, as a network (16 channels), Star is ahead of most rivals except Zee in overall viewership.
The Rs 2,200 crore (Rs 22 billion) Star India has for long been the biggest contributor to parent News Corporation's Asian revenues and profits (over 80 per cent). In 2009, India replaced Hong Kong as the regional head office. Shankar now reports directly to James Murdoch, Chairman Rupert Murdoch's son and the head of the $30 billion European and Asian businesses of News Corp. Vanita Kohli-Khandekar spoke to Shankar on his strategy for growth. Excerpts:
What are your focus areas for Star India?
One, leadership in Hindi. Two, integration of our regional channels within the network. Three, building a pipeline of management and creative talent that goes well beyond Hindi.
Now that Star has a proper portfolio of non-Hindi channels (it recently launched/acquired channels in Malayalam, Tamil, Telugu, Kannada, Bangla and Marathi), will it help realisations?
The whole network has come into place only in 2009, so it is not yet fully integrated. It will take some time before the effects start showing on the top line. With the exception of Zee, there is now no other broadcaster in India with as large an offering (across languages). The problem is media (buying) behaviour is split along language lines — there is a buyer for Hindi, Marathi and so on. That has to change as language markets grow. Also, internally, most of us are divided along functional lines. So, if Star Plus is my responsibility, that is all I will sell. We don't think of asking the client what he wants and selling him a solution that uses a combination of our brands.
What is the theory behind senior management changes? You seem to have hired only from non-media firms...
When I came in, changes in the economy, competition and regulation had made the challenges of the business more diverse. So, the management team needed depth. Hiring from other TV companies would have led to a homogeneous team since most of the senior people there are ex-Star. What we needed was diversity. So, the COO (Sanjay Gupta) is from telecom, the head of marketing (Anupam Vasudev) from FMCG, the HR head is from insurance and strategy head is from Morgan Stanley.
On the other side in creative, instead of hiring people from production houses, we are going to campuses. The television-viewing universe has expanded to include large, diverse markets from Uttar Pradesh to West Maharashtra to Bihar. These are different target groups, both culturally and sociologically. Therefore, we need to look for diversity. We need to stop hiring from the universe of Juhu/Versova (areas in North Mumbai that house all the major TV production firms and where most of their employees stay). 
Is it a good idea to effect so many changes, especially when your flagship channel is under threat?
The biggest risk in a business is an aversion to risk. In Hindi, the shows we were running (Kyunki Saas..., Kahani...) had run out of life. But we did not show enough courage to change the formula when it was working the best. If we had done that, we could have avoided some of the mess.
How would you fix the flagship (Star Plus)?
We have to define what "fixing" is about. We can't go back to 650 gross rating points (GRPs) with the number two at 250-300. The days of unchallenged leadership in Hindi are over. There are several new categories of audiences emerging, like LC1 (lower-than-class-I towns; TAM started including smaller towns for sampling TV viewership in 2009). Being able to address all audiences across several day parts is not possible. Therefore, "fixing" is about getting the largest share of prime-time viewership and reclaiming a clear number one position.
Since the Balaji arrangement ended (in 2008), we have started recreating the channel slot by slot. We have picked the largest number of new producers, some of their shows work, some don't. But we have started creating shows with distinct sets of viewers in mind - upmarket, small towns... We need to look at the channel (Star Plus) as a bunch of channels, like newspapers do it with sections.
Would different target groups come to "a channel"?
There are very well defined target groups on all channels except sports and GECs which typically have multiple target groups. For example, with cricket ODIs earlier, the share of male viewership was higher; now with 20-20, more women are forming part of the audience because cricket is now in prime time.
This intrudes on women's prime time. Our research showed that a lot of men and young people came to watch Aap Ki Kacheri and Sach Ka Samna on prime time on weekdays. But for a very long time, we (GECs) have been sending out a strong signal to men and other audiences saying, "don't watch, we cater only to women." We have to have multiple drivers for the remote. If there is only one voter (the woman of the house), then we can get voted out.
How would you do it?
So far, only people with an exposure to Mumbai serviced our creative needs. We need creative people from other parts of India. For example, just saying "Jai Shri Krishna" is not being Gujarati. If you see, all the successful shows on Hindi GECs are the ones in which the creative people behind them have similar sensibilities as those of the target groups they are talking to - Balika Vadhu, Agle Janam Mohe Bitiya Hi Kijo.
Is there a lot of pressure from the head office?
Whether it is News Corp or Murdoch, they are used to the cyclical nature of the business. As long as they know the team is trying to fix it, they are remarkably hands off.