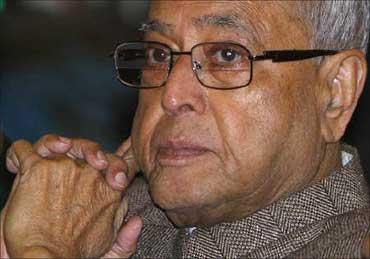 Finance minister Pranab Mukherjee is away from Delhi to celebrate Durga Puja at his ancestral home in Mirati, near Kirnahar in the Birbhum district of West Bengal.

Amid the rituals of Maha Ashtami (the third day of the five-day festival), Mukherjee spoke to Shine Jacob on the Moody's downgrade of State Bank of India and other issues.

Edited excerpts:

Moody's has downgraded SBI. Is this the start of a crisis in our banking sector?

No, it is not.

But, I still have to wait for the details.

Yes, it will have some adverse impact, and of course, I am concerned about this, and inflation, slow growth and the prospect of fiscal consolidation.

But expressing concern will not help us. We have to assess the problem and take corrective steps.

How far do you think the global financial crisis, especially the euro zone and US woes, are affecting our country?

To a considerable extent, because every country in the world is closely linked. Europe, particularly, is witnessing very sluggish growth.

And, slow growth in the US and Japan is also a cause for concern as they are the leaders of the world economy.


A lot of companies are concerned that the iron ore ban is going to shave off half a per cent of GDP. What is your take on this?

I don't think it will have that much impact.

After all, many companies have taken policies to reserve their natural resources. I think we should have a compromise between what should be exported and what should be preserved.

Regarding certain policy issues, allies like the Trinamool Congress hold divergent views. Have they raised the issues with the government? Do you think coalition politics is affecting smooth governance?

What TMC has asked for is legitimate, because they have just come to office in the state.

So, naturally, they would like to give their inputs on policy formation.

The consultation we had was with the earlier government.

Thereafter, the government has changed. So, we should take their inputs and then formulate all policies.

There is no problem in it.

There seems to be no relief on the inflation front. What is the government strategy, going ahead?

Inflation is caused not only when there is a distortion in demand and supply. That is the principal reason.

But, for the last three years we have been having inflationary pressures on our economic system, mainly because of certain factors.

During 2008-09, we had to make substantial fiscal expansion in the form of a stimulus package. About three per cent of our GDP was injected as a fiscal package.

As fiscal expansion took place, it caused two problems: Fiscal deficit increased substantially and also it led to creation of inflationary pressures on the system.

We are trying to rectify it and RBI has adjusted crucial interest rates several times, including the last one.

On the supply side, we are trying to improve the availability of those goods and services which are in shortfall.

For instance, for production of pulses, we have identified 60,000 pulse villages for a special programme, as a result of which the production has increased by four million tonnes during this year.

Similarly, to encourage a green revolution, we have taken steps in eastern India. For edible oil, similar programmes are being thought of.

To ensure that wastage of food and vegetables is reduced substantially, programmes are under way in the warehousing sector.

These are medium-term programmes, which will take some time.

We also have short-term programmes to reduce the inflationary pressure by allowing the import of commodities in short supply.

Unfortunately, it is not helping us much because international prices are high.

Moreover, international oil prices are also causing a good deal of inflationary pressures.

Though the pressure is high, we have to watch how quickly we can moderate it. I hope by the month of March, it will be possible to achieve some sort of a moderate rate.

The Opposition is of the opinion there are a lot of differences within the government. Is there any difference?

No there is nothing. The Opposition's job is to criticise the government. They are doing their job. Let us not be worried about it.

Image: Pranab Mukherjee