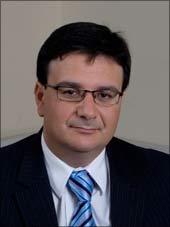 The southern European island nation of Malta is keen on expanding business ties with India. Finance Minister of Malta, Tonio Finech, will lead a high level delegation to India in the last week of November for exploring business opportunities with Indian companies.
Tonio Finech talks about the opportunities in Malta and the need to enhance trade ties with India, in an interview with
Arun Lakshman
.
Excerpts:

What is the agenda of the Maltese business delegation in India?
The delegation would consider various business options with India, a country which seems to have immense potential, given the esteem resilience shown by the country in combating the recession.
The Maltese delegation would be concentrating more on pharmaceuticals, education tourism and trade with India. There has been a good response in our country and we are expecting a good number of businessmen and groups from our country to participate in the delegation.
Why are you concentrating on India?
India is a country with immense potential and compared to Malta, India is huge. But I strongly feel that there are several areas, which could be of mutual interest and benefit to both the countries.
Indian companies have already have set up operations in Malta. One example is that of the Aurobindo Pharmaceuticals, which is into generic medicines. The Indian business groups would also benefit from this arrangement.
It is learnt that the Malta government is deliberately focusing on several new areas including financial services. Is this a relative shift from tourism, which has been your major area of business?
There is no deliberate shift from tourism as this is one sector, which has given us great amount of satisfaction on what we could achieve. But there are several sectors, which other countries are keen on and as you rightly mentioned we are slowly transforming ourselves into a major financial destination.
It is interesting to note that we are a conservative economy, our strength and the new found interest in our economy are due to the stringent measures and control mechanisms taken by us, which helped us withstand the international ramifications of the global meltdown. We are also badly hit but there is always room for a come back which I fear, is not the case with many of the other economies, which had no control on their financial services sectors.
It is also learnt that Malta is slowly emerging as a major destination for film production given its natural resources. What are your plans?
The government has done its homework and we know that there is a good potential for film production on account of its natural beauty and the vast coastline
Several international production houses, including the Indian film industry have already made films here.  There are many beautiful places in Malta ideal for song sequences in Indian movies. The government has already appointed a film commission, which is in direct touch with the film makers and the big theatre owners.
You mentioned that education is one of the prime areas you would be promoting to the outside world, especially to India. What do you have to offer to Indian students?
Malta has a major advantage of being an English-speaking country in Europe and our educational system is highly evolved.
We are strong in maritime technology and our maritime institutes have a good reputation internationally. Even officials from the shipping department in India attend specific training programmes conducted here. We are also focusing on education in the aviation sector and there is a great scope for cooperation in this area.
Which would be the important areas of focus in terms of trade with India?
With Aurobindo Pharmaceuticals setting shop here for their European operations, I feel that there would be more players in the pharma sector who would like to use the advantages and the strategic location.
We provide a gateway to Europe for their business operations and I am sure that several Indian pharma majors would like to set shop in Malta. Another major area where I expect a greater cooperation is in the film industry.
With the Indian film industry eyeing newer destinations, I am certain that Malta with its natural beauty and a supportive film commission would be more than happy to welcome the Indian movie production companies.
The banking and financial services industry also welcomes Indian banks and the Indian insurance industry to open their branches in our country.