Home > Business > Special


The 7 Samurais of self-evaluation

Moinak Mitra, Outlook Money | January 11, 2007



You've racked your brains far too long to plumb where you belong in your organisation. Here's the mantra to swim with the sharks on a whim.

If the '9-Blocker Model' sounds straight out of Legoland, try picking up the pieces through 2007. Because that's how your company would perhaps be rating you at work all year long.

Based on the model's twin performance and potential axis, you'll be graded as either a high, medium or low performer at your workplace.

As India Inc. takes to the model like fish to water, we provide a rough cut of the prototype. You'll be seeing more of the 9-Blocker at work -- it may even pop up before your screen quarter-on-quarter as a reminder of who you are in office.

"Companies such as GE, Ranbaxy and HLL have already got their staff acquainted with the 9-Blocker,"  says Ajai Dayal, senior director, consulting, CHR Global.

In the meantime, your HR department would be busy providing solutions across multiple touchpoints depending on where you belong on the 9-Blocker grid.

And these  dimensions could be as varied as job design, competencies, compensation and succession.

Now rank yourself along with a model questionnaire devised by CHR Global Consultants -- seven Qs to see where you stand in 2007.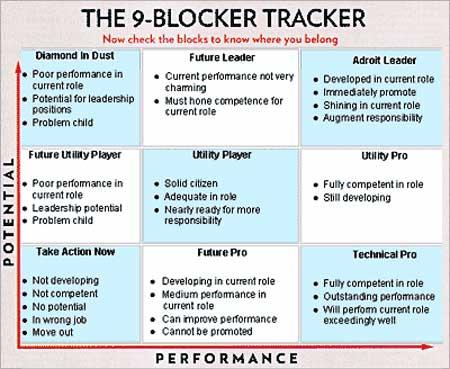 Seven Samurais of Self-Evaluation

How do you measure up in your peer group on the following parameters?

#

Questions

A

B

C

1

Spot opportunities (internally or externally) & convert them into value for business

Top 10%

Next 40%

Last 50%

2

Envision the future

Top 10%

Next 40%

Last 50%

3

Take calculated risks

Top 10%

Next 40%

Last 50%

4

Lead large teams to complete projects

Top 10%

Next 40%

Last 50%

5

In last 12 months, your performance against agreed targets

Significantly higher than target on most parameters

Around target

Lower than target

6

Fulfill expectations of seniors, juniors & peers

More than expectations

Just enough

Lower than expectations

7

Complete task assigned as per norms

Almost 100%

75-95%

Less than 75%
More Specials
Powered by