Keya Sarkar outlines some of the challenges faced by a low-income father determined to educate his daughter.
Illustration: Uttam Ghosh/Rediff.com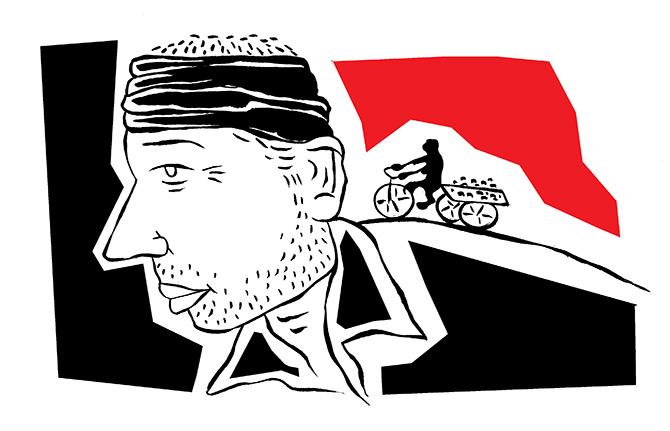 The good thing about being in a small town is that you hardly need to go to the market for purchasing vegetables, fruit, bread or fish. Almost all the vendors come to your door.
And since no one is in a tearing hurry, unlike in a city, much talk is exchanged over transactions.
How are people at home? Were the rains enough this year? Is the Bharatiya Janata Party making inroads into Mamata's Trinamool bastion?
We have been to almost all their houses and enjoyed excellent delicacies indigenous to the communities, both Hindu and Muslim.
So when our vegetable vendor was facing a challenge with helping his daughter with her schoolwork, it was natural for him to seek our advice. What he wanted was for us to coach his daughter who was then in Class VII.
We agreed although the poor child had to cycle almost five kilometres in the morning to avail our tuitions at seven in the morning.
After an hour of intense English or maths, she had to cycle back in order to be able to reach school on time.
To her credit, she kept this up for almost two years. Sometimes partaking of some breakfast that we offered and sometimes refusing anything more than a couple of bananas.
However, over these two years, as we saw her struggling with her syllabus despite our help, we realised it was probably because she was too young for her class.
We advised her father to let her repeat a year, which we thought would be beneficial in the long run.
Her father didn't argue with us but his body language made it apparent that repeating a class was not a possibility.
We told ourselves that, in a family of modest means, maybe such advice was hard to pay heed to.
In time, the girl finished school, albeit with poor marks.
Her father told us about the many colleges that she had applied to. That was natural in these days of intense competition for seats.
But what surprised us was that she was applying for as varied subjects as Bengali and history and fine arts.
She was finally able to secure a seat in the degree course at Shilpa Sadan, a vocational training institute set up by Tagore parallel to his university, which offered arts and science.
The child was happy, so was the father.
In a few days, he looked worried as he wheeled his cycle cart of vegetables into our gate.
He said his daughter had been asked to buy a laptop, without which apparently she would not be able to get any work done. The father was not worried about where he would get the money; he was concerned because he had no idea about what kind of laptop to buy.
We said we would be able to advise him once he got us the configuration that the college was asking for.
We told him to get his daughter to ask around in class and then we could try and figure out if we could help him source a second-hand machine.
Feeling a trifle sorry to see how out of his depth he was in all this laptop talk, I told him, "Why doesn't your daughter tell the college that her father is of modest means and that it would be difficult for him to procure a machine?"
He looked alarmed.
"She can't say that," he said, because at the time of admission when the college had underscored the fact that that course would require a fair bit of investment, his daughter had told them that it would not pose a problem as her father was monied!