Alarming but true: Cosmetic surgery to get back at an ex is not uncommon.
Ranjita Ganesan explores brutal beauty trends like "revenge surgery" and "vampire facial".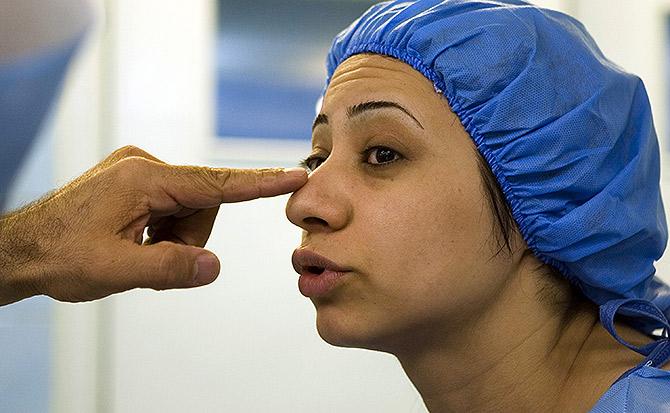 IMAGE: Before a rhinoplasty. Among the cosmetic fixes sought by those in troubled relationships or those who have just broken up are tummy tucks, chin lifts and jawline shaping. Photograph: Caren Firouz/Rediff.com.
Revenge surgery
Of all the ways to get back at an ex, this one quite literally is the most transformative. If cosmetic surgeons in India are to be believed, spurned lovers are beginning to land up at their consulting rooms with extreme requests. In the West they call this "revenge surgery".
While heartache drives a few to enhance their assets, others seek subtle facial tweaks such as eyebrow lifts or botox shots to spite former flames.
Vandita Mehra (name changed on request), a 23-year-old call centre employee, recently approached Delhi-based cosmetologist Karuna Malhotra after her boyfriend left her for someone "better looking". As they still worked in the same office, she wanted to make noticeable changes to snub him. She paid for four to five sessions with chemical peels and photo facials to get rid of skin pigmentation.
The former boyfriend approached Mehra again, says Malhotra, but she did not accept him back.
The trend of revenge surgery first came to light internationally when several cosmetic clinics were found to be giving discount packages to divorced women.
Guests on the American medical chat show, The Dr Oz Show, pointed out that medical practitioners need to investigate the mindset and motivation of a patient before going forward. Fresh out of a relationship, people are depressed, bitter, even angry. Their self-esteem is low. They are often unable to take care of themselves, exercise and eat right.
Malhotra's clients impatiently want a confidence boost, after things like a new haircut or outfit fail to help. They do not always open up about their reasons for seeking transformation until much later.
For some who are afraid of losing the affection of their significant other, medical beauty procedures are even acting as a pre-emptive measure.
Among the cosmetic fixes sought are tummy tucks, chin lifts and jawline shaping. Slimming treatments such as mesotherapy are popular too. Diets and salon treatments take time to show results, so those flushed with disposable income are turning to the scalpel to heal their broken hearts.
New singles should hardly jump into making irreversible changes though. It is not a solution for marital or relationship problems, health professionals agree. In the long run, it can also heighten anxiety or depression. Such invasive assuaging of vengeful urges is unhealthy yet perhaps also inevitable, especially in times when exes co-exist on selfie-driven platforms such as Instagram and Facebook.
Health professionals also recommend counselling.
It would also be more advisable for the newly single to detoxify, meet friends and practise kindness to oneself during this vulnerable phase.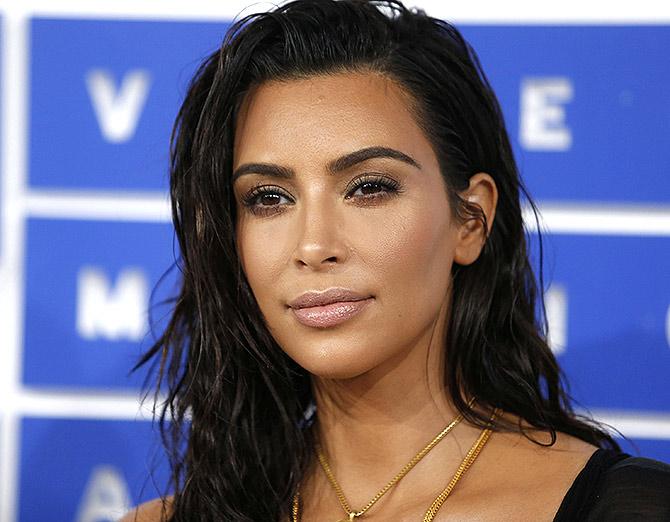 IMAGE: Celebrities Kim Kardashian have used the Vampire facelift. Photograph:

Eduardo Munoz/Reuters

.
Vampire facial
The relevance of vampires may have diminished in popular culture following the conclusion of the Twilight series of books and films, but the phenomenon has resurged in aesthetic medicine. Dermatologists in India have been administering a treatment that relies on drawing a teaspoon-and-a-half of a patient's blood and re-injecting part of it into his or her face.
While the procedure has a less memorable name in "Platelet Rich Plasma", some years ago an Alabama-based doctor began referring to it as the "vampire facelift".
Platelets were known to heal wounds and ulcers, but they have now gained fame as an anti-ageing mechanism. Celebrities Kim Kardashian and Anna Friel have used this facelift, according to reports.
Going by photographs of the blood-speckled faces of recently-treated patients, it may not be one for the easily nauseated.
Here is a gist of what happens: around 8 ml of the patient's blood is drawn. It is run through a centrifuge and platelets, which aid growth in skin, are separated and injected into the face and neck. A face mask follows.
The early result is supposedly a plumper, hydrated look. Full effects are typically seen after three weeks when collagen is formed, making the skin firmer. It is considered relatively milder and more affordable than other age-masking treatments such as botox or thread-lifts, says Delhi-based dermatologist Nivedita Dadu.
The facial is said to be preferred by women and some men, mainly after they hit the late 20s. "They realise they are getting old and their lifestyle is taking a toll (on them)."
It shows better results in people until the age of about 40 years, she adds. For those closer to 60, with more and deeper lines, the effect is minimal.
Most often, people from the corporate world or other such busy professions, who enjoy going out but do not have the time to take care of themselves, opt for the treatment. Depending on how much clients are willing to shell out, clinics in bigger cities offer a vampire facial session for anywhere between Rs 3,000 and Rs 15,000.
Dadu deals with three to four requests a week. Demand naturally is higher in the run-up to any festive season or occasions such as Valentine's Day.
While Dadu says there are no risks, she mentions patients sometimes over-expect. It is not a permanent fix. Three to four sessions are required in a year. The process has to be paired with a skincare routine, including hydration and night creams.