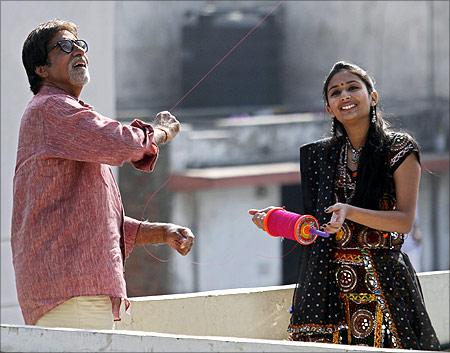 Share your memories and pics of the kite flying festival. We'll publish it right here!
What a beautiful sight it is to watch the sky break into a riot of colours on January 14, when people across India (and abroad) celebrate Makar Sankranti!
The harvest festival, which marks the onset of spring, is an occasion for families and friends to get together.
From distributing til gud laddoos, to gathering on building terraces to fly colourful kites and yelling kai po che every time you cut a rival's kite, Makar Sankranti always brings back fond memories of our childhood days.
Who can forget those delicious chikkis and jalebis that our parents prepared and distributed to neighbours and friends? The mere mention of these delicacies still makes our mouths water!
The harvest festival is celebrated differently across the country. Maharashtrians distribute til gud laddoos and say, "Til gud ghya, god god bola (eat til gudd laddoos and say sweet things)."
In Andhra Pradesh people burn old items of the house and make rangolis.
The harvest festival is celebrated as Lohri in Punjab and Thai Pongal in Tamil Nadu.
And in Gujarat, they celebrate with kite flying competitions and delicacies like undhiyo.
We ask you, dear readers, to share your memories and photographs of the harvest festival with us and we'll publish the most interesting ones on Rediff.com.
Mail us at getahead@rediff.co.in (subject: Harvest festival) along with your NAME, AGE and the place where you LIVE.
Do include a little information about when you clicked the photograph and what makes it special.
We are looking for original photographs that have been clicked by you.
Lead photograph: Amit Dave/Reuters