If you have seen/heard/experienced harassment of any kind, take the poll given below and share your experiences.
Illustration by Uttam Ghosh/Rediff.com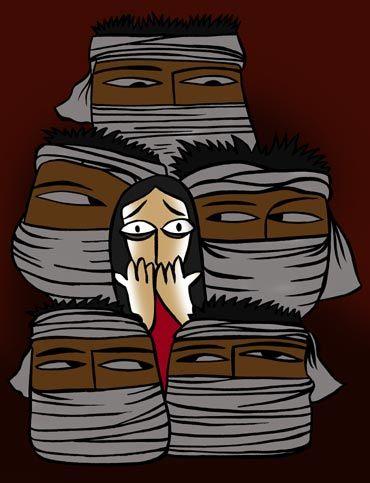 Last week, a young student from Lucknow University logged a sexual harassment complaint against a professor.
In the complaint, the student alleged that she was subjected to 'obscene comments' and was 'physically harassed'.
According to a 2016 survey by ActionAid UK, nearly four out of five women (79 per cent) in India have experienced some form of harassment or violence in public.
The online survey revealed that 84 per cent of the women who experienced harassment were in the age group of 25 to 35 years. Eighty two per cent of the respondents were full-time workers and 68 per cent were students.
Almost every next day, we read about women being touched inappropriately in public places, groped and stared at by lecherous individuals.
It could happen to anyone, anywhere -- on your way to work, while you're standing at the railway platform, in a mall or theatre, on the streets or even in the confines of your home.
We invite you, Dear Readers, to take this poll and tell us if you have been a victim of harassment.
Where did the harassment take place? Was it at a public place, in your school, college or office or at your home? Tell us/
Were you aware that you were being harassed? And what did you do about it?
Do you think the law is stringent enough to deal with inappropriate behaviour?
Take our poll given below and share your experiences with us. You can also share your experiences anonymously, if you wish. We will publish the response only after contacting you.