They are here, there and everywhere! Riddhi Jain breaks down the 10 types of lovebirds you are sure to bump into in your college campus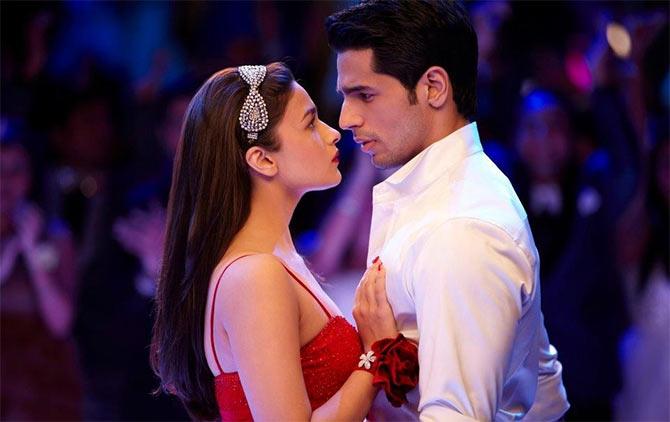 A still from the film Student Of The Year
If a girl and a guy can hold hands (and may be the girl holds a rose too) and sit together in a college campus in a number of Bollywood movies, what makes you think real life would be far behind? Art influences life and life influences art, so you wouldn't be hard-pressed to find several types of couples, regular and weird, in real campuses.
The selfie couple
They stay together because they're two people with the same interest: pictures of themselves. Sharing a meal -- selfie! Returning home -- selfie! Submitting assignments -- SELFIE!
And if that is not enough, they have these pictures all over your Facebook and Instagram newsfeeds. With lovey-dovey hashtags. I guess they mistook social media to be a love-sharing platform. Sigh.
The joined-at-the-hip duo
This is the couple that is always glued together. Their hobbies include plenty of public displays of affection and calling each other retch inducing names like babu and jaanu.
They're so much into each other that they forget the world around them. Don't ever interrupt them; you'll regret it.
The matching couple
You know moms and their infants when they step out for vacations? This couple is exactly like that -- dressed alike and cooing all over each other.
Yes, for some reason this duo loves to shove it in people's faces that they are a couple and love being with each other by wearing clothes of the same colour. Coincidence? Please.
They assign colours to each day of the week. Hardly a coincidence.
The 'just friends' couple
This couple prefers to keep their relationship a secret, quite often from themselves too!
Either this couple doesn't like flaunting or talking or even telling people that they are dating for whatever reason, or they have been BFFs so long they don't realise they have already crossed over into Couple Zone.
The rest of the college knows while these two remain oblivious.
The perennially tiffing couple
Seems like they took the term 'lovers' quarrel' a bit too seriously. Everyone around them hasn't the foggiest idea why these two are still together when they can't stand each other at all. All they are found doing is fighting. They argue over the smallest of things, and when you ask them why they are together, they tell you the sweetest things about each other. Looks are deceptive? Definitely!
Dog-on-a-leash couple
Go! Fetch! Not literally, but this is how this particular breed of couple is seen loitering around college campuses. One is always seen bossing over the other one.
Unflattering comparisons to a master-pet duo would not be out of place. The pet is so loyal to his master that he/she will still stick around, no matter what.
The oh-so-famous couple
Everyone is talking about them. They are the current hot topic, as much as Brad and Angelina. Two popular people in college getting together make breaking news for very many days. Even their petty fights and tiniest of gestures are some serious headline-material fodder for the campus daily newspapers and gossip mongers.
The newlyweds
Bells-a ringing for the newest couple on campus! Every couple has a honeymoon period, even the non-married ones.
They behave like newlyweds in the first few weeks -- sometimes even months. They are overtly caring, weirdly surprising and unusually funny with one another.
They are shy around people but extra comfortable around each other, if you know what I'm saying. As the months pass, the surprises and the fun are replaced with arguments. Ah, to be young and in love. Not.
The over-possessive couple
The bond they share extends to their phones, Facebook passwords, email account details and everything else in between. Beware if you are talking to either of them; it is likely that there is not one but two people at the receiving end. They keep an eye on each others'
Whatsapp conversations and Facebook activities, as well as the people they talk to in real life. NSA would be proud. Edward Snowden not so much.
The meant-to-be couple
Finally. The kind of couple whose necks you don't want to wring. The kind of couple so perfect that you adore them being together. They are fun and crazy but mature and realistic at the same time. They're fun to be around and they don't make you feel like a third wheel or create awkward situations.
Happy together but happy apart as well. These guys need to take classes for all the other couples on campus.
Courtesy:YouthIncMag.com