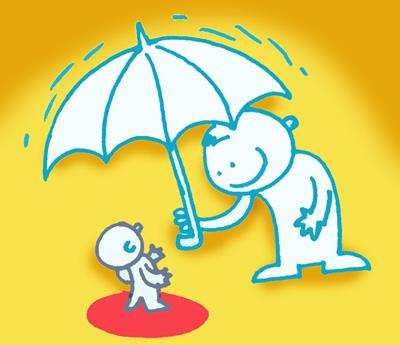 Planning to buy a child insurance plan? Know these myths to make an informed decision, says Yashish Dahiya
Illustration: Dominic Xavier/Rediff.com
As a parent, your child is your biggest responsibility and investing in a child insurance plan is step in the right direction to meet your child's future financial needs, given that you will receive guaranteed payouts at your child's key milestones.
However, before you decide on what plan to buy, let's look at the some of the myths surrounding child insurance plans.
Myth 1:Your child's life is covered in a child insurance plan
Reality
Typically, parents are covered in a child insurance plan and the child is the beneficiary in case of an unforeseen event or untimely death of the parent(s).
Buying a child insurance plan helps meet the increasing educational and other needs of your child.
A child plan acts as a financial support when your child accomplishes various life stages such as primary and higher education, starting business or even marriage.
Myth 2: Your child will have to pay the premium in case of your sudden death
Reality
In the event of your sudden death, your insurer will pay a lump sum amount to the nominee that can be utilised for meeting your child's future requirements.
Typically, this policy does not get discontinued in the event of parent's sudden death.
Most insurers offer 'waiver of premium' rider at the time of buying the policy and your child won't be required to pay any future premium in your absence. Instead, your insurer would take care of future premiums on the behalf of your child.
Myth 3: Paymentsare made only if your child goes for higher education and if marriage happens
Reality
If your child does not wish to pursue further studies or intend to not get married sooner, your child can still make a claim.
The objective of a child plan is to secure your child's future by making funds available at the due date.
Therefore, irrespective of the goal the money was tied to, the claim can still be made when the term of the policy ends.
Myth 4: You can avail the payout only at the end of the plan
Reality
You do not have to wait till end of the plan to avail the payout. In fact, Child ULIPs allow withdrawing a certain percentage of the fund value after completion of five years from the date of commencement.
In the event of your sudden death, your insurer will discontinue the ULIP and pay the funds to your child.
Myth 5: Your child insurance plan serves only to insure
Reality
Your child insurance plan also serves as an investment tool. By investing in a child plan at an early age, you get optimal returns that may come handy as and when need arises.
Opting for the unit-linked insurance plan would help the money grow over a period of time as your child would not require any immediate funds.
I hope I have been able to clear the myths surrounding child insurance. Buy a child insurance plan when you think it's the time, be it the day when your child is born or when your child steps into school.
The sooner you start investing, the better your returns will be in the long-term.
Yashish Dahiya is CEO & founder, Policybazaar.com