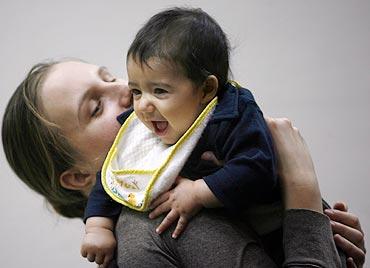 Share your unique story of welcoming a child into the world with us!

Giving birth is one of life's biggest joys and unforgettable experiences.

From the time of discovering that there is a little person growing inside of you to the time when the child is born seems almost magical to most parents.

What was the first ultrasound like? Did you go into labour during a World Cup cricket final? Did you shop for pinks and then end up having a little boy?

Everyone has
stories to share from this special period, from delivering en route to the hospital, to being surprised with twins. And we want to hear yours.
So all you mommies and daddies out there, write in to us at getahead@rediff.co.in (subject line: 'My Giving Birth Story') with photographs if possible, of you and your bundles of joy. We'll publish the best entries right here on rediff.comPhotograph: Adnan Abidi/Reuters