Lavitha Shinoj juggled a job and family to participate in her first-ever beauty contest.
'It was a new, life-changing experience,' she says.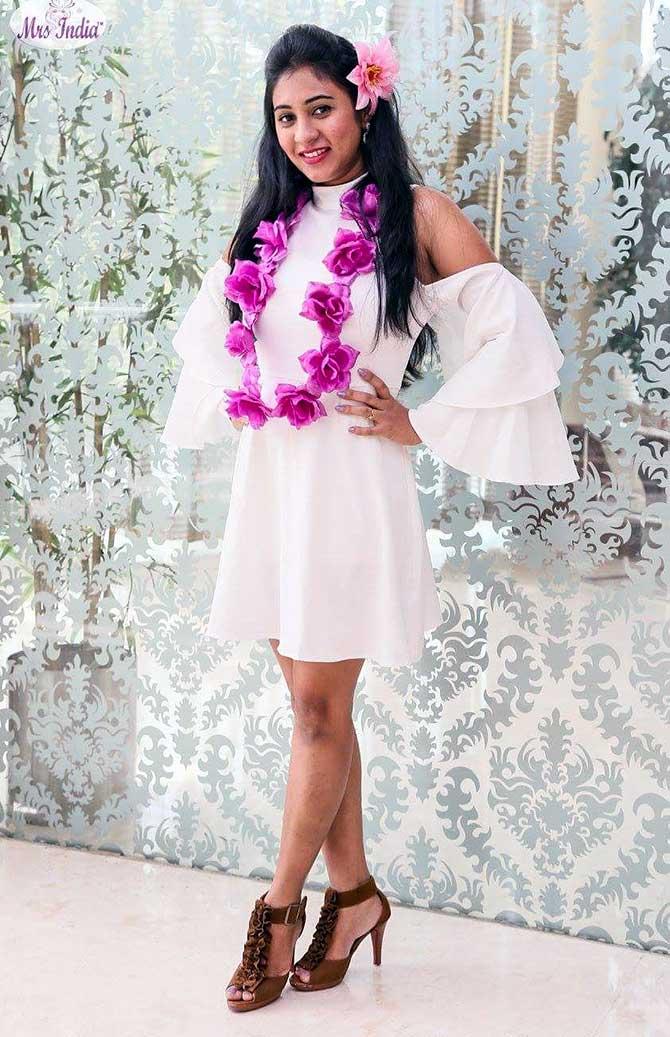 IMAGE: Lavitha Shinoj was among the top contestants in the Mrs India 2017 pageant's west zone contest.
All photographs: Kind courtesy Lavitha Shinoj
Lavitha Shinoj is not a professional runway model.
The 33 year old works as a senior content manager at eClerx, a knowledge process outsourcing firm in Mumbai.
She has a two-year-old son, Arjun.
In August 2016, Lavitha, who had never participated in a beauty pageant, signed up for Mrs India 2017.
She didn't have a mentor and soon realised that she would have to fund herself as the pageant does not have sponsors.
Despite the hurdles and alongside managing a full-time job, her son and family, Lavitha made it to the Top 16 in the western zonal rounds this month.
She also bagged the Mrs Charming title.
With the experience she gained, Lavitha hopes to take part in the Mrs Asia Pacific event, she tells Divya Nair.
Why did you decide to take part in the Mrs India pageant?
I was at home browsing through NDTV Good Times (the television channel) and I saw an advertisement for Mrs India.
I had walked the ramp in college, done corporate shows. So, I thought I should try this too.
I checked with my husband. He wasn't sure if I was really going to apply because he knew this was a big competition.
I applied last August. The auditions began in October. In December, after a telephonic interview, I entered the zonal rounds.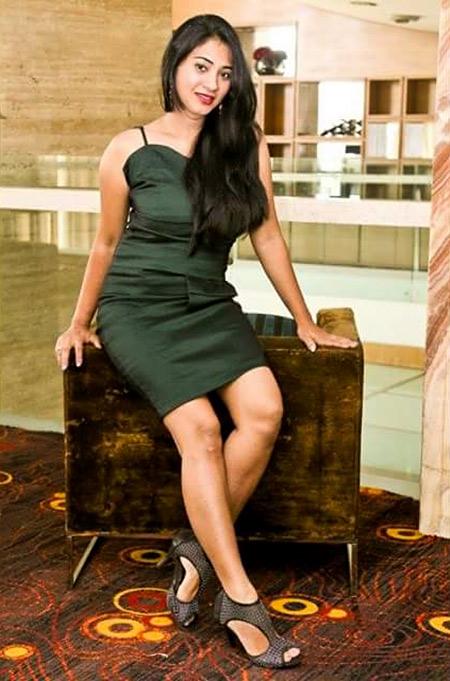 IMAGE: She is 5'3" and weighs 54 kg.
How did you prepare?
Thankfully, I am blessed with good metabolism. So I only had to focus on eating right and keeping my weight in check.
Three days a week, I'd switch between yoga and Zumba respectively.
My husband and my in laws have been very supportive. My husband works for US-based clients in the late evening shift. So, he'd take care of my son in my absence.
After coming home, I'd feed my child and put him to sleep by 8 to 9 pm. Then I'd finish any pending work from office and household chores.
Between 12 am and 1 am (Yes, you read that, right!) I'd practice for the talent round. I choreographed the dance myself.
What was taking part in Mrs India like? Were you nervous?
I was among the 25 contestants shortlisted in the west zone round.
I had done stage shows before, so I wasn't nervous. But the experience of participating in a contest like this was definitely new for me.
Between May 4 and 6, we had to compete in many runway rounds in different costumes.
We also did some photo shoots and attended workshops on grooming and public speaking supervised by former Mrs Asia Pacific winners and contestants.
Of the 25, 16 were shortlisted for the next round.
In the final leg, we had to compete in three categories -- traditional, sportswear and an evening gown.
The best session was by casting agent Lovell Prabhu, who trains models for Mrs India International.
He told us how to stand, modulate our voice, hold the mic and other basics of public speaking, which was really helpful.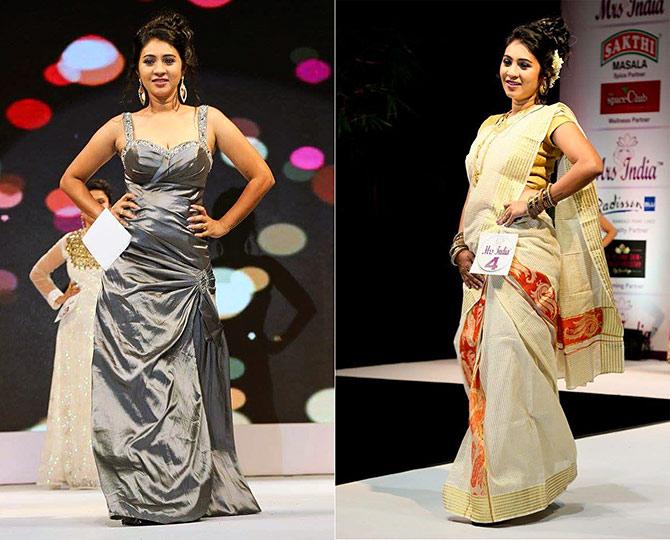 IMAGE: Mrs India 2017: Lavitha takes part in the evening gown and traditional wear rounds.
You didn't have a sponsor: How did you manage funds?
This was the first time I was taking part in a national contest. I had to do a lot of research.
When I was asked to pay the registration fee, I was a little worried.
I wanted to be sure this wasn't a fake thing. I saw that the payment was to be made to Mrs India Pageants and Productions Pvt Ltd.
I was really surprised that a show like this had no sponsors.
When I spoke to Deepali Phadnis, the founder, I realised that unlike Miss India, which is sponsored by Femina, Mrs India is yet to find takers.
I come from a middle class family and was initially hesitant to pay from my savings.
The whole journey cost me Rs 50,000, including food and accommodation. The experience and learnings was well worth it.
To convince myself that I wasn't overspending, I did some calculations.
Like we stayed in a five star hotel for three days. If I were to get a professional photo shoot done, I'd have to cough up a minimum of Rs 20,000.
Some outfits in some rounds were sponsored.
It may have been a little expensive, but overall, it was a new and life-changing experience for me.
I have come out as a stronger individual and would definitely like to participate in Mrs Asia Pacific to which I'll be applying soon.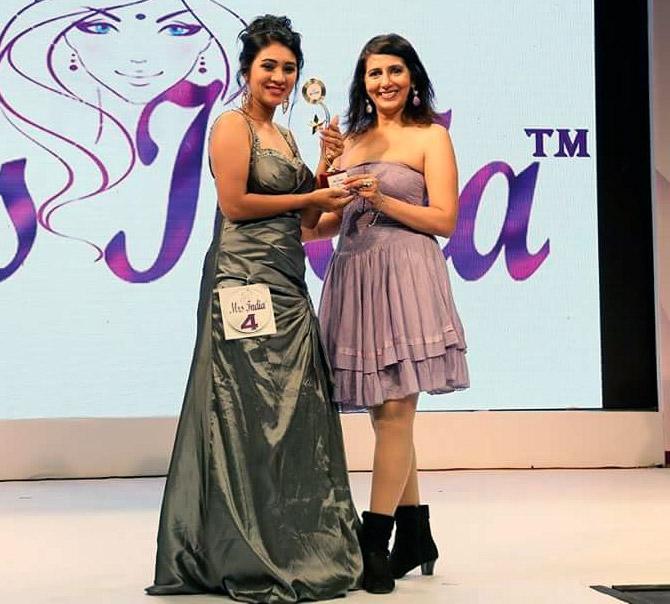 IMAGE: Lavitha won the Mrs Charming title in Mrs India 2017's western zonal round this month.

You didn't win the pageant. What went wrong?
This was my first time, but I was very confident that I'd be in the top.
Among the 16 of us, I had made a mental note of six people, including me, who could be in the top three.
Though I did not win, I was right about the top three.
I was happy to be announced Mrs Charming. It was really encouraging to receive a title in front of a large audience.
In hindsight, the winner was a professional model who has participated in Miss India and has her own modeling agency. She definitely had that advantage.
Each of us who participated were equally strong, confident and had that winning attitude.
As per the contest requirements, they were looking for a role model, not just a model.
With so many competent and multi-talented women out there, I should have started earlier and prepared better to improve my chances.
How did you lose weight post pregnancy?
I have always been very conscious about my weight, not letting it cross 55 kg at any point.
When I was pregnant, I weighed 52 kg. In my ninth month, I was 69 kg.
After delivery, I did not make any conscious effort to lose weight.
I was on maternity leave for six months and would feel hungry like anyone else because I was breastfeeding for six months.
After six months, people noticed that I had lost enough weight. But I had not controlled my diet or started exercising. Maybe breastfeeding helped lose that extra weight.
Today, I weigh 54 kilos.
I try and eat healthy food and avoid junk, fatty and oily foods.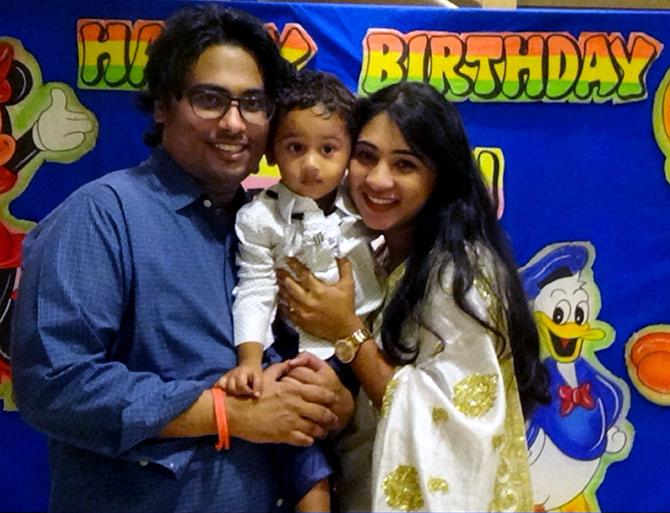 IMAGE: Lavitha, right with her husband Shinoj and son Arjun.
Who inspires you?
I really like Jesse Randhawa as a model. She's confident on the ramp.
I am fond of dancing, so I really admire (actresses) Madhuri Dixit and Rani Mukerji as entertainers.
I may not be a fan of Aishwarya Rai, but I like the way she's handled her life and career.
She got married at the right time, took a break from her career to attend her family and came back to work when she felt the time was right.
She knows what she's doing with her life.
Any advice for women who quit their jobs post motherhood?
I know there are women who quit their job willingly to give their 100 per cent to the baby and family. It's their choice.
But if you want to work, and are serious about your career, motherhood shouldn't be a barrier.
Today, there are ample options and opportunities for women who are willing to take that risk.
If you are talented, and if your company and family is supportive, you should be able to resume work after a short sabbatical.
Any advice for married women who want to take part in beauty contests?
Nothing is impossible. But to win a beauty pageant, you need to be focused.
You must be fit and have a confident personality and body of work to go with it.
The agenda of the title is for the winner to use the opportunity to support a cause and serve the nation.
Don't take part in a contest for the fame or money involved. Mrs India is much beyond that.
When you sign up, you need to be sure of what you are going to do with the crown and title after winning it.