The latest buzz from the world of fashion and entertainment.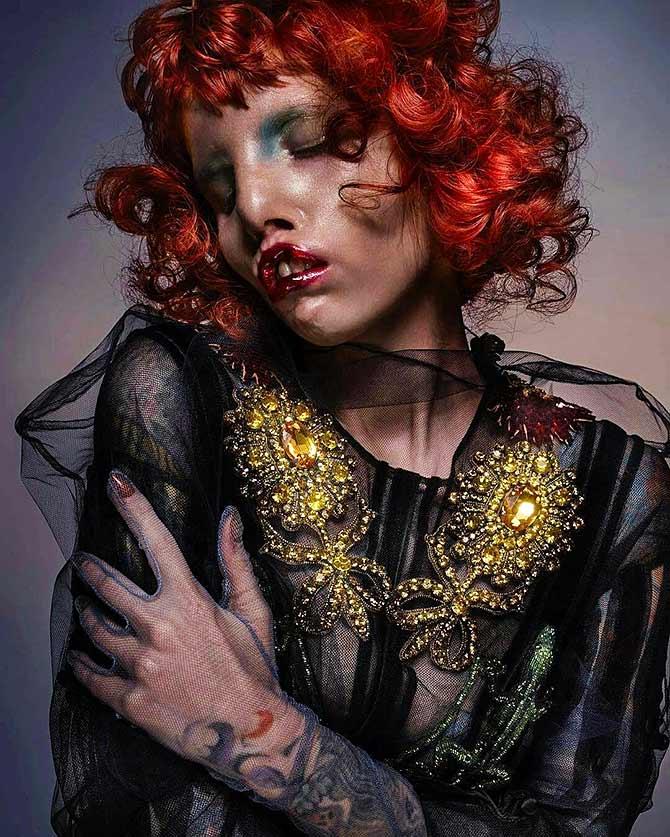 IMAGE: Caitin Stickels shoots for V Magazine.
Photograph: Kind courtesy Nick Knight for V Magazine/Instagram
The April issue of V Magazine is special. It features an extraordinary photo shoot with model Caitin Stickels.
The Seattle-based model, photographed by Nick Knight, was born with a rare 'Cat Eye Syndrome' disorder that left her disfigured for life.
The chromosomal defect, also called Schmid–Fraccaro syndrome causes scoliosis, a cleft palette, and heart and kidney problems to name a few.
Given her unusual frame, Caitin is known for her artistic modelling assignments, pictures of which she posts on her Instagram account, which is also how the British photographer Nick spotted her.
*****
Madhu Jain to showcase at Amazon India Fashion Week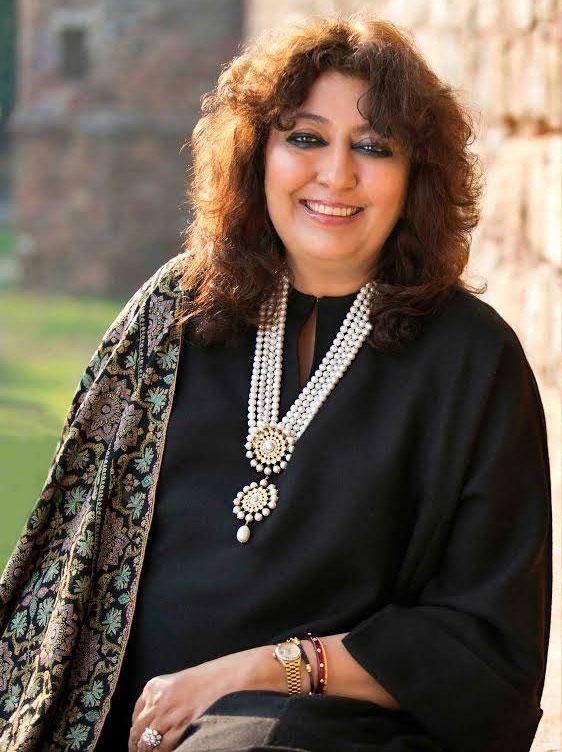 IMAGE: Madhu Jain will showcase 22 creations from her label on the opening day of the Amazon India Fashion Week.
Photograph: Kind courtesy Madhu Jain
The Fashion Design Council of India (FDCI) will showcase Noida based designer Madhu Jain's work at the upcoming Amazon India Fashion Week (AIFW) Autumn-Winter (A/W) 2017.
The show will be held in association with Maybelline New York to celebrate 30 years of the designer's label.
Twenty two of Jain's designs will be showcased on the first day of the four-day event, scheduled between March 15 and 18 at Jawaharlal Nehru Stadium in Delhi.
'My dream is to optimise India and artisanal wealth and change the face of the handlooms sector,' Jain said in a statement to the media.
The show will feature Jain's work on ikat, kalamkari and central Asian embroideries.
*****
Like Kristen Stewart's almost bald look?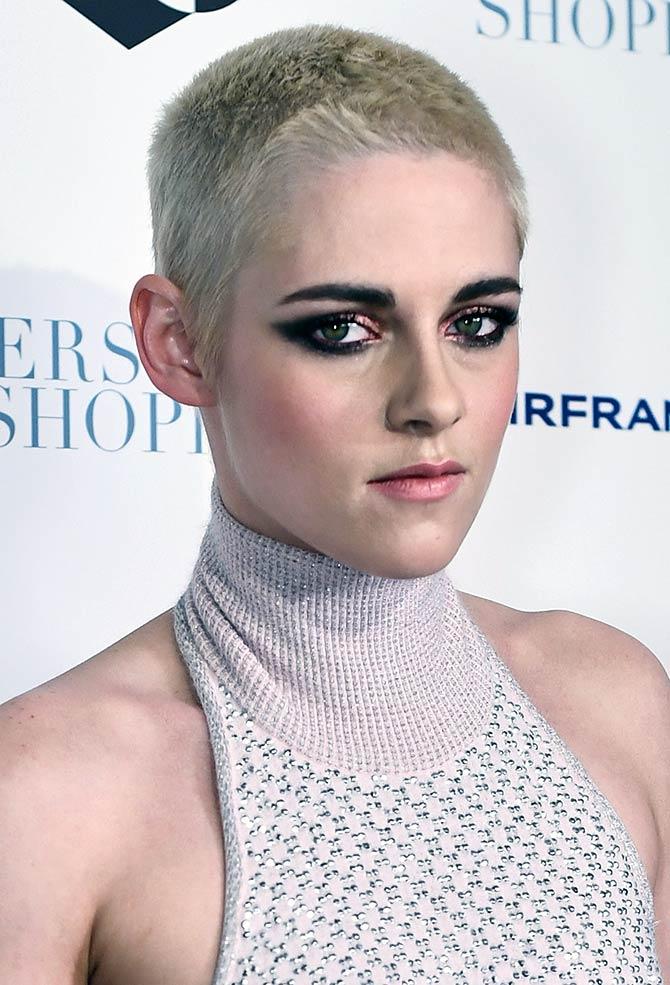 IMAGE: Kristen revealed her new blonde look at the premiere of Personal Shopper in New York city.
Photograph: Dimitrios Kambouris/Getty Images
From long, straight, brown hair to short, red, choppy bob, Kristen Stewart has a fairly comprehensive hairstyle record and now, for her latest hairdo, she ditched her signature brunette hair for much shorter and blonder look.
The 26-year-old actress took to the red carpet at the premiere of her new movie Personal Shopper showing off a brand new look after shaving off all of her hair, E! Online reported.
As per reports, the Twilight star's buzzed cut style is for her upcoming movie, titled Underwater, which tells the story of a crew of underwater researchers, who must scramble to safety after an earthquake damages their laboratory.
Tracee Ellis Ross talks about body shaming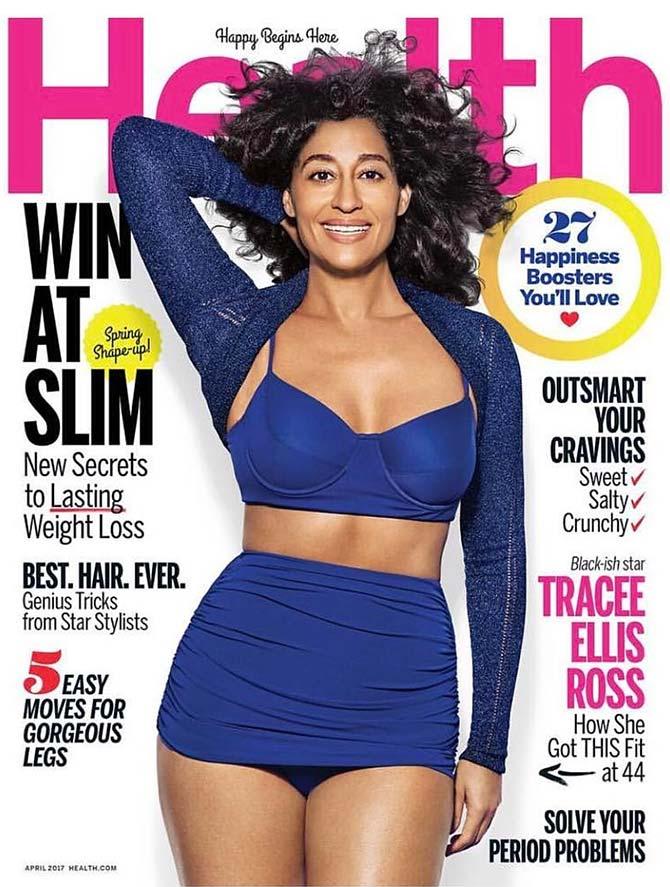 IMAGE: Tracee Ellis covers for Health's April cover.
Photograph: Kind courtesy Health magazine
The April issue of Health features Golden Globe star Tracee Ellis Ross on its cover.
Wearing a blue two piece outfit, the actor looks confident in her skin and body and talks about dealing with body issues while growing up.
She mentions how she was conscious about the size of her butt when she was young and how she tried to get rid of it.
'I love my butt in a way I didn't growing up,' the 44 year old actor told Health magazine.
'I really didn't like it growing up. It was so much bigger than everybody else's, and I wanted jeans to look the way they did on everybody else, and mine didn't."
It is only when she turned 30, she got comfortable with her body.
'In my 30s, I started to get comfortable with the largeness of my personality. The same thing with my butt. I tried getting really, really skinny, and I learned that no matter how thin I got, I was still gonna have a butt,' she said in the interview.
Girls, need more inspiration to love your bodies?
With inputs from agencies