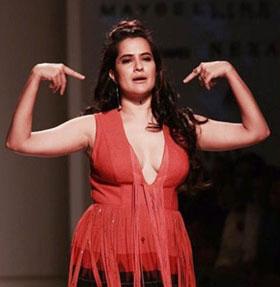 See how showstopper Sona Mohapatra and fashion designers impressed on Day two at Amazon India Fashion Week Spring/Summer 2017.
After celebrating Indian fabrics, designers now focused on innovations in textiles.
Day Two at Amazon India Fashion Week Spring/Summer 2017 was no less extravagant when it came to modern cuts and styles.
Presenting the best moments that stole the day.
Virtues by Viral, Ashish and Vikrant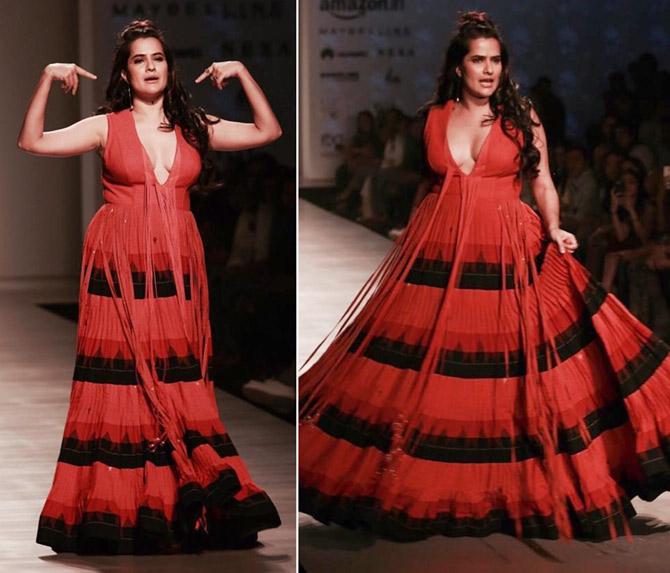 IMAGE: Singer Sona Mohapatra turned muse for the designer trio Viral, Ashish and Vikrant and she stomped the ramp like a boss.
Look how she twirled in joy in a vibrant orange layered pleated dress made of natural dye.

Photograph: Kind courtesy Sona Mohapatra/Instagram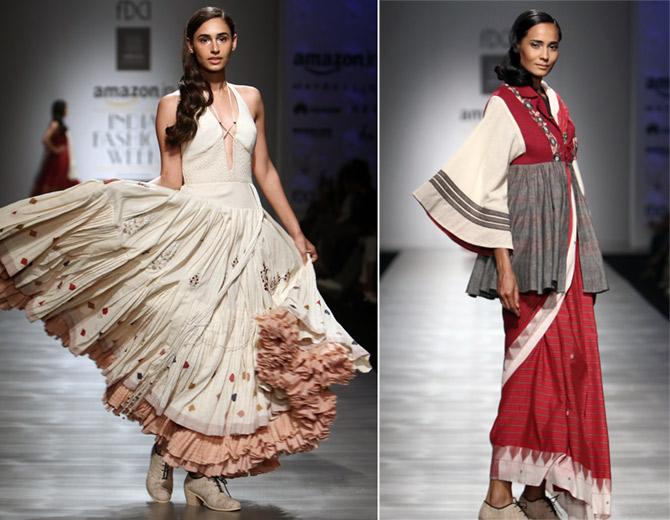 IMAGE: From flares, layers to unusual saris, the designers displayed designs in kotpad, an organic handloom fabric from Odisha.
Hasleen Kaur shows a printed layered ankle-length dress with flares, left, and Rikee Chatterjee models organic handloom sari with a peplum style bell-sleeve shirt blouse.

All photographs (below): Kind courtesy FDCI

Ashish N Soni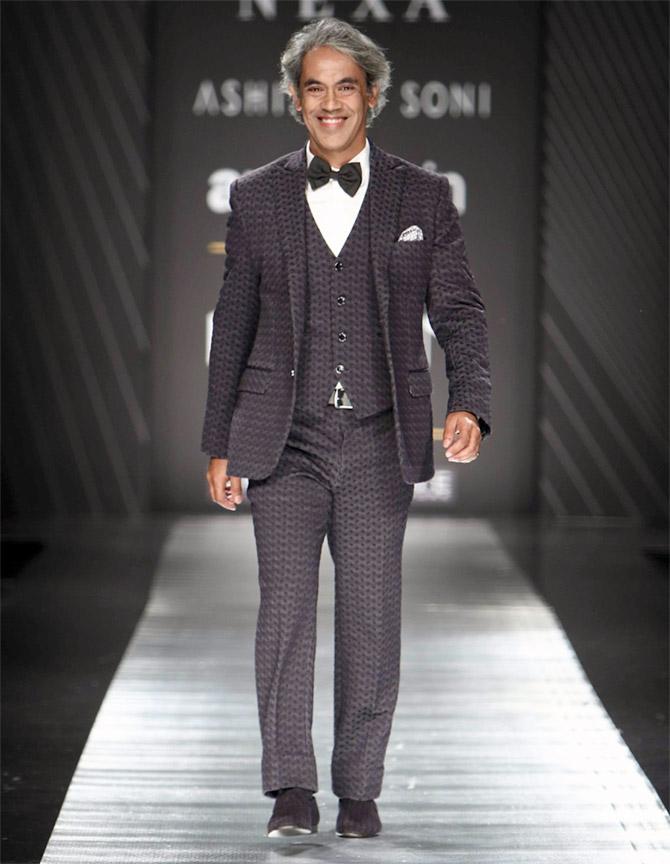 IMAGE: Polo player Samir Suhag stopped the show for Ashish N Soni. He embraced the dapper look in a printed five-piece suit.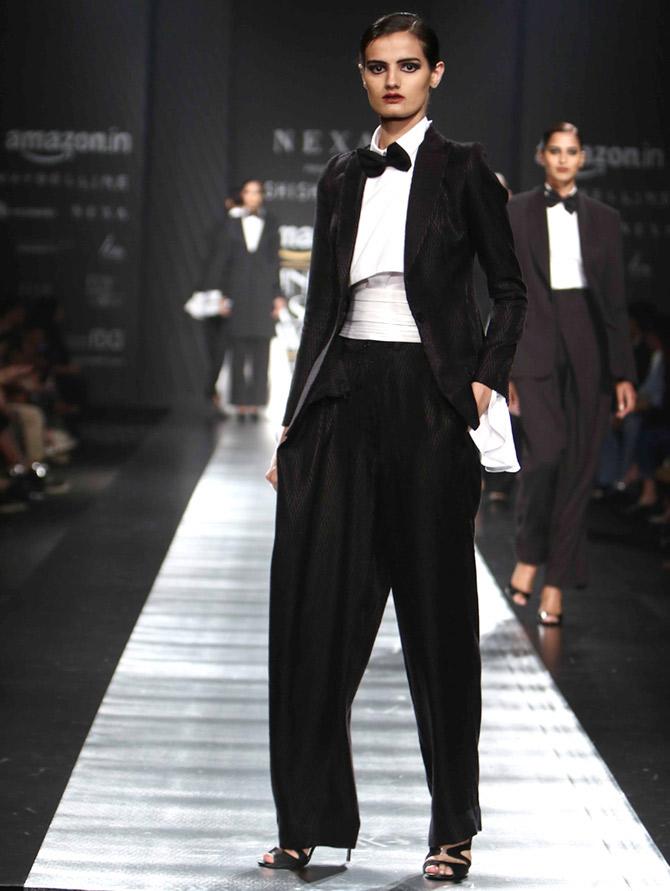 IMAGE: The designer had ample fashion goals for women too.
You may flaunt some elegant luxe in classy tuxedos, just like Dipti Sharma, who glided down the runway with unabashed confidence.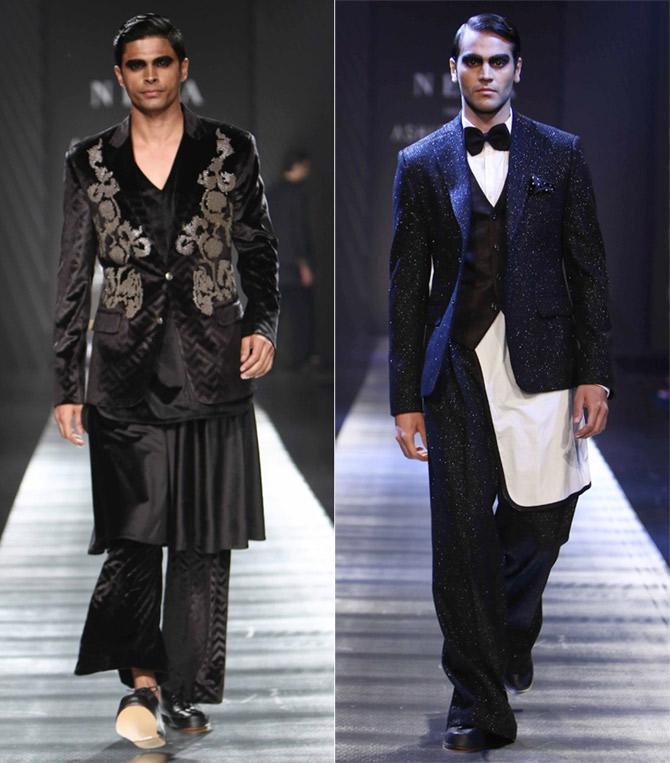 IMAGE: And men were all in black!
Check out this embroidered coat over a kurta and wide-legged trousers, left and a bling tux from the collection.
Pinnacle by Shruti Sancheti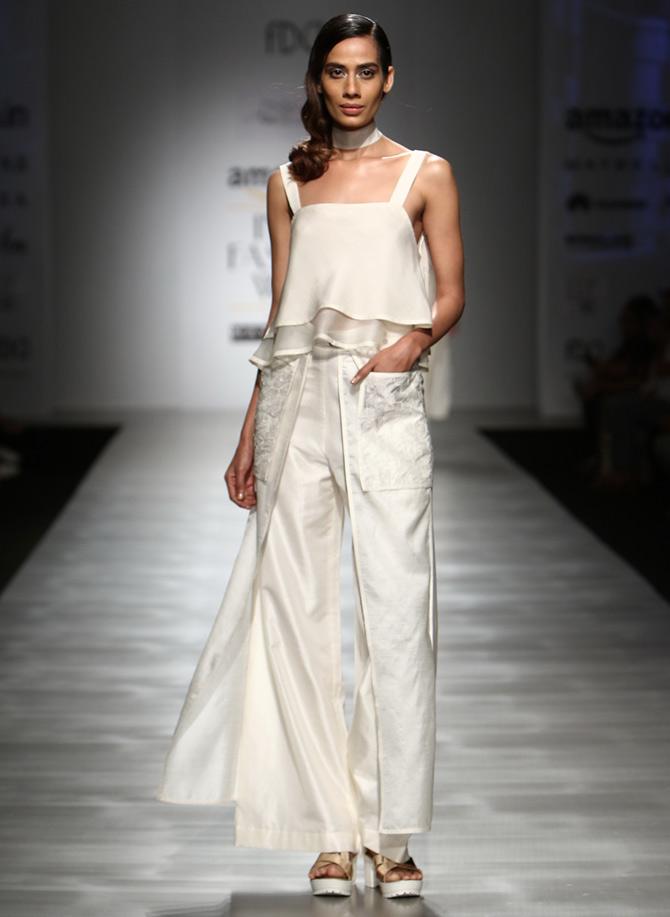 IMAGE: Shruti Sancheti designed a line made of hand woven textiles like fluid silk, sheer chanderi and woven cotton.
In this picture, Sony Kaur donned an all-white look in a layered spaghetti top over a pair of layered palazzos.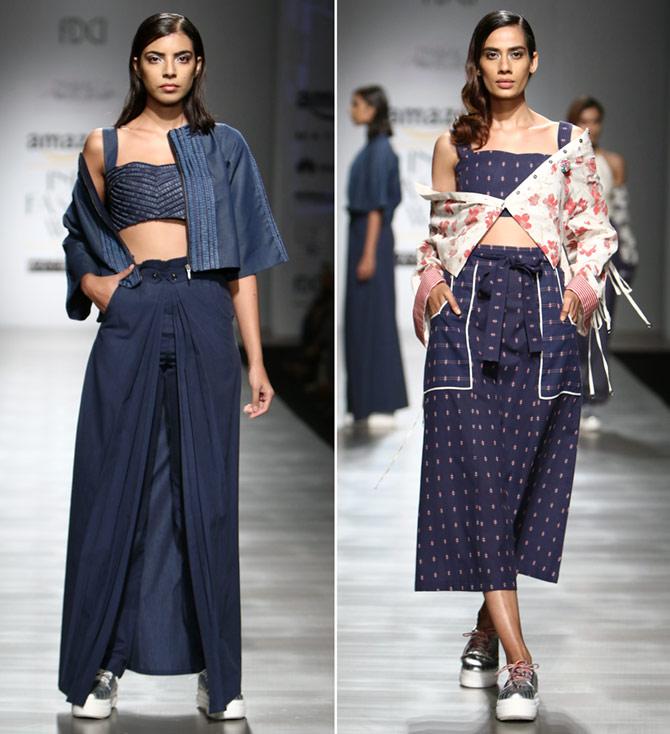 IMAGE: The muted indigo hue was much in highlight.
Arshia Ahuja models a skirt over pant along with a crop top and a short jacket, left, while Sony Kaur opts for a co-ord look with a floral shirt thrown over.

Akaaro by Gaurav Jai Gupta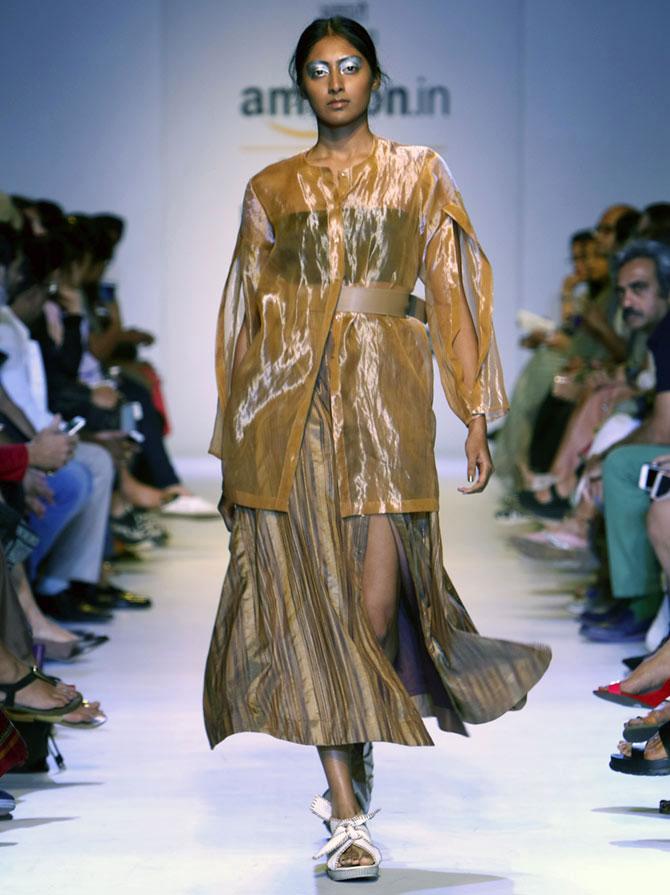 IMAGE: Fashion got funky with Gaurav Jai Gupta.
Make way for this earthy toned sheer shirt over a thigh-high slit skirt modelled by Krithika Babu.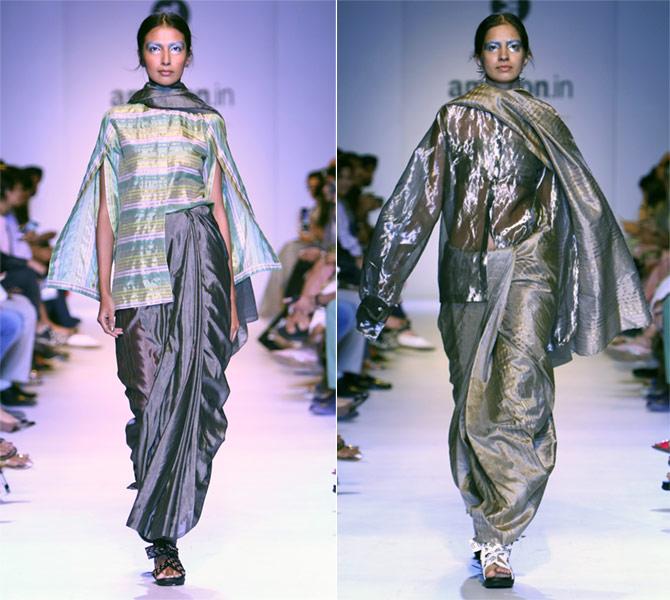 IMAGE: Show off some sari swag like these models in sheer. Tell us which one appeals to you the most.
Payal Pratap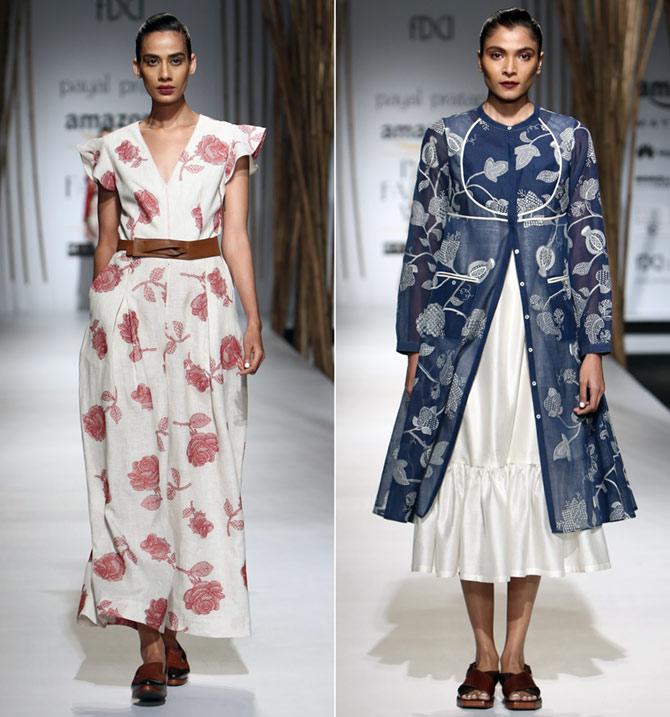 IMAGE: Designer Payal Pratap created a lively range of outfits that exhibited flower designs in signature threadwork. Sony Kaur, left and Hemangi Parte model two different outfits from the collection.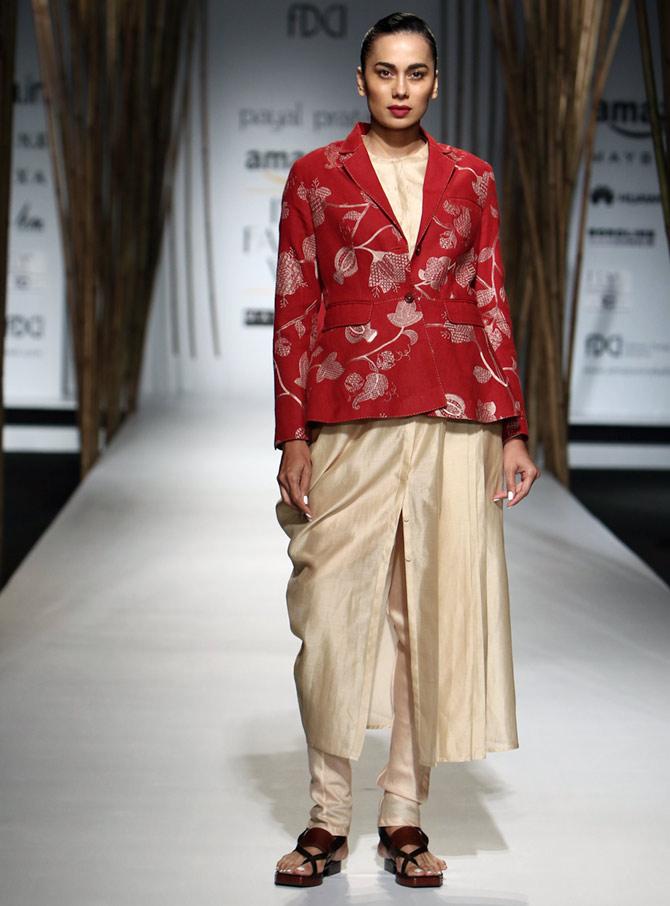 IMAGE: Model Sonalika Sahay showed us how to pair pastels with bright colours.
She teamed a red floral jacket with a beige front slit kurta over a pair of fitted leggings.
Abraham & Thakore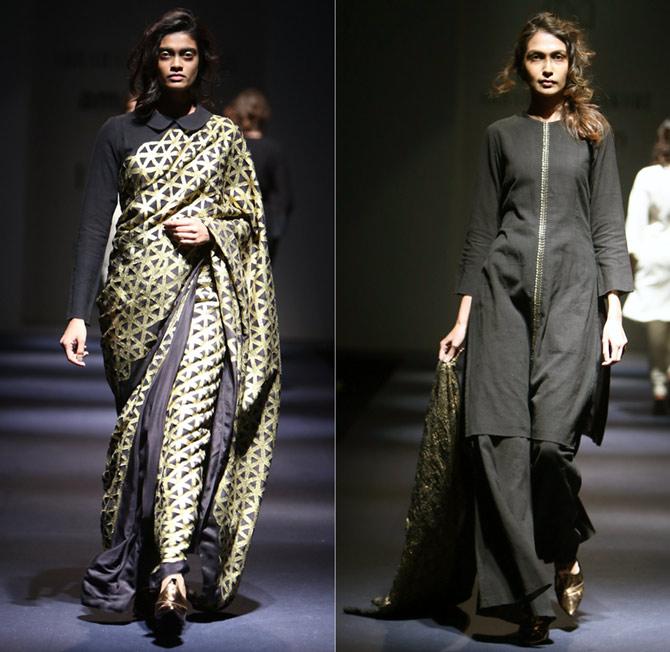 IMAGE: Lending an unconventional look to the humble fabric khadi, Abraham & Thakore designed ensembles with patches of gold and silver.
Sony Kaur draped a black sari with geometric embroidery in gold, left, while Sanea Sheikh wore a simple black kurta with a thin gold patch running in between paired with wide-legged pants.

Rajesh Pratap Singh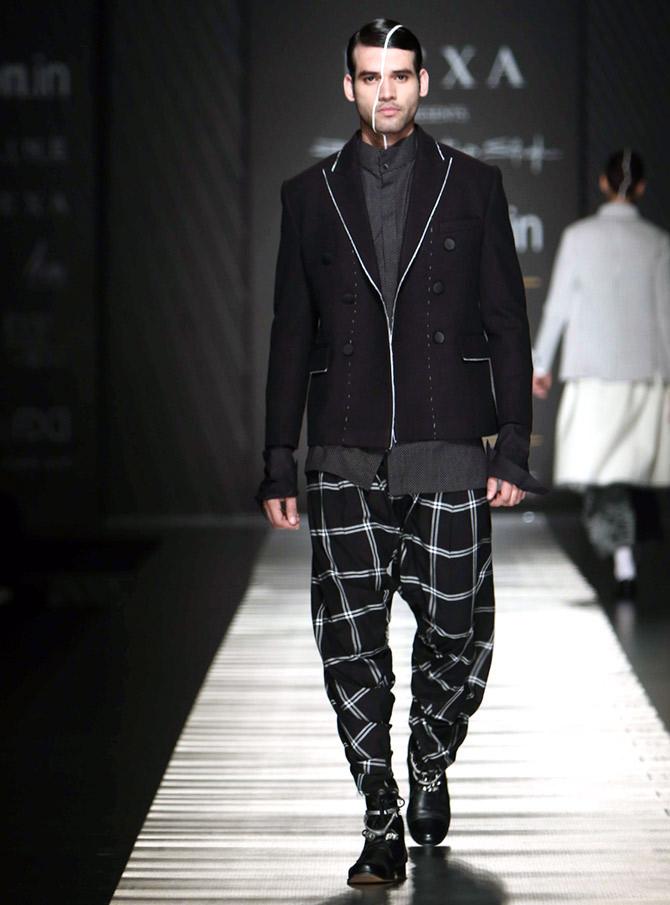 IMAGE: And why should boys be left out?
Rajesh Pratap Singh showcased a minimalistic collection in monochrome.
Now that's how you add structure to the suits.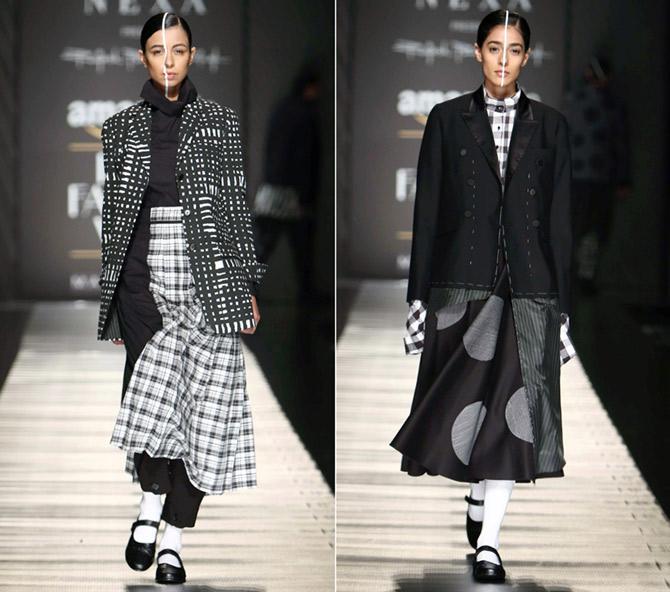 IMAGE: For women, he presented skirt suits that were equally commendable.
Anavila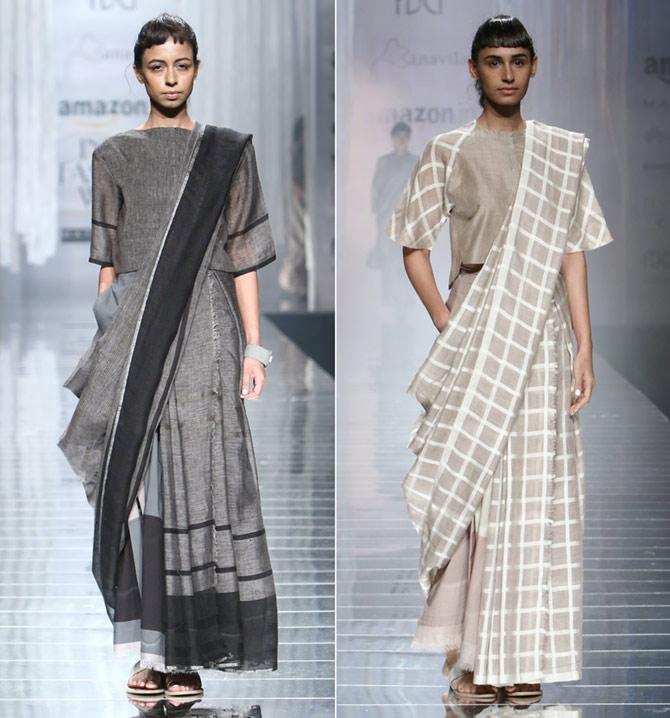 IMAGE: And Anavila's sari brigade was back!
She worked her magic with linen saris in neutral colours. The patchwork petticoats with pockets and frayed hems stood out in her collection.