22-year old Alice Rosario from Hyderabad is walking her second season at Lakme Fashion Week.
She might be a new face in the industry, but she is already a favourite with fellow models and designers.
And why not… after all, Alice carried fruits for everyone backstage, just to make sure no one has to work without food.
Alice Rosario speaks to Tista Sengupta/Rediff.com on how much she has been enjoying her time as a model, and how she keeps herself fit and fabulous.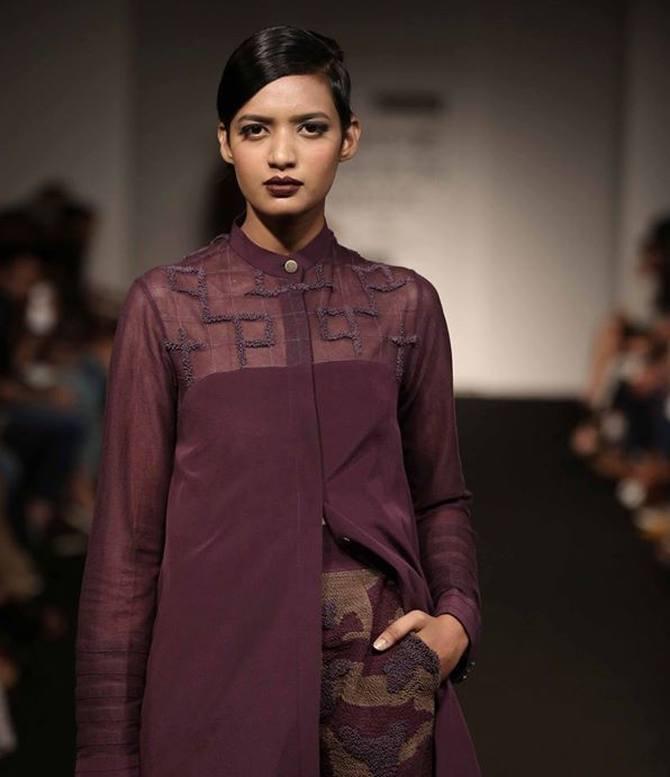 Photograph courtesy: Lakme Fashion Week
How did modelling happen?
It was never an intention to become a model. But it happened to me when I was in college, St. Francis College for Women, Hyderabad in 2012. I was 18.
There were various fests that were being organized in college and there were many competitions too. One such competition was Mr and Mrs Expression.
I took part in this contest in the last minute. I was discovering myself then. I wanted to see how it would go and gave it a try. I won.
I was always a very shy person and not confident about myself. I was more into sports – I am a district level volleyball player. The contest was quite an experience.
And then…
The person who wins this competition gets a ticket to the Miss Hyderabad pageant. So I auditioned for it. There were 100 other models like me. I was selected for the top 25 models and later in the top 10. I didn't win, but did get the Miss Congeniality and Miss Perfect 10 titles.
In Hyderabad, women aren't that tall. It was easier for them to pick me as a model. I was a very raw person who didn't even know how to walk in heels. I was always in shoes. So I learnt the basics of modelling to groom myself.
But as I lived in Hyderabad, everything that was happening was in my hometown.
People in the other parts of the country didn't know who I am.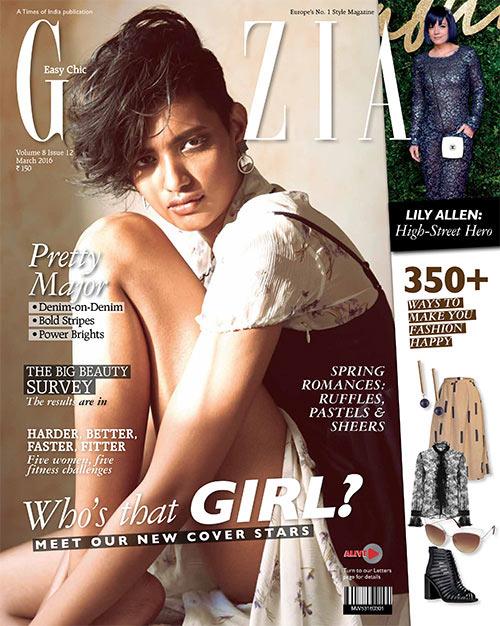 So have you moved to Mumbai?
I haven't moved to this city yet… I keep travelling for work.
How many years in mainstream modelling?
It's been six months. I was selected at the Lakme Fashion Week auditions last season. So I am still a new face for this platform. But I do editorial shoots, have won the Max Fashion Icon 2015, the Grazia cover girl Hunt in 2016, and also walked for India Bridal Fashion Week.
How do you stay fit?
I don't do a thing. I am such a hyperactive person that I am always on my toes.
I make sure to do small things like always take the staircase.
I don't workout or do yoga. I need to start it now I think.
I have a brilliant metabolism rate, so I don't put on weight at all.
I eat everything -- cheese, butter and ghee. I eat a lot of junk food.
But after every meal, I have a glass of warm water with honey and lemon in it.
When I am at work, I carry a box of nuts.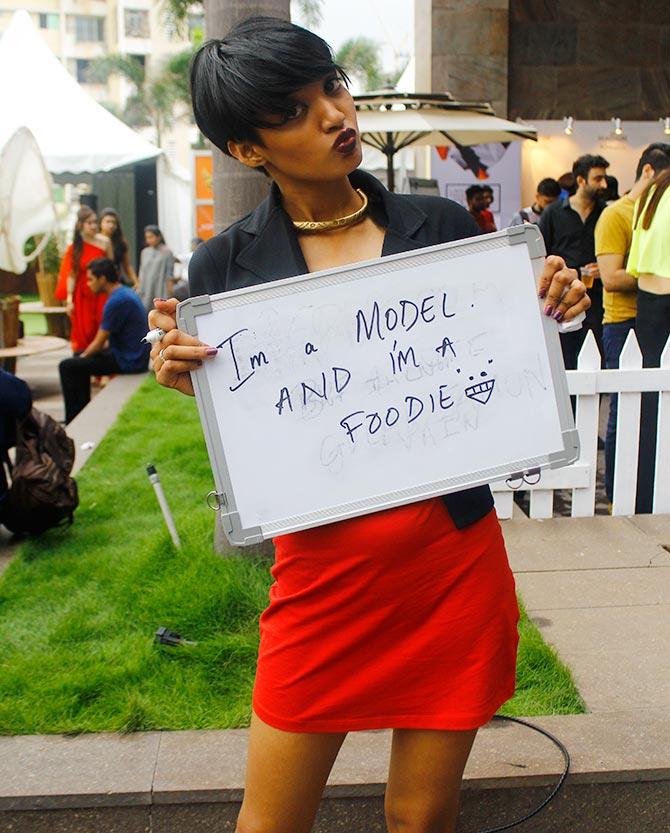 Photograph: Hitesh Harisinghani/Rediff.com
Is there any food item that you avoid?
I'd say that there are some food stuff I don't like to eat.
I don't like apples, although one should have it every day. But I am not a picky eater.
Tell us about your diet…
I eat everything. Once I wake up, I have my breakfast which is two chapatis with a vegetable curry. When I am not at home, I have to make do with a bowl of cornflakes. In the afternoon I have rice and curry and in the evening I have Maggi or oats. For dinner, I have whatever is prepared at home.
So what do you eat on your cheat day?
Almost every day is my cheat day. When I am here I get to eat whatever I want from the buffet. But when I am back home and get to have ghar-ka-khaana… I think those are my real cheat days.
Favourite designers…
From India, it has to be Sabyasachi and Manish Malhotra. I walked for Manish on the opening day of Lakme Fashion Week Summer/Resort 2016. It was my first time and a privilege to walk for him.
Among international designers, I like Ellie Saab and Calvin Klein.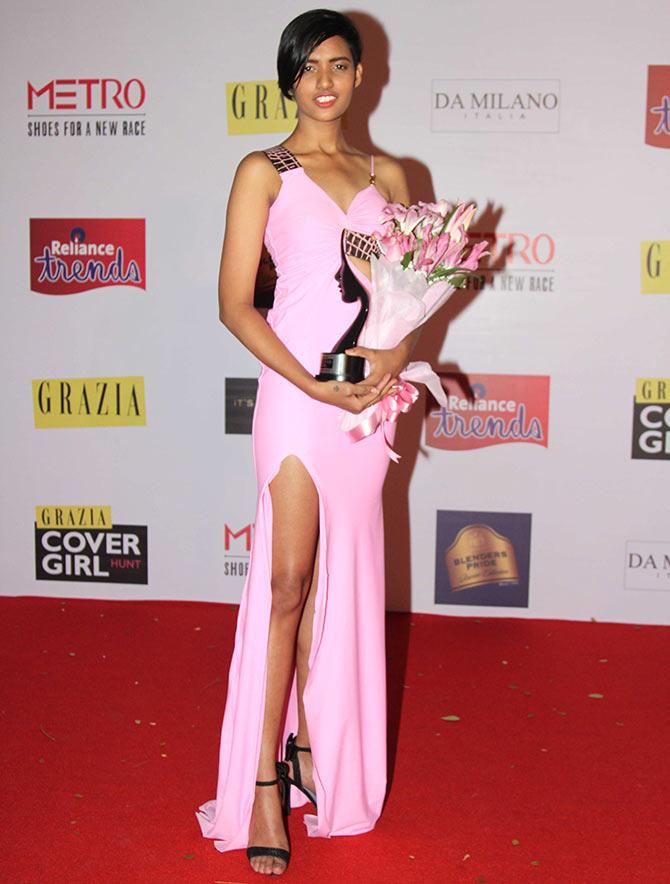 Photograph: Pradeep Bandekar
Personal style…

Tomboy is written all over me. I am more of an androgynous person. I wear loose shirts and sometimes wear men's clothes too.
If you want to get compliments for your style statement, go pick the smallest size in men's shirt. And you will have people asking you 'where did you get that?'
Your advice to aspiring models…
If you want to get into modelling, join a contest. That's where you will get groomed from top-to-toe.
Best part of modeling…
It builds your confidence.
Favourite travel destination…
I like beaches. Goa is one of my favourites. I am looking forward to going to Himachal Pradesh and Ladakh.
T20 World Cup is on. Your favourite cricketer...
Virat Kohli has been performing immensely well. Ravichandran Ashwin has been bowling like nobody's business. Infact, everybody from the team is my favourite.
Your message for your favourite cricketers
All the best, guys. Go India!!
Virat Kohli stood up for Anushka Sharma on social media as he slammed people for trolling his ex-girlfriend. Your comments...
It always comes down to a woman. Men need to grow some guts. The amount of respect I have for him now is immense. Irrespective of what the situation was, he still stood by her.
Don't Miss our Special Coverage of Lakme Fashion Week Summer/Resort 2016