The most popular list among the shutterbugs this year
If you want to capture amazing moments of your life for posterity, then a DSLR camera is the perfect tool to accomplish those dream moments. A DSLR camera provides you with total control that no 'point and shoot' camera can ever match.
This list of DSLRs is the most popular among the shutterbugs this year.
Canon EOS 750D
Price: Rs 50,955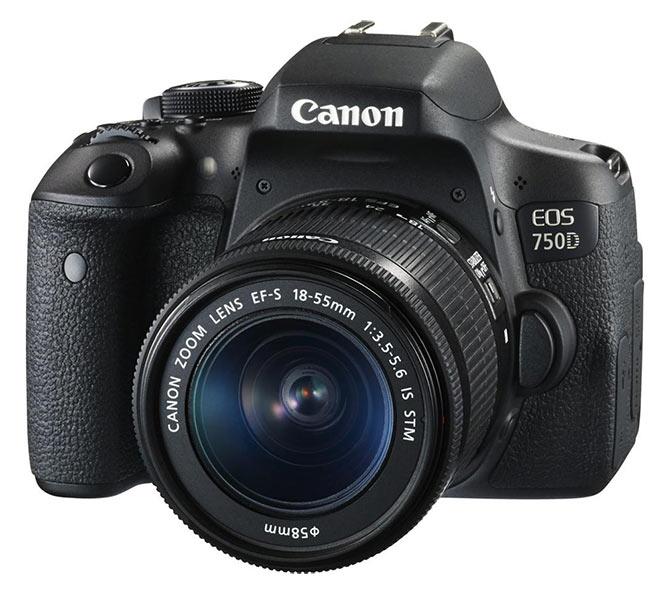 Photograph: Courtesy, Canon
This sturdy DSLR has dimensions of 131.9 (W) x 100.7 (H) x 77.8 (D) mm and weighs 555 grams with battery. It is ergonomically designed and possesses a 24.2-megapixel CMOS sensor along with an electronically controlled shutter speed of up to 1/4000 sec.
The EOS 750D with an ISO rating of 100-6400 (auto), supports Canon EF mounted lenses with 18-55mm of focal length. The 3-inch LCD screen with 1920 x 1080 pixels resolution allows you to frame a photo quickly, which is then processed by its DIGIC 6 processor.
For connectivity, this DSLR has several options including a high speed USB port and Wi-Fi 802.11 a/g/n. It can take pictures in several resolutions including L: 6000 x 4000 (24 M), M: 3984 x 2656 (10.6 M), S1: 2976 x 1984 (5.9 M), S2: 1920 x 1280 (2.5 M), S3: 720 x 480 (0.35 M), and RAW: 6000 x 4000 (24 M).
The EOS 750D supports MP4 (AAC) audio and MP4 (MPEG-4 AVC / H.264) video formats. For power, this camera has a 1040mAh battery pack and to store pictures it supports SD / SDHC / SDXC types.
Nikon D3300 with AF-S 18-55 mm VR Kit Lens II + AF-S 55-200 mm VR Kit DSLR Camera
Price: Rs 37,590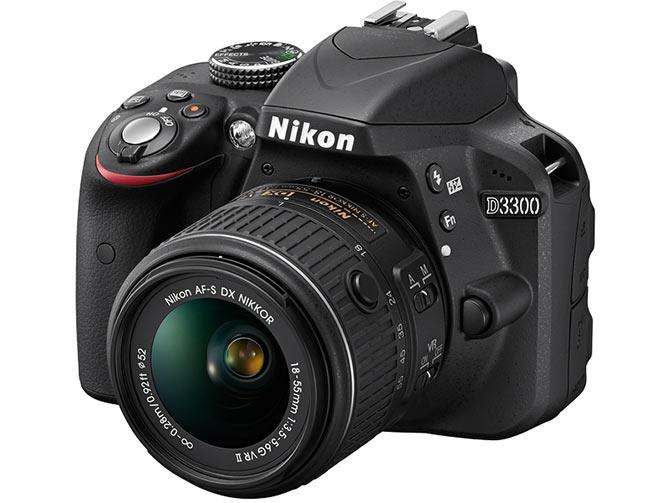 Photograph: Courtesy, Nikon
This lightweight shooter is an ideal travelling companion that comes with a 24.2 megapixel CMOS sensor and records videos at Full HD resolution. The shooter is accompanied by a mosaic of video special effects to further improve the quality of videos.
For framing pictures, the D3300 can make use of a 3-inch TFT LCD with VGA resolution that gives 170 degrees of viewing angle with full frame coverage. It also features an eye-level penta-mirror single-lens reflex viewfinder and the Expeed 4 image-processing engine does the image processing work.
The shooter can shoot up to five frames per second and offers a wide variety of in-camera editing options including 13 special effects and retouch menu options. The camera comes with an AF-S 18 to 55 mm wide-angle zoom VR kit lens.
For storing shots, you can use SD, SDXC, and SDHC cards.
Canon EOS 700D Double Zoom (EF S18 - 55 mm IS II and EF S55 - 250 mm II) DSLR Camera
Price: 34,999
Photograph: Courtesy, Canon
This shooter from Canon has an 18-megapixel sensor that supports 9-point all cross-type AF system for accurate focus. It also includes a high-precision dual-cross f/2.8 centre point.
The Canon EOS 700D is equipped with a DIGIC 5 Image Processor and has an ISO range of 100-12800 to 25600 in H mode. For viewing the object of interest, the shooter can make use of its 3-inch TFT LCD Display that has an image display resolution of 10,40,000 dots. This camera also has a viewfinder with an eye-level Penta-mirror. It supports SD, SDXC, and SDHC cards.
Canon EOS 70D (Body with EF-S 18-135 mm IS STM Lens) DSLR Camera
Price: Rs 88,195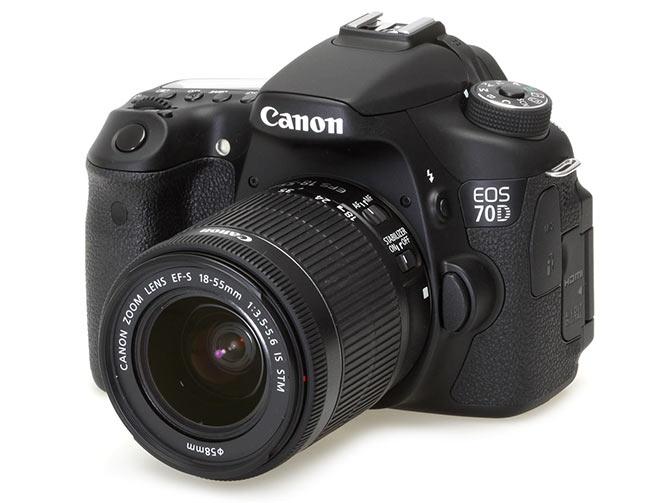 Photograph: Courtesy, Canon
This mid-level Canon DSLR features a APS-C sized CMOS 20.2-megapixel sensor and a 3–inch full HD TFT display. For processing images, Canon has provided it with a Digic 5+ image processor. It has the ability to shoot up to 7 shots per second and has 19 AF points that make focusing easy.
The electronically controlled shutter speed of this camera is 1/8000 to 30 sec. It also supports various modes of shooting like one-shot AF, AI Servo AF, AI Focus AF, Manual Focusing (MF) and AF-assist beam.
Among the exposure controls are modes Programme AE, Special Scene, Shutter-priority AE, Aperture-priority AE, Manual Exposure and Bulb Exposure.
The 18 - 135 mm lens that comes with this camera features 16 elements in 12 groups with a 67 mm filter size and 1.5 ft minimum focus distance. It has several connectivity options, including Hi-speed USB port as well as the Type C Mini HDMI port to stream images and videos.
The camera also comes with wireless remote control facility. A LP-E6 battery powers this beast.
Nikon D700
Price: Rs 52,900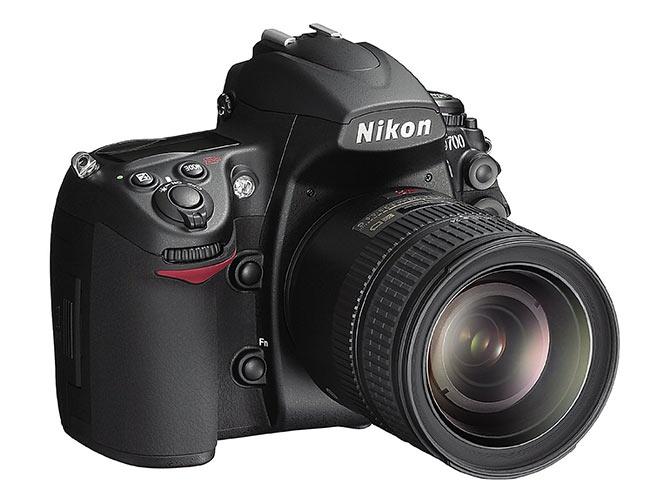 Photograph: Courtesy, Nikon
This premium built camera has a 3-inch low-temperature poly-silicon TFT LCD screen to frame the shots and a 16.2-megapixel CMOS image sensor coupled to Expeed 2 processing engine that gives you low sound performance with amazing colour reproduction. It can take continuous 6 frames per second shots and its autofocus system features 39 focus points for a good subject-tracking and focusing performance.
The ISO sensitivity of this camera is in the range of 100-6400. It supports SD, SDXC, and SDHC cards for storage.
Nikon D5300
Price: Rs 40,990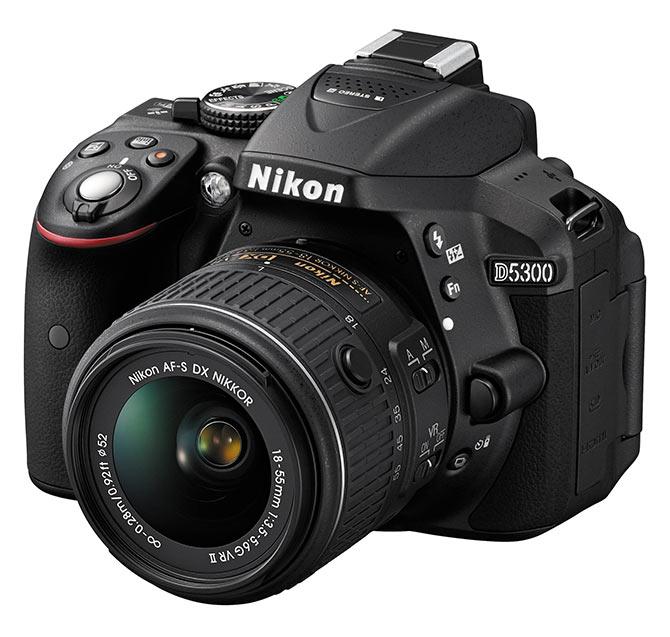 Photograph: Courtesy, Nikon
The D5300 is blessed with a 24.2 MP CMOS sensor of DX-format and is coupled to the EXPEED 4 image processor to give you impressive image quality. The user can shoot images in RAW as well as at the rate of 5 fps along with Full HD video recording.
It has a rotating 3.2-inch LCD display that has a 170-degree viewing angle. The exposure level of this camera is in the range of ISO 100 to 12800, which can be expanded to 25600 for low light conditions, without an optical low-pass filter.
For storing pictures, it supports SD/UHS-I Compliant SDHC/SDXC cards. The camera has a Lithium battery and comes with an EH-5b AC Adapter.
Sony Alpha SLT-A58Y
Price: Rs 37,998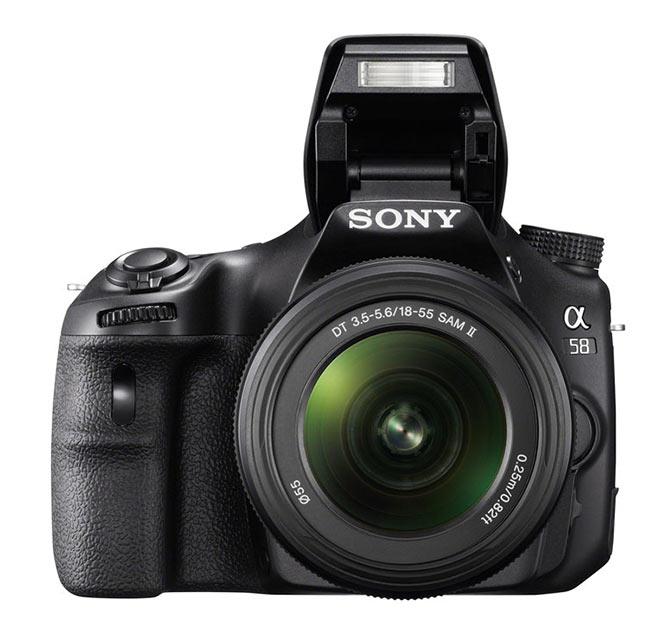 Photograph: Courtesy, Sony
This lovely looking shooter from Sony uses a 20.1-megapixel Exmor APS HD CMOS sensor, which is able to click accurate shots using the Lock-on Auto Focus feature that uses Sony's Translucent Mirror Technology along with subject size detection feature.
The 15 point AF system with 3 Cross sensors that this camera is blessed with, allows the user to freeze motion and render shots more accurate, even in dim lighting. The ISO range of this camera is 100-16000 for amazing low light photography.
Pentax K5 II
Price: Rs 89,996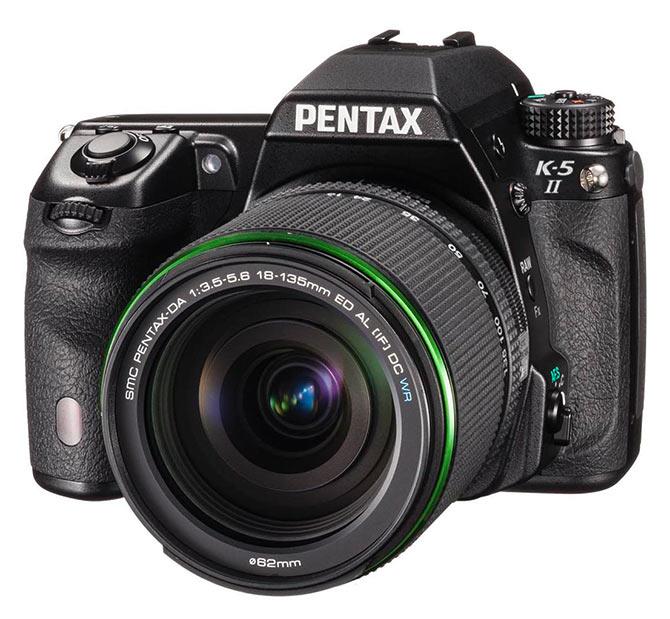 Photograph: Courtesy, Pentax
The mid range Pentax K5 II comes with a 16.3-megapixel CMOS sensor with several unique features, including Primary Colour Filter and Integrated Shake/Dust Reduction Sensor Movement System; Colour Depth: 8-bits/Channel JPG, 14-bits/Channel RAW, DR II (Ultrasonic Vibration to Low Pass Filter) with Dust Alert Function.
To view the objects, the shooter can make use of its 3-inch TFT display. For focusing, you can make use of its Auto 11 Point, Auto 5 Point, User-selectable Centre, AF Assist: via Dedicated LED AF Assist Lamp, Safox X TTL Phase-difference 11 Point (9 Cross) Wide Autofocus System with Light Wavelength Sensor, Autofocus: Contrast + Face Detection, Contrast Detection, Phase Difference that also allows you to take clear photos in all conditions.
This shooter can take pictures in RAW, PEF, DNG, JPG (EXIF 2.21), DCF 2 Compliant, DPOF, PIM III formats.
Canon EOS 6D
Price: Rs 144,985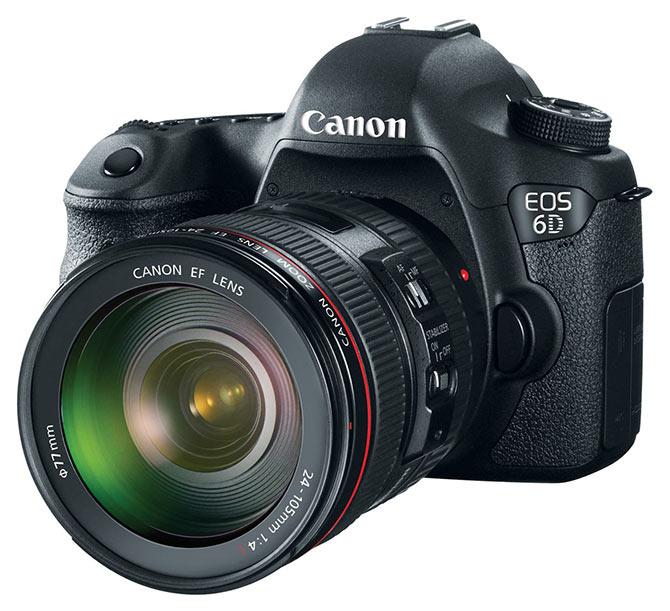 Photograph: Courtesy, Canon
This camera is aimed at the professionals. It comes with a high-resolution 20.2-megapixel CMOS sensor to shoot images with minute details. The ISO range of this camera is ISO 50- 1024000 to take amazing low light photography.
The viewfinder of this camera is a 7.62cm clear view LCD. It has the ability to capture 1080p videos at 30 frames per second or 720p videos at 60 frames per second.
In addition, it has built in Wi-Fi and GPS for continuous connectivity.
Canon EOS 5D Mark III
Price Rs 216,500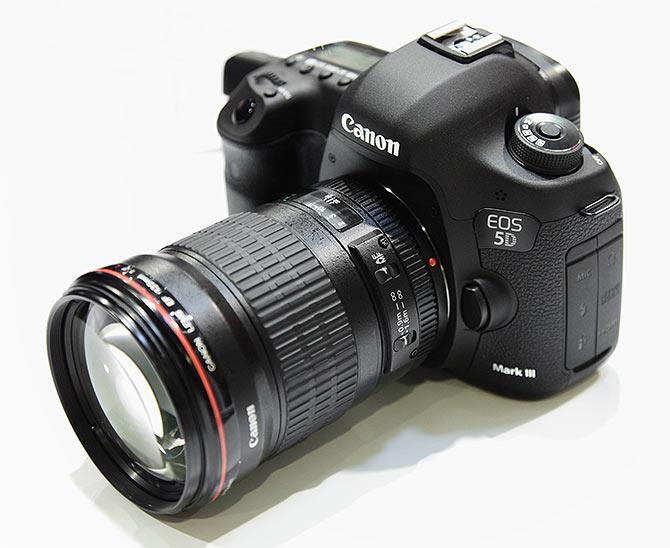 Photograph: Courtesy, Canon
This top of the line camera has a 22.3-megapixel CMOS Image Sensor integrated with DIGIC 5+ image processor. It has a 3.2 inch TFT Colour, Liquid-crystal Monitor to view and frame your shots. The ISO sensitivity level of this camera vary from ISO 100 to ISO12800 range. This camera allows the shooter 61-point focus with the high-density reticular AF mode which is highly effective for drama and creative shots that may require depth of field effects or simple macro.