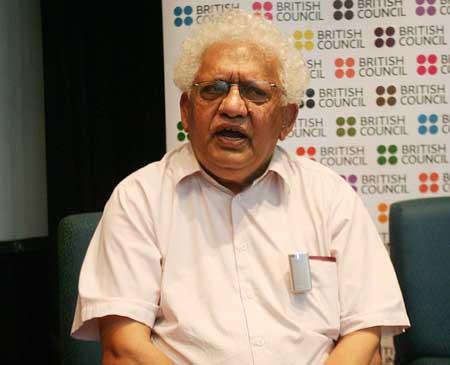 Meghnad Jagdishchandra Desai or Baron Desai, 70, was born in India and completed his Master's from Bombay University. He went on a scholarship to the University of Pennsylvania and obtained his PhD at the age of 23. Two years later, he was teaching at the London School of Economics.

According to the author, lecturer and thinker, the Indian education system does not encourage thinking out of the box. Urmila Rao of Careers360 caught up with Lord Desai at Asia Pacific Management Institute, Jasola.

Do you think education has become commercialised?

I would say it has become professionalised. These days, nobody wants to study Economics; they want to do Business Studies, Management Studies, Accounting and Finance, or Human Resource. Who wants to study Sanskrit or History? This is partly may be because of the way the world is, but there are a few people who want to study these subjects and are quite motivated too.

Does India need more higher education institutions?

India needs at least 10 times the number of higher education institutions that it already has. It really should sort out its many complicated laws too.

Way too many different education bodies exist for non-degree education, and for degree education. Then there are all sorts of bodies for union or regional rules. There should be a regulatory certifying body, and a unified exam. What do Americans do? They don't restrict people from opening colleges. Here, we should allow students start out in a junior college and move to a two-year college later, and then further go on according to their own wish, as long as they can sign up and pay for it.

Basically, we need to let the consumer decide. After that, each college should be judged by its performance. In America, there is a great variation in the quality of
educational institutions. And the very aim of ranking a university is to evaluate its quality. An institution must be judged by its eventual output; not by the input or by the process.
How do you rate the quality of educational institutions in India?
The quality of Indian universities is not very good according to international standards. Again, I blame government policies for that. India needs greater number of colleges, and it needs at least ten that can be listed in the top 200 in the world.
What is your opinion of British colleges? How is their reputation?
The British, until very recently, were very elitist in their perspective toward education. Education was simply a bench to filter out the non-middle class. Lately, there was a bit more democratisation because of the emergence of polytechnics. And polytechnics have the potential to eventually gain university status.
But precocious students like you still chose to go abroad for studies?
We probably relieved the pressure on the market! You see, higher education does not really require a qualification in teaching specifically – at least not in England. In higher education, it is the knowledge of your subject that matters, not the knowledge of teaching. People should not be saying, "Oh we don't have teachers; therefore we will not open colleges." Let people take the initiative, let the private sector participate.
In India, the quality of teaching staff and the high amount of fees are seen as drawbacks...
If there is demand for more faculty members, there will be supply. The high fee in India is nothing compared to the high fees in Harvard. If people can take loans to buy houses, why can't they take loans for education? A house is anyway a depreciating asset; whereas education can be an income-generating asset.
Image: Lord Meghnad Desai at an event in MumbaiPhotograph: Hitesh Harisinghani