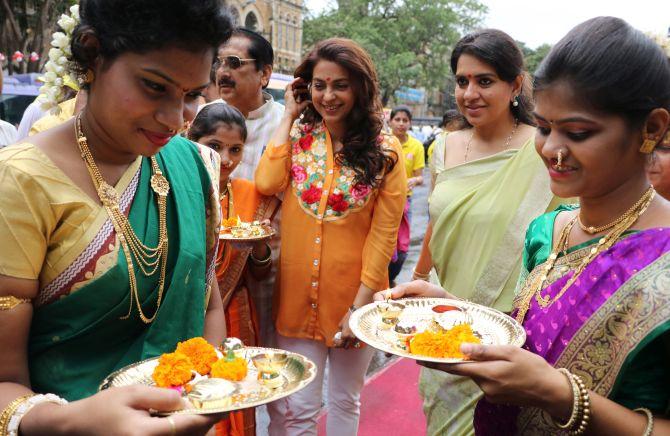 Now, there's a new way to tour Mumbai, says Rediff.com's Hitesh Harisinghani.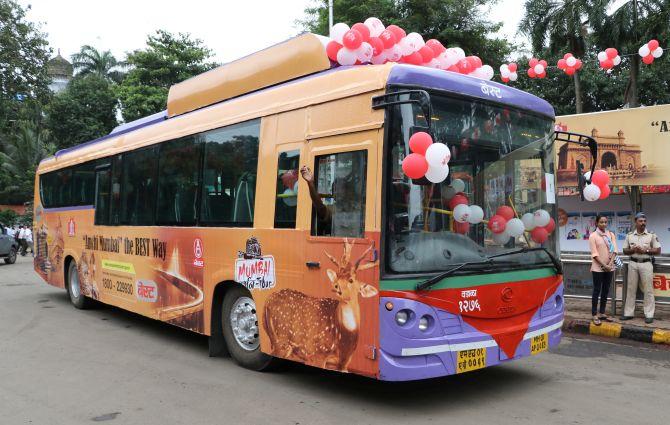 Yeh hai Mumbai, meri jaan...
If you want to get a glimpse of the City of Dreams, here's the newest way to do it.
A fancy, air-conditioned bus service, launched by Maharashtra Chief Minister Devendra Fadnavis on August 11.
Fadnavis, all smiles at the launch, waxed nostalgic as he recalled his trips on the city's red BEST buses when he first visited Mumbai with an uncle.
Then, he hopped onto one of the Special Mumbai Darshan Tour buses for a quick experience of the Maharashtra Tourism Development Corporation's latest service.
The Special Mumbai Darshan Tour will have two starting points -- the Chhatrapati Shivaji Terminus railway station in south Mumbai and Dadar in central Mumbai.
Each tour -- which is scheduled to last for 7 to 8 hours -- will cover tourist attractions like the Siddhivinayak Temple, Bandstand, Mani Bhavan, the Taraporevala Aquarium and, of course, driving past the homes of Bollywood stars... Now which Mumbai darshan would be complete without that?
Tour packages are priced at Rs 499 and Rs 735; the latter includes tickets to Mumbai's much recommended museum, the Chhatrapati Shivaji Vastu Sangrahalaya.
"As bloggers," says Bhakti Menon, "we come across varied experiences and this one is completely different. Going around iconic places comfortably in an air-conditioned bus is fun in a way. If you feel hungry, there's a snack box to munch on. I stay away from south Mumbai and don't come here so often, so this was a great experience. Also roaming around Mumbai without having to drive is a great thing."
Take a look at the launch, and at the beautiful lady who turned up for the event...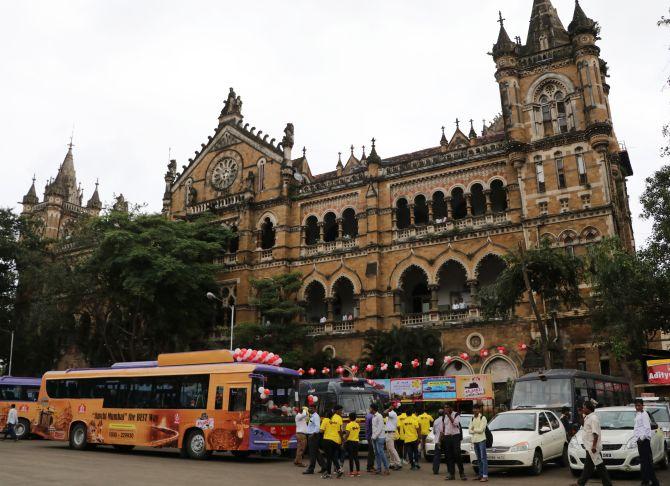 The service is launched at Mumbai's famed CST railway station. You can take a closer look at the bus in the first photograph in this feature.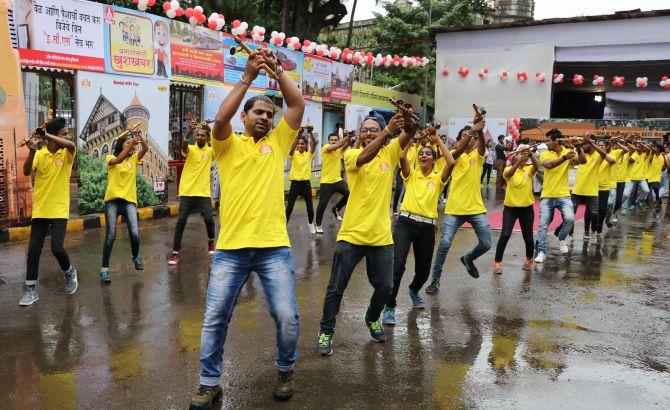 The prospect of imminent rain did not discourage these enthusiastic lezim dancers.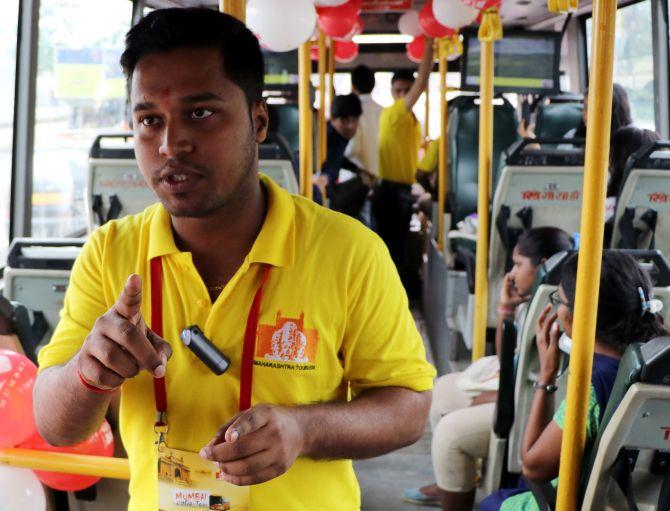 Tour guides like Shankar are at hand to enrich your experience.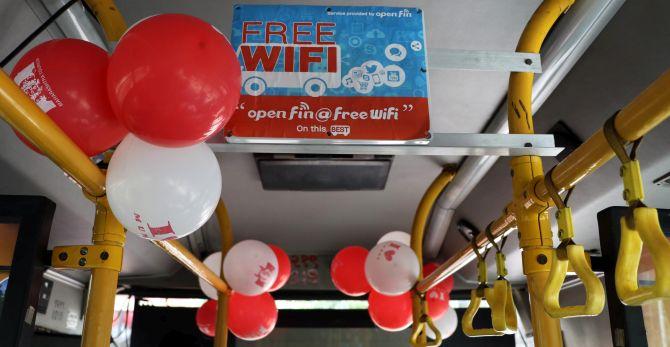 And yes, there's free WiFi as well :)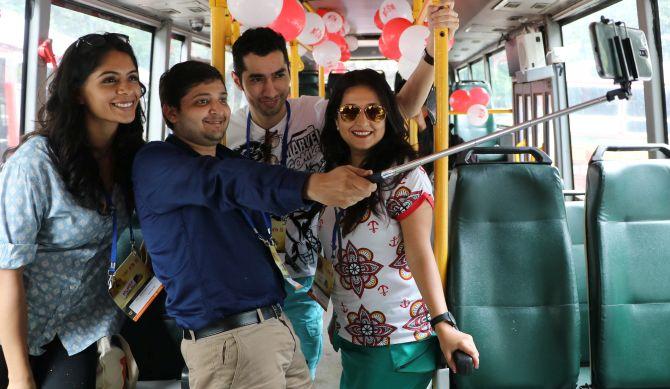 There's always time for a group selfie :)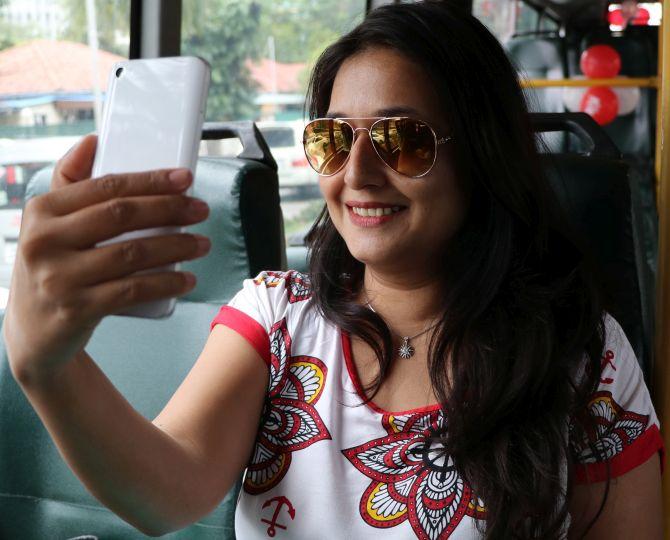 One more for your next DP :)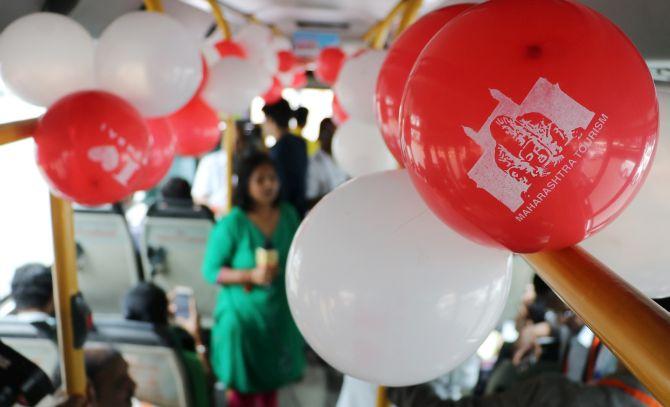 In case you hadn't noticed the 'I Love Mumbai' balloons sponsored by Maharashtra Tourism.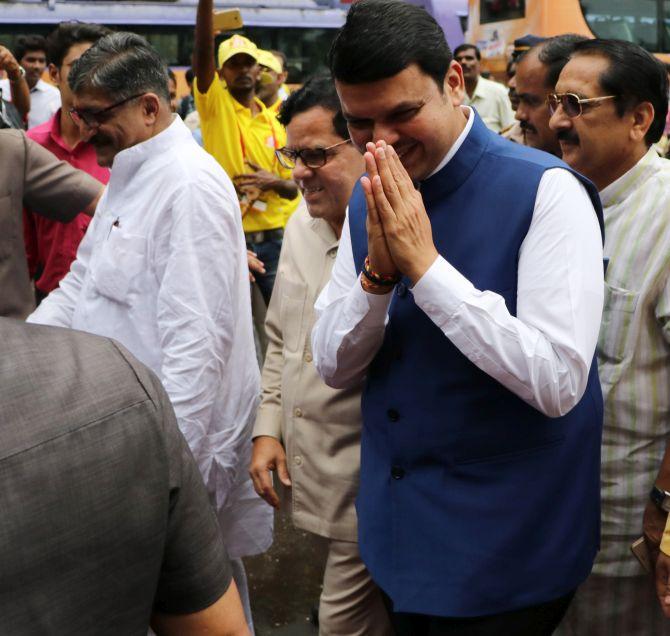 Devendra Fadnavis arrives.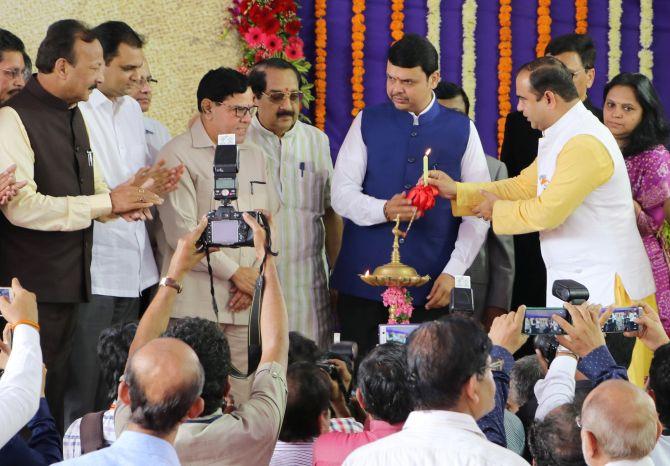 A traditional launch.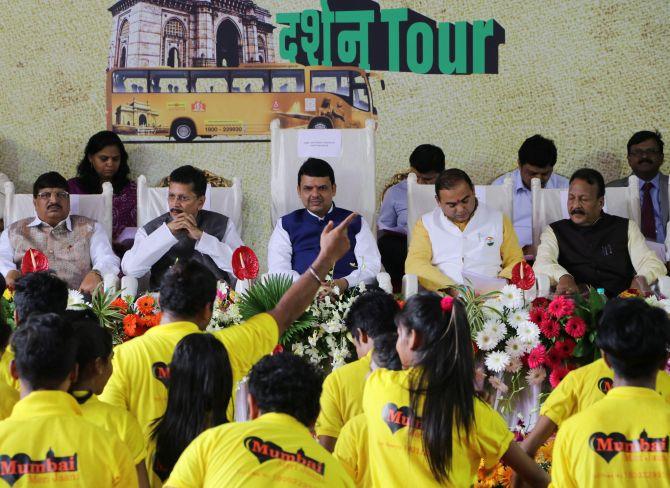 They're dancing, he's watching!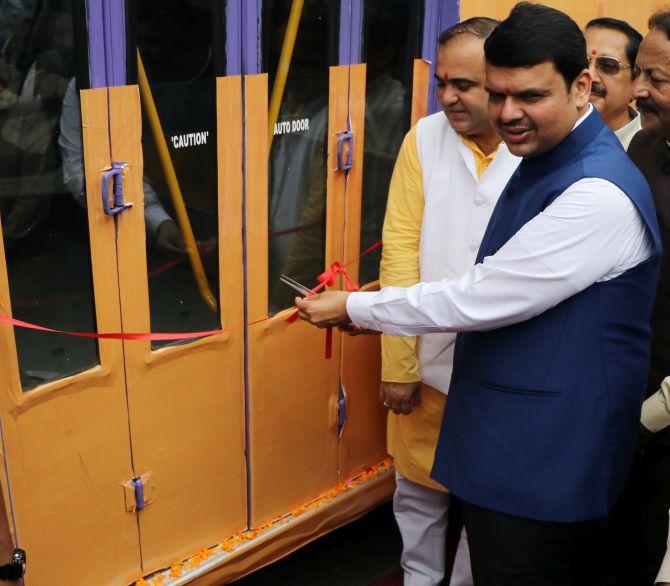 Time to cut the ribbon.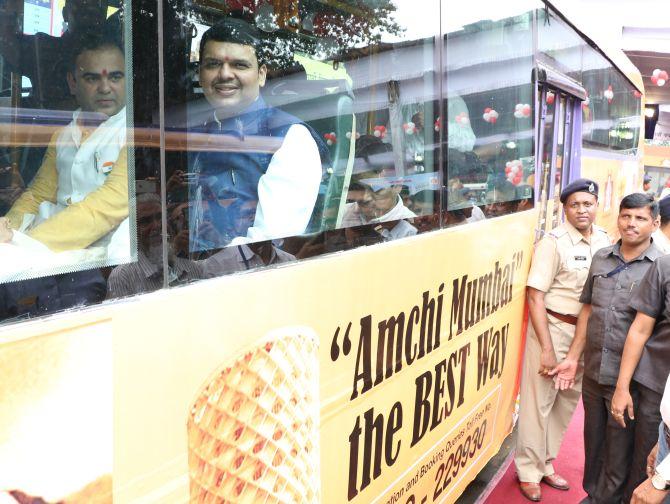 Now that he's inside the bus, everyone looks pleased!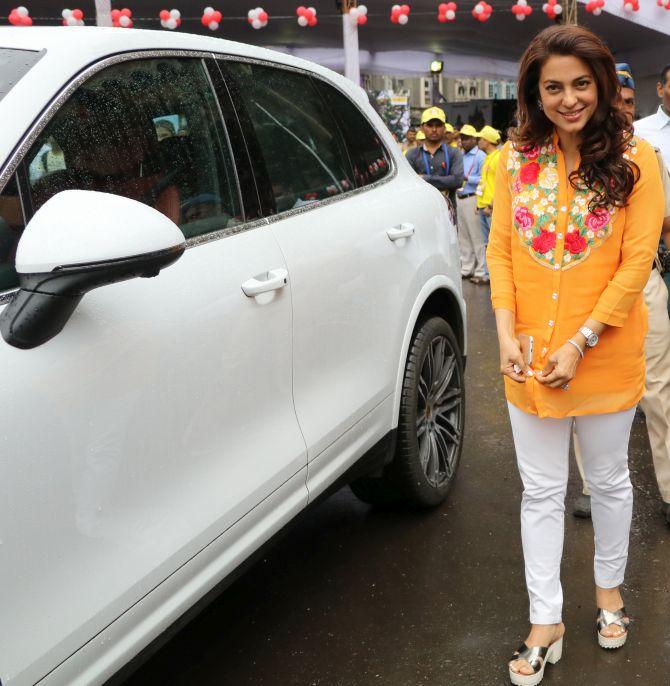 But not as pleased as they were when they spotted this beautiful lady.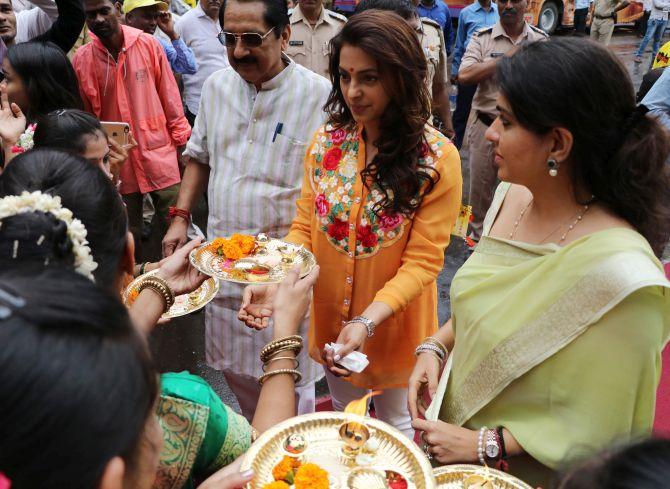 Juhi Chawla was accompanied by BJP leader and fashion designer Shaina NC.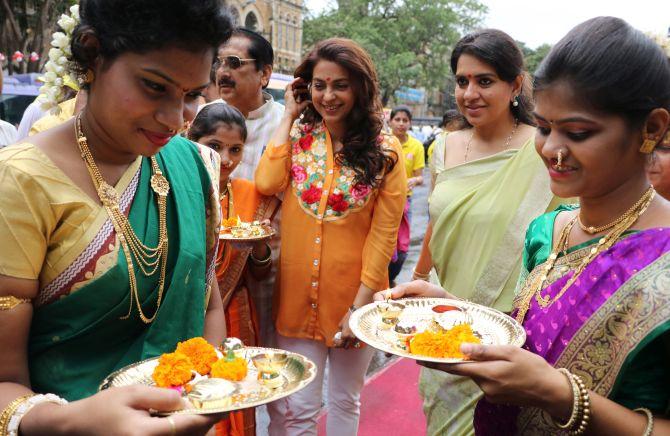 And this one's just for Juhi's sunny smile :)
Photographs: Hitesh Harisinghani/Rediff.com