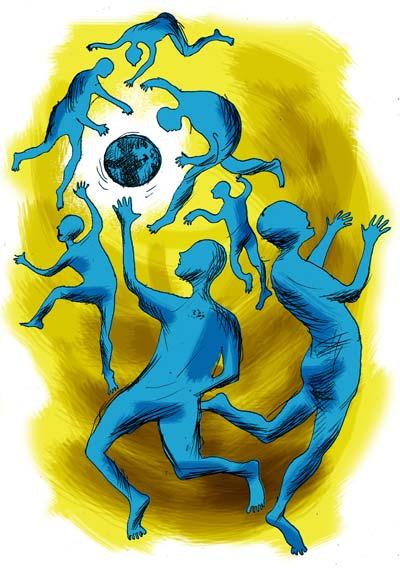 Ancient Mayan scholars have predicted the world will end December 21.
But film director Suparn Verma is not perturbed. He tell us why.
Illustration: Dominic Xavier.
2011 was a sh-tty year.
Why go into the reasons? Rewind 2011 is still showing non-stop on the television channels, in newspapers and on Web sites.
We could say it was a character-building year. But I would have preferred less character enrichment.
More smiles. Less catastrophes and deaths. A better rupee rate wouldn't hurt either.
But 2012 is destined to be the year, according to the ancient Mayans of Central America, when the world will be extinguished.
Did the Mayans run out of paper and hence maybe their predictions are not true?
Or will we make contact with extra-terrestrial creatures and save ourselves?
The possibilities are infinite.
For me, that is the beauty of life and the human race. We may be divided by governments, distance, race, creed, caste, colour and gender... but we are all united by one constant and common emotion -- HOPE.
Our capacity to believe that things will get better is what really keeps the world turning. This cumulative hope allows us to soldier on through heartbreaks, failures, tears and the trials and tribulations of life. And finally reach our successes and celebrations. And create our own little place on the sands of time.
The world is a lonely place. A cold place. But we have struggled as a race to create devices to ensure its warm enough to stop Hell Freezing Over. We created festivals, we created religion, just so that we are not alone.
This generation created Instant Messengers, Chat Rooms, Twitter, Zara Bol, My Pages, Facebook, BBM and WhatsApp. Our daily life interactions have changed entirely.
Handles are often our friends. Sometimes for days, weeks and months, we talk to them, baring our innermost secrets, our souls, till we finally meet.
Some have happy endings (pun unintentionally intended). Some don't.
Broken hearts litter the Internet landscape. Some come for comfort, some to forget, some seek love, some find it, some don't, some find it easier to be a bully online and some bullies find their soft cores.
This year-end too we got up, dusted ourselves off, donned our new armour, got together with loved ones, remembered lost ones, binged and celebrated the gift of life and hoped that 2012 would be better than this.
Every year gone by is an old friend, who visited us, accompanied us through the annual highs and lows, until a new friend (year) came along to walk with us, through the next 365 -- 366 this year -- days, as we search for that elusive stripper called Happiness.
A flash here, a flash there... she comes close, but she won't let us touch her. Maybe she lets us touch her, but we can't feel her.
Before you know it, your eight minutes are up and she's gone.
Happiness must be a woman. Because she completes us, fills us with joy, offers much compassion and while she lasts the world is a beautiful place.
Happiness like a woman is unpredictable. No one can own it, quite like a woman's heart.
So what is my wish for 2012?
I want to be in Chichen Itza, Mexico, on December 22, 2012, a bottle of malt whiskey in hand. In case the world does come to an end, I want to be at the place that marks the genesis of this prophecy.
If the moment comes and disappears too I just want laugh along with the spirit of the Mayans as they may laugh at our misinterpretation of their words. And our constant need for catastrophe.
Till then I'm going to live my life like I have 357 days left to live. I have no resolutions. If we are going to be part of an evolution then why make resolutions that may inhibit our growth? And even if we aren't part of an evolution, we are too fickle to keep them anyway.
I have lost folks I have loved and admired -- some way too young to go, but they taught me to make the most of life.
Imagine your life is a cycle, the top part is happiness, the bottom is sadness, as you keep riding you are going to encounter both.
So why not party when your life is up and party harder when it's down because it's bound to come up again.
So to those who are thinking of jumping into the unknown -- JUMP. You will land somewhere.
Those who are scared to fall in love and break your heart again -- LOVE. Your life is all about turning 80 and looking back at the collection of memories.
You wanna quit your job and follow your passion -- QUIT. You will never have enough money to save up and start afresh because your needs will grow as you grow.
You have nothing to lose so have no shame in following your heart. Sometimes follow your heart with your feet on the ground and sometimes just dive and Hope.
I wish you all a Happy New Year. Let us hope we don't lose the ones we love. And hope the ones we love don't break our heart. And for everything else there is always a next year.
Suparn Verma, a member of Rediff.com's founding editorial team, now directs films in Bollywood.