Radhika Mittal begins a new column on books...

My apologies to Jasper Forde for using the title of his wonderful novel Lost in A Good Book. But it so aptly sums up what I want to convey here.

I end up reading everything in fiction, but am biased against more ?intellectual? works non-fiction (though biographies occasionally). for pure enjoyment, and something doesn?t interest me even if it is at top of the best-seller lists -- I won?t read it.

So is there a particular genre of books I prefer? I can't say there is, though of late I have been into fantasy in a big way. But the classics, sci-fi, thrillers, historical fiction, horror, whodunits, YA (Young Adult) novels and just regular fiction (which I can't categorize) is what I like to read.

SOME in top of the mind authors different genres:
Fantasy: Terry Pratchett, J R R Tolkien, George R R Martin, Robert Jordan, Patricia A McKillip, Robin McKinley, Jasper Fforde, Neil Gaiman.
Classics: Jane Austen, the Bronte Sisters, Lewis Carroll, Oscar Wilde, John Steinbeck, Louisa May Alcott, Charles Dickens, William Makepeace Thackeray, Alexandre Dumas.
Science Fiction: Isaac Asimov, Douglas Adams.
Thrillers/Whodunits: Agatha Christie, Ruth Rendell, Steig Larsson, C J Sansom, Arthur Conan Doyle.
Horror: Stephen King, Peter Straub, Anne Rice, Dean Koontz.
YA/Children's: Jonathan Stroud, C S Lewis, J K Rowling, Rosemary Sutcliff, Roald Dahl, Enid Blyton, Terry Pratchett, Neil Gaiman, Philip Pullman.
Historical Fiction/Biographies: Anya Seton, Alison Weir, Irving Stone, Pierre La Mure, Philippa Gregory, C J Sansom.
Regular Fiction: Amy Tan, Joanne Harris, James Herriott, Fannie Flagg, Daphne Du Maurier...
I felt I'd note my views on the books I read. Maybe you think differently and it'd be nice if you could share your views with me.

Maybe I'll interest you in some books and maybe you will recommend books to me I haven't read earlier. Lots of 'maybes' up there, isn't it :-)
---
Drood
by
Dan Simmons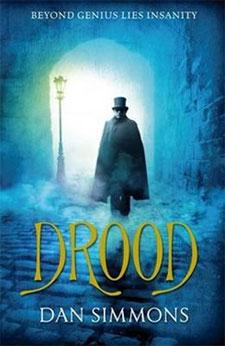 I just finished reading this 800-page tome. It is set in Victorian England and written in the voice of Wilkie Collins (the novelist who wrote The Woman in White, The Moonstone). The story revolves around Collins's friendship and professional rivalry (on Wilkie's part) with Charles Dickens and the novelists' experiences with a mysterious character called Drood.
Many readers have called the story creepy; I agree. The title is derived from Dickens' unfinished novel The Mystery of Edwin Drood. The story takes off with Dickens' encounter with a strange character called Drood at the site of a railway crash. Dickens and Wilkie pursue Drood through the sewers and the underground of London.
And therein lies the mystery: Who is Drood? Is he really immortal? Has he murdered 300 people?
Collins stumbles through much of the novel in an opium-addled haze. Drood pursues him in his nightmares and there are grisly unsolved murders. There is mesmerism, and an Egyptian angle adds further twists to the tale.
The book started well though it rambled in places with all its details about London and Dickens and Collins. By and large it held my interest until I got to the last 100 pages. What an anti-climatic end! All the build-up dissolved in a poof of smoke! I feel cheated!
Simmons has done tremendous research on both authors and the book is full of interesting details about their lives, their professional collaboration and personal relationships. I did not know that Dickens was involved in a railway accident five years before his death, or that he had a very public separation from his wife (with whom he had 10 children), or of his passion for a young actress which lasted till his death.
Since Collins is the narrator, a lot of the book reads like a personal diary and reveals his jealousy of Dickens, his drug-induced hallucinations, his imaginary doppelganger, his affairs with two women, neither of whom he married.
There are several interesting passages on the underbelly of London of that time including crypts and an entire city underground though the numerous references to the stench and volume of sewage can get overpowering. While these are interesting in themselves, the amount of detail takes away from the story.
After reading Drood, I want to read Wilkie Collins' novels The Woman in White and The Moonstone (which is considered the first detective novel). I would have given the book 3 stars on the basis of 90% of the book, but deducted ½ a star for the let-down at the end.
My rating: 2.5
***
I had a lot of free time this past month as I wasn't well and spent time at home. Family and friends kept me well supplied with reading material since I was devouring almost a book a day. Many of the new releases were books I wouldn't usually buy (maybe borrow) so there was quite a range I ended up reading.
***
The Best of Me
by
Nicholas Sparks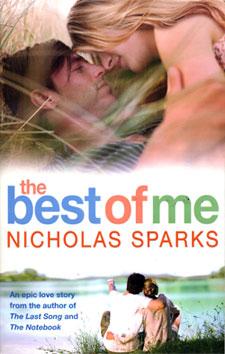 I am not a Sparks fan, so I admit to being a little biased. I did like his The Notebook when I read it many years ago. But tastes in writers change over time. Some authors are timeless, but for me NS is unfortunately not in that category.
Dawson and Amanda meet up after 25 years when they return to their hometown for a dear friend's funeral. They had been high school sweethearts, and as the blurb puts it 'from opposite sides of the tracks.' They are forced to part in tragic circumstances and have had no contact with each other till they are summoned to their friend Tuck's funeral.
Tuck seems to have planned it down to the last detail how to get the two of them together after all these years. You really need to suspend disbelief and get on with the book!
The book is about a love so strong (really!! In high school?) that Dawson has never been interested in another woman. Amanda is married and has two children, but you get the sense that she is vaguely unhappy with her life.
It is pretty predictable what's going to happen -- they get together, the sparks are still there, but Amanda has to grapple with the fact that she has a family. Someone is also trying to kill Dawson and there is a ghost he keeps seeing from time to time.
The ending is so contrived and absurd that while I spotted it a mile away I kept telling myself that NS wouldn't actually be crazy enough to attempt it.
Designed to make you weep buckets, but too sappy to work.
My rating: 1
***
Scarecrow and the Army of Thieves
by
Matthew Reilly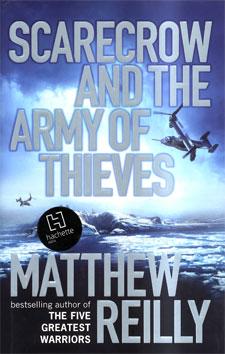 I
can see this one as a movie. Reilly seems to have written it with an eye on a movie deal. Full of non-stop action, it's an exhausting read since the tension and action never let up. It reminds me of Shankar Mahadevan's song,
Breathless
.
I
haven't read the other novels in the Scarecrow series, but that doesn't take away from this book. The main events take place in a span of eight hours. The world is under threat from a terrorist army that has seized an abandoned Soviet base known as Dragon Island in the Arctic. The terrorists have activated a deadly weapon that will destroy half of Earth in a few hours.
Our only hope is a small research team of Marines and civilians (and a robot)
that happen to be in the vicinity. They are not equipped to take on the terrorists, but will try anyway 'because someone has to.'
Twists
and turns follow, accompanied by lots of new gadgets, hungry polar bears and rats, submarines, and sadistic terrorists. The cast is fun to watch (you feel you are watching a movie!). Scarecrow -- the book's hero, Marine Captain Schofield; Call Sign: Scarecrow -- is your typical action hero (with a tragic past) who will 'leave no man behind.'
Things
get over the top especially towards the end, but you don't really care. A time-pass read.
My rating: 3
***
Dead Man's Grip
by
Peter James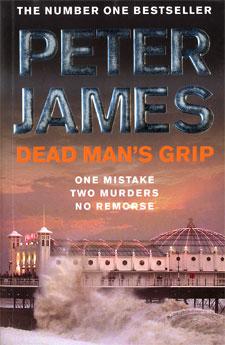 Grip Man?s>