September 18, 2007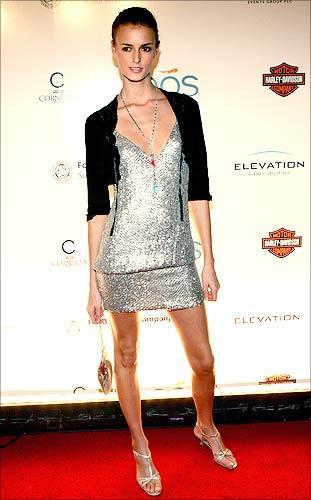 After a brief hiatus, the shrug has made a strong comeback on the fashion scene and has been spotted at red carpet events and coffee shops alike.
A well-fitted short jacket or pullover that usually has sleeves that end halfway down your forearm, the shrug is a great way to be fashionable without showing too much skin.
A short denim shrug may be paired with a sexy little spaghetti strap top on jeans and a clingy lycra or knit option for a more formal gown or dress. It works more as an accessory rather than a piece of clothing, and can be comfortably slipped off your shoulders and into your bag if it's warm or just unnecessary.
A shrug in denim or lycra could cost you as little as Rs 300 (unbranded), while a fancier option with beadwork, lace or sequins could go up to around Rs 1000.
Photograph: Paul Hawthorne/Getty Images


Do you want to see your fashion fundas on rediff.com? If so, mail a pic of your favourite fashion accessory, along with a brief description of where you got it and how much you paid for it, to getahead@rediff.co.in. Make sure to include your name, age, occupation, and contact details, and we'll feature the best entries!