September 17, 2007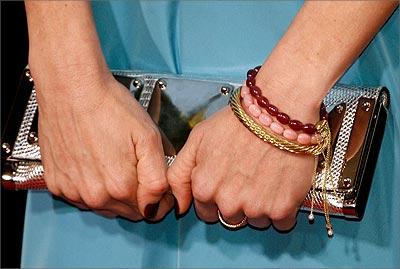 Sure, bling is in, but if you're not one for chunky rhinestone studded bracelets, fret not!
Pretty beads in any colour of the rainbow are a great way to accessorise with no fear of being over the top.
Multiple strands of fine beads around your neck or just one or two on your wrist, are light, add colour and can just be thrown on without a care for whether they match perfectly with the colour of your outfit!
So, pick up your strands at any little corner shop for as little as Rs 20. The chunky variety with gold and silver patterns painted on could go up to Rs 200.
Photograph: Kevin Winter/Getty Images


Do you want to see your fashion fundas on rediff.com? If so, mail a pic of your favourite fashion accessory, along with a brief description of where you got it and how much you paid for it, to getahead@rediff.co.in. Make sure to include your name, age, occupation, and contact details, and we'll feature the best entries!