Advertisement
September 12, 2007


Taking a steady relationship to the next level translates to either popping the question or subletting a flat together. We decided to test the pet-peeve waters by talking to five couples in various stages of marriage and live-ins. Here's what we saw:

Couple #1: Robin and Shalini
Not only have Robin and his girlfriend Shalini been living together for close to two years, but starting January this year, both engineers have been working in the tech department of a Delhi-based multinational. Going to bed and waking up together is one thing, but seeing each other at work too ensures that they hardly have any time apart.

"We don't need any space," is how Shalini presents it, before launching into a string of unprintable 'adorable' nicknames for Robin. The latter says space is the least of their issues, citing 'the pressure of the M-word' as something that keeps looming over them. "It all seems a makeshift arrangement," he says, "And we're living like happy hippies trying hard not to grow up."

While growing up, that is. Their little pad is a friendly place, and they say the issues aren't with each other but with what people expect of them. "Towels on the floor are a pain," Shalini laughs, "but then those are roommate issues, not relationship issues."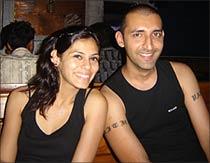 Couple #2: Megha and Nikhil
When asked to list relationship issues, the chirpy Megha starts with clothes. "They're either 'too short' or 'too revealing'," she complains, expressing husband Nik's reservations. A Mumbai couple, Nikhil and Megha have been married a few months now, and they sure agree they have issues.
Sleeping till late on weekends and needing the bathroom at the same time pop up instantly and Megha states friends are a big issue, both having their own circles. As a result, "when one is in the mood to go out or party, the other one always has a stomach ache."
Megha, complaining at the TV being on till really late, admits she's kept things untidy, but finds it hard to deal with all the lecturing. "I hear 'you are not a kid anymore' all the time." Having said all that, the couple are admittedly having a blast, all-smiles even while complaining.
Couple #3: Preeti and Jatin
Preeti and Jatin have been married for almost four years, and she describes themselves as 'a really boring couple'. Unlike the younger couples who rant on about personal space, theirs is more an issue of time. With both working in IT firms -- and Jatin's sales job often demanding late nights -- the problem is they don't have time for each other. "We only wake up together and end up not seeing each other the rest ofthe day," Preeti whines, stressing on the importance of dinner. "At least one meal together, a couple of hours to discuss our day."
At their Mumbai house, Preeti describes some of the less important issues. "The TV is a huge issue. I don't watch much of it, and he watches loads, and I try to emotionally blackmail him to let me watch 'just two hours of Lost,' you know?" And while Preeti wants things done right on schedule, Jatin won't do "something as simple as turning off the washing machine until there's an ad-break on TV".
The conscious efforts they make to get away from the city and spend quality time together are vital, they say.
Couple #4: Aditya and Sanjana [Images]
Aditya and Sanjana moved in together three weeks ago, and currently the situation seems volatile. "Why does a man have to be a neat freak?" Sanjana consistently snarls, while Aditya's tired of having to turn down his loud music. She works in PR, he is in advertising, and it seems like a typical Mumbai media couple. "What isn't an issue, man?" asks Adi, complaining about how everything is blown out of proportion. "Two nights ago we had a huge fight because I called some friends over without telling her first. That's it. Chaos ensued."
The hours are late, the times are long and right now, as Sanjana says, "We just both seem to be in each other's faces all the time." Having felt the need to move their two-year relationship to the next level, they braved their apartment society ("We've said we're married," confides Adi) and Sanjana's strict parents to try this arrangement out. "It is mad," she laughs. "We seem to be fighting more than ever about things that don't matter one bit. But then we manage to stick together and have an occasional great moment, which makes all the fighting seem worth it."
Aditya is just having trouble trying to curb his smoking. "She seemed to be fine with it earlier but now I have to leave the flat to have a smoke? It's awful. It's kinda forcing me to cut back, which is good, but when we fight I just open a window and end up rebelling by smoking like mad." Sanjana cuts in to reassure us it's okay. "Things take time. You come and see us in six months time and we'll be fighting half this much. A year later, I'll hold the remote," she giggles. "And there'll be no ashtray."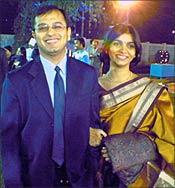 Couple #5: Manas and Swati
In a cosy marriage after an idyllic relationship, Manas and Swati are expecting their first child in January. So when asked their relationship issues, Manas is quick to talk about bills and finances. "And then there's the story of different priorities. I might want to buy a PlayStation while she wants to buy curtains." Smaller but consistent issues like what TV channel to watch also abound.
About space, Manas is philosophical. "Free time is always a problem, but we prioritise our being together over the other things," he explains, adding that the couple likes to go get household work done together so they can spend more time.
"These days you go to the mall and do both household shopping for veggies as well as dinner out, all in the same outing," Manas says gratefully. The overworked media couple claims to be glad to have 'no social life' but admits to relative trouble.
"Relatives come over and stay at home, or there are functions you are virtually forced to attend, with relatives who bug the hell out of you," Manas says, careful to stress that marriage comes with a lot of compromise "from both parties". "But you both do it, because you care," he smiles.