September 10, 2007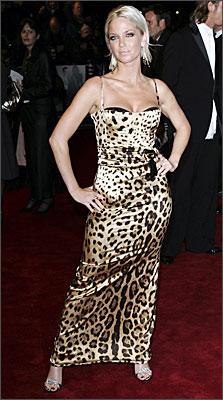 Animal prints are never really 'in' or 'out' -- it just depends on what use they have been put to.
While certain outfits, like the delicious dress seen here, are a style statement in themselves, there are others which will have fashionistas gossiping for days. So you've got to choose carefully.
Unless you're a rap star, animal print headgear -- we're talking hats and caps -- is not for you. On the other hand, shoes and scarves in the same print will likely set off several outfits and the same goes for handbags.
With dresses, of course, you have to go by the cut and fabric. Velvety cloth will have you looking more like you belong in the jungle than at a social do and cotton may look frumpy -- but silk and spandex may be appropriate.
Of course, there isn't any particular place where you can look for such prints, but they aren't rare either -- keep your eyes open at department stores and who knows, you just may find something that brings out the best in you.
Photograph: Gareth Cattermole/Getty Images


Do you want to see your fashion fundas on rediff.com? If so, mail a pic of your favourite fashion accessory, along with a brief description of where you got it and how much you paid for it, to getahead@rediff.co.in. Make sure to include your name, age, occupation, and contact details, and we'll feature the best entries!