October 12, 2007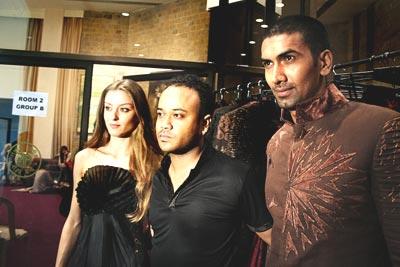 This year's Lakme Fashion Week Spring/Summer 08 showing will see a smashing new line by 26-year-old Delhi-based designer Abdul Halder. Participating in the 'Emerging Designers' category, Halder has tied up with international fashion house Miraya's to launch his own label, Halder Miraya's.
Halder's line for Fashion Week explores a unique concept -- 'The Mafia and the Seductress'. Inspired by the Italian Mafia and particularly the movie 'The Godfather', his collection is grand, dramatic and gives a whole new meaning to the term 'power dressing'. A line with outfits for both men and women, the designer showcases clothing for the patriarchal mafia 'Boss', surrounded by the women in his life -- his muse, his seductress and his confidence.
The men's line consists of linens in dark hues of brown and black, while the womenswear is mainly rust and copper-toned, with some of their outfits embellished with Swarovski crystals. In his own words, Halder's collection is 'high-end streetwear' and the prices are rather steep -- women's outfits start at $600 and menswear at $1000.
Photograph: Uttam Ghosh