Advertisement
July 19, 2007


We asked Get Ahead readers to share their stories of weight loss with us. Here, Hardeep Singh, a 29-year-old businessman from Punjab, shares how he devised a weight-loss programme that works:


Ever since I remember I used to be fat. I was the fat kid in class, and always had a plan for what I wanted to eat next. Being a Punjabi, food was of paramount importance -- my mom and grandmother always insisted on oodles of butter with paranthas in the morning; snacks were paneer pakoras and chicken kathi rolls; lunch consisted of puri chole in desi ghee or mutton biryani. If we went shopping in the evening at about 6 o'clock, we'd gorge on tandoori chicken or fried fish, which was followed by butter chicken or masala chicken with butter naans for dinner. Cake and gulab jamuns completed the meal. For us, going out meant eating out.

 

After I completed my Plus 2, I went for higher studies to Australia and there I ate like a pig -- everything from 8-inch pizzas to KFC and Mac burgers. Sydney had the best buffet counters and I ate until I could not breathe -- even then I'd do justice to the spread of desserts.

 

For a man of my age and my level of activity, around 2,200 calories per day would be ideal to maintain a healthy weight, but gauging from the amount and kinds of food I was eating, my daily intake was probably around 3,500 to 4,000 calories a day.

 

My friends at university would joke about my appearance, but all I cared about was my food and what my next meal would be.


I came back to India after I completed my course, joined the family business, got married and had a kid. While business was booming, I was ballooning. I was so busy with work; taking care of myself took a backseat.

 

I had to go to Mumbai last summer for a business trip and took my wife and kid along. As I was on the stairs boarding the airplane, holding my son, I felt out of breath and could not stand. I was immediately given a seat and the hostess offered me some water.

 

The flight took off eventually and I was left asking myself: "Do I want to die of heart attack at age of 28?" I wanted to play football with my kid and wanted to teach him how to ride a bike. But with my obese body, I could not even climb the stairs with my kid leave alone play any kind of sport.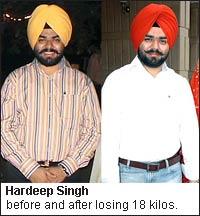 Bolt from the sky
I came back from my trip and went for a check-up. My cholesterol was 300, way above the normal range of 200. At my height 5' 9", my weight was 94 kilos (20 kg over). My body mass index was 30, which should have been 25. I was 28 but looked 10 years older with my physique. People my age would call me uncle; my cousins who were older than me looked much younger than me. That was a bolt that made me want to go from obese to normal.

Getting into the groove
I wanted to look young and fit -- my battle had begun. First, I started visiting the gym for one and a half hours daily. I'd do cardio exercises as instructed, but once out of the gym I used to eat like before.
I'd spend 30 minutes jogging on the treadmill, burning 350 calories, and then have a KFC zinger burger, which in five minutes undid all my hard work. This cycle continued for two months and my weight wouldn't budge -- I was losing the battle.
That's when I began to browse websites and gathered information on how to lose weight. I realised that until I began to eat right, I would not lose weight. Portion control became my way of eating and regular walks became my routine. Last August, at 94 kilos, I started my war against my weight.
This is the formula I adopted:
500 calories X 7 = 3500 calories
3500 calories = 1 pound


So, if I consumed 1000 calories less or burn 1000 calories more a day; I would lose two pounds or about one kilo/week.


Following this mantra, I devised a new diet for myself.
~ For breakfast (9 am): 1 vegetable-stuffed roti with curd and a cup of tea

~ Pre-lunch snack (11 pm): 1 apple

~ Lunch (2 pm): A Subway sandwich (6 inches, no cheese) and juice OR two chappatis, a bowl of dal and vegetables with lots of salad

~ Evening snack (4 pm): Sugar-free tea or coffee with two biscuits or fruit salad
~ Dinner (7 pm): 2 chappatis or small bowl of rice with vegetables, dal and a piece of tandoori chicken.

Fried foods, colas and sweets were cut out, but I'd indulge in some kheer or chocolate pudding cooked with Sugarfree or Equal once in a while. Even while eating out or at weddings I'd make sure to stick to my portion-control diet. With this diet, and my faithful iPod with me, I began to walk and jog at least 50 km every week.

I gradually began to lose weight, around a kilo a week and eventually by year-end I was 18 kilos lighter, weighing in at 76 kilos. I felt great; I went from 40-inch jeans to 34 inches; people would complement me; my wife's friends would do double takes when I entered the room!

It's been almost six months now that I have maintained my weight at 76 kg. My BMI is 24 which is normal and my cholesterol is 190. Although I no longer follow my weight-loss diet, I choose to eat healthy food, and while eating out I watch the portions I eat. Now I eat almost everything, but colas are still a no-no.

Now when I see overweight people, I feel sorry because I know how bad it feels and I want to help. When I travel abroad I am astonished to see how the governments there work to make their nation fit. But we don't have this yet. The number of people dying of heart-related diseases is growing, but the government is yet to address this issue. I hope a time will come when we take our bodies as seriously as we take other aspects of our lives.
DON'T MISS!
'I dropped 10 kilos in three months'
'I lost 16 kilos without exercise'
A weight loss plan for junk food lovers
'I lost 14 kilos in three months'
'50 kilos lost in a year's time'
'My way from 84 kilos to 68 kilos'
'How I lost 30 kilos'
'I lost 11 kilos in two months'

Were you once overweight? How did you manage to drop the excess baggage? Email your contributions to howilostweight@rediffmail.com, along with your name, age, occupation, contact details, and photographs of yourself both before and after your weight loss. We'll publish the best entries right here on Get Ahead.