Erapalli Ananthrao Srinivas Prasanna is arguably the greatest off-spinner to ever grace the game.
A member of India's famous spin quartet, Pras, Bishen Singh Bedi, Srinivas Venkataraghavan and Bhagwat Subramaniam Chandrashekar won many matches for India.
In this first person account, Pras salutes Chandra!
C
handrasekhar and I were from the same club. It was great to have him bowling at the other end. He was a tremendous morale-booster and teammate through and through.
He was not a bowler who planned out wickets. He was most unassuming, but when he struck, he struck gold.
There are some moments from our playing days I will always cherish.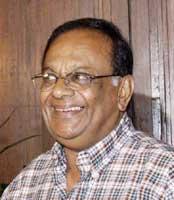 One is the great performance he came up with in England on the 1971 tour. India won the series by winning the third and final Test by four wickets. Chandra stood out in that match. He claimed only two wickets in the first innings, but demolished England in the second, bagging six.
He had another brilliant performance against the West Indies at the Brabourne stadium in 1966-67.  He took seven wickets in the first innings and four in the second but, unfortunately, we lost that match by six wickets.
In fact, I share a special and close relationship with Chandra. He has always been like my kid brother. We are old family friends and still meet and talk about how cricket has changed over the years and what could be the possible reasons for it. But we are happy that the current Indian cricketers are being appreciated for their efforts.
As my dear friend celebrates his 60th birthday, I hope and pray he lives a long and glorious life.
May God be with him, always.
E A S Prasanna spoke with Imran Shaikh.