Pakistan wicketkeeper Zulqarnain Haider, who fled to London [ Images ] midway through a series against South Africa [ Images ] in the UAE after receiving death threats for refusing to fix matches, on Tuesday announced his retirement from international cricket.
-Also Read: I fled from match-fixers: Haider
Haider told the Geo News channel from London that he had taken the decision to retire since there was lot of pressure on him and he was getting threats from the people, who had wanted him to fix matches in the just concluded one-day series against South Africa in the UAE.
"My family is also still getting threats. I have decided to retire because there is lot of pressure on me and I can't take it," he added.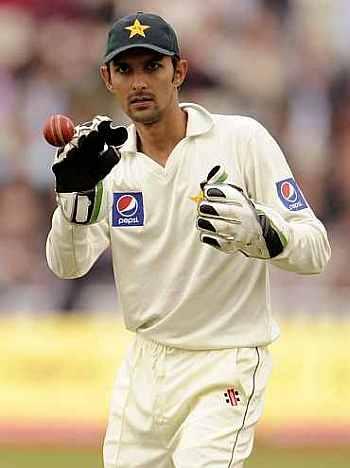 Haider left the team hotel in Dubai [ Images ] on Monday in mysterious circumstances and flew to London with the Pakistan Cricket Board later announcing it would be holding an inquiry into the whole matter.
"I will be sending a letter to the PCB to inform them about my decision to retire," he said.
Haider also confirmed that the person who approached him to fix matches had met him outside the team hotel and that he got a feeling that there were others with him.
"You will get lot of money if you cooperate with us but if you don't cooperate with us you wouldn't remain in the team and there will lot of problems for them," he said.
Adnan Akmal to replace Zulqarnain
Uncapped wicketkeeper batsman Adnan Akmal will replace Zulqarnain Haider, who left the team in midway through a series after receiving threats from bookies, in the Pakistan squad for the two Tests against South Africa in Dubai and Abu Dhabi.
The Pakistan Cricket Board named Adnan, younger brother of Kamran and Umar Akmal [ Images ], as Zulqarnain's replacement while Muhammad Hafeez will take the place of leg-spinner Danish Kaneria in the squad.
"The replacements have been named by the selectors after consultations with the team management and approval by the board Chairman (Ejaz Butt)," a PCB spokesman said.
Adnan is yet to represent the senior national team and will be the third of the Akmal brothers to play for Pakistan.
Incidentally, Kaneria was stopped from flying to Dubai to join the Test squad last week by the PCB even as the leg-spinner said that so far he had not been informed about the reasons behind the decision.
"I have tried to find out from the PCB why I can't join the team but so far they have not told me anything," Kaneria added.
But PCB, on its part, said that it had not cleared Kaneria to join the team.