Indian cricketer Yuvraj Singh has revealed that the malignant lung tumour, for which he is undergoing chemotherapy in the Unites States, is "almost out of his system" after the first cycle of treatment.
"Got very good news from dr lawrence today! The tumor is almost way out of the system Aftr reading my todays scan! Second cycle has started," Yuvraj, being treated at the Boston Institute of Cancer Research, wrote on his Twitter account on Thursday.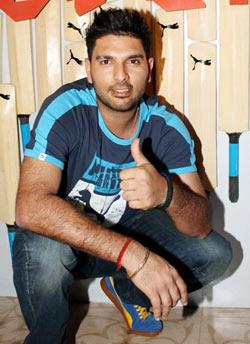 The 30-year-old, who went to US last month, has gone bald during the treatment, which will go on till the last week of March before the process of rehabilitation starts in April.
The dashing batsman had earlier got a message from US cycling legend Lance Armstrong, whose own inspirational triumph over cancer is well-documented, wishing him a speedy recovery.
"Message from @lancearmstrong makes me feel better! Thank you lance means a lot hope we can meet," tweeted Yuvraj.
- Go Yuvi!! Livestrong, Armstrong tells Yuvraj
A photo of the Armstrong's message, posted by Yuvraj, read: "Yuvi, I want you to know that the entire LIVESTRONG team is here for you.
"We say it all the time, and truly believe in it: Knowledge is power, Unity is strength, and Attitude is everything. Please know that we are here to help you and your family in any way possible. Go Yuvi!! Livestrong."
After being diagnosed with the illness, Yuvraj has not played competitive cricket since taking part in two of three home Tests against the West Indies in November.