Batsman Younis Khan struck an unbeaten half-century to help Pakistan out of early trouble in their second innings on day three of the first Test against Zimbabwe at Harare Sports Club on Thursday.
Younis was unbeaten on 76 from 174 balls as he took his side to 168 for four at the close of play, a lead of 90 with two days remaining.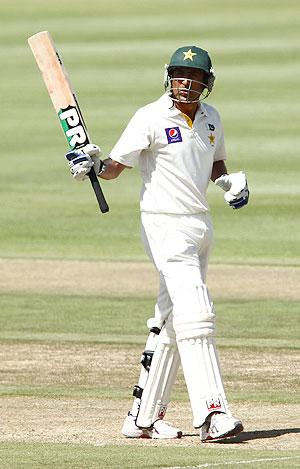 The 35-year-old put on 116 for the fourth wicket with skipper Misbah-ul-Haq (52) after the visitors recovered from the shock of losing three wickets by the time they had reached 23.
Younis will continue on Friday with Asad Shafiq (15 not out) as Pakistan try to set Zimbabwe a target of over 200, which will be a challenge on a rapidly wearing wicket.
Zimbabwe had resumed their innings on 281 for seven, with Elton Chigumbura compiling 69 before he fell and the hosts ended on 327, a lead of 78 after the first innings.
Scoreboard
Pakistan, first innings, 249
Zimbabwe, first innings (overnight 281-7)
T Mawoyo c Adnan Akmal b Junaid Khan 13
V Sibanda c Adnan Akmal b Junaid Khan 31
H Masakadza b Saeed Ajmal 19
Sikandar Raza c Misbah-ul-Haq b Saeed Ajmal 60
M Waller c Mohammad Hafeez b Saeed Ajmal 70
E Chigumbura c Azhar Ali b Saeed Ajmal 69
R Mutumbami lbw b Saeed Ajmal 13
P Utseya b Rahat Ali 16
S Masakadza lbw b Saeed Ajmal 14
T Panyangara not out 4
T Chatara c Younis Khan b Saeed Ajmal 0
Extras (b-5, lb-11, w-2) 18
Total (103.3 overs) 327
Fall of wickets: 1-25, 2-68, 3-68, 4-195, 5-212, 6-235, 7-278, 8-310, 9-327
Bowling: Junaid Khan 25-8-71-2, Rahat Ali 23-3-70-1, Abdur Rehman 19-5-56-0, Saeed Ajmal 32.3-4-95-7, Younis Khan 4-1-19-0.
Pakistan, second innings
Khurram Manzoor lbw b Panyangara 5
Mohammad Hafeez c Mawoyo b Chatara 16
Azhar Ali lbw b Panyangara 0
Younis Khan batting 76
Misbah-ul-Haq c Sibanda b S. Masakadza 52
Asad Shafiq batting 15
Extras (b-4) 4
Total (4 wkts, 70 overs) 168
Fall of wickets: 1-17, 2-21, 3-23, 4-139
Bowling: Chatara 18-5-48-1, Panyangara 13-7-15-2, Utseya 18-3-54-0, S Masakadza 16-1-41-1, H Masakadza 5-3-6-0.
Photograph: Shaun Roy/Gallo Images/Getty Images