Three run outs cost Zimbabwe dear as they slumped to a 108-run loss and a 2-1 series defeat to Pakistan in the third one-day international at Harare Sports Club on Saturday.
Set 261 to win, Zimbabwe made a solid start, but poor running cost them the key wickets of skipper Brendan Taylor, Sean Williams and Prosper Utseya as they slumped to 152 all out in 40 overs.
It was a disappointing end to the series for the home side, who won the first match on Tuesday.
Saturday's decider was overshadowed by the team's dispute with the Zimbabwe cricket board over unpaid salaries.
Having won the toss and elected to field, Zimbabwe's bowlers contained Pakistan well in the first 25 overs, even if they found wickets hard to come by.
But when Mohammad Hafeez left the field injured in the 23rd over, it brought captain Misbah-ul-Haq to the wicket and the tempo changed.
Pakistan scored 94 runs in the first half of their innings and 166 in the second, with Misbah's 67 a key factor. Ahmed Shehzad batted patiently for 54, while there was some power hitting from Umar Amin (33) and Sarfraz Ahmed (22) towards the end of the innings.
Tendai Chatara was the pick of the home bowlers, with three for 48 from his 10 overs.
"The ball wasn't coming on to the bat, but Umar did well when he came in and gave us some momentum. It changed the scenario of the game. We thought anything over 250 would be defendable on this wicket," Pakistan captain Misbah-ul-Haq told a TV interview after the game.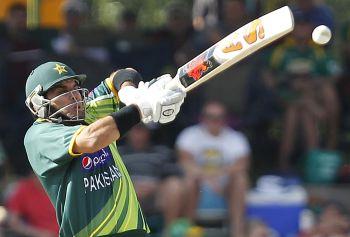 Zimbabwe began their chase cautiously and never managed to get into a position where it looked as though they would threaten the target.
When Taylor (26) was run out by a direct hit from Misbah they had slumped to 66 for three, and the Pakistan skipper struck again to remove the dangerous Williams (2).
Utseya (23) briefly looked to build a partnership with innings top-scorer Malcolm Waller (48), but he too was involved in a mix-up in the middle and run out.
All seven Zimbabwe wickets that fell to bowlers were claimed by spinners as Pakistan strangled the scoring rate on a slow, turning track.
"We were up for it, we restricted them to a total we felt comfortable chasing, but there was a bit of panic there and we could not chase them down," Taylor said. "A couple of run outs did not help the cause."
Scorecard
Pakistan innings
Nasir Jamshed c Taylor b Chatara 38
Ahmed Shehzad c Sikandar Raza b H. Masakadza 54
Mohammad Hafeez not out 26
Misbah-ul-Haq c Sikandar Raza b S. Masakadza 67
Umar Amin c & b Utseya 33
Shahid Afridi c Taylor b Chatara 7
Sarfraz Ahmed c Taylor b Chatara 22
Abdur Rehman not out 0
Extras (lb-2, w-11) 13
Totals (for six wickets, 50 overs) 260
Fall of wickets: 1-66, 2-119, 3-170, 4-195, 5-243, 6-251
Bowling: T. Panyangara 10-1-62-0 (w1), S. Masakadza 10-1-65-1 (w4), P. Utseya 10-0-47-1 (w1), T. Chatara 10-1-48-3 (w4), S. Williams 5-0-27-0, H. Masakadza 5-1-9-1
Zimbabwe innings
H. Masakadza st Sarfraz Ahmed b Abdur Rehman 25
V. Sibanda c Umar Amin b Mohammad Hafeez 2
B. Taylor run out 26
Sikandar Raza lbw b Mohammad Hafeez 6
S. Williams run out 2
M. Waller c Abdur Rehman b Saeed Ajmal 48
E. Chigumbura lbw b Shahid Afridi 2
P. Utseya run out 23
S. Masakadza b Saeed Ajmal 0
T. Panyangara c & b Abdur Rehman 1
T. Chatara not out 1
Extras (lb-3, w-13) 16
Total (all out, 40 overs) 152
Fall of wickets: 1-12, 2-46, 3-66, 4-68, 5-75, 6-87, 7-145, 8-146, 9-149
Bowling: Mohammad Irfan 6-0-20-0 (w3), Mohammad Hafeez 9-0-40-2, Junaid Khan 4-1-22-0, Abdur Rehman 8-0-23-2, Shahid Afridi 6-1-29-1 (w2), Saeed Ajmal 7-1-15-2
Image: Misbah-ul-Haq
Photograph: Siphiwe Sibeko/Reuters