Pakistan's out-of-favour wicketkeeper-batsman Kamran Akmal stood by his brother Umar Akmal's side.
He opined that Umar's career was a slow start. Hence it was wrong to compare him with Virat Kohli, despite both of them making their international debut around the same time. Karman said that his younger brother did not bat at a regular position in the batting order unlike the Indian batting star.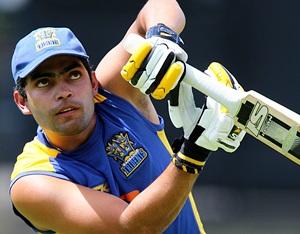 Former players and critics have been comparing the rapid progress of Kohli with that of Umar, who made his entry into the international scene with a century on debut in Test cricket and was regarded as one of Pakistan's finest batting talents.
"Umar has not been consistent because he is in and out of the team and plus he does not bat at a regular position in the batting order," Kamran said on Geo Super channel.
"You have to see that Kohli has been batting regularly for India at number three and his confidence and skills have grown. Umar has not got this opportunity.
"Umar is talented and if he is given a chance to bat higher up in the order like Kohli, I think he can also make a bigger impact and improve rapidly as a player. When you have more overs to face, you play with more freedom," he added.
Kamran declined to comment on the decision of the Pakistan team management to make Umar keep wickets in limited over matches.
"If they have taken a decision then it is good for Umar," he said.
Kamran, meanwhile, said Pakistan needed to have a fulltime batting coach.
"When Inzamam-ul-Haq spent sometime with the team before we went to India last December it made a difference to us. I think if Inzi bhai is brought in as batting coach, it will definitely be beneficial for our batsmen and their confidence will grow," he said.
Image: Umar Akmal
Photograph: Ashley Allen/Getty Images Latin America for CPL