It seems the Board of Control for Cricket in India is playing with the lives of thousands of cricket fans. At least that's what former IPS officer-turned-lawyer Y P Singh thinks.
Singh has alleged that the newly-renovated stands at the Wankhede do not conform to safety standards.
The stands' height has been increased illegally from 16 metres to 29 metres without conforming to the rules of having compulsory open space, he alleges.
"There is zero open space, which is a risk at the stadium, due to which if there is a problem of a fire or a bomb blast, then there could be a catastrophe, as the spectators cannot be evacuated quickly.
"There should have been enough open space of at least nine meters, which is not there," said Singh.
The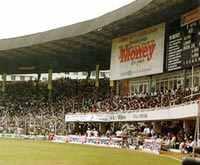 Wankhede will host three World Cup matches, including the final.
Singh also alleged that it is because of the fact that NCP chief Sharad Pawar, a former BCCI and BMC chief, that the other departments are ignoring regulations.
"People will not be safe if there is any incident in the stadium. The stands have to be evacuated in two minutes, but it will take at least half an hour," claimed Singh.
He also said that there is no provision for open space, and in case of an emergency no fire brigade engine would be able to reach the stadium.
"Under the National Building Code of India, the means of access has to be at least 24 meters. However, in this case, the provisions have been blatantly flouted. The BCCI has shown three roads from where the fire brigades can reach the stadium. However, these three places don't exist," said Singh.