Unprecedented security cover was thrown in and around the Punjab Cricket Association stadium in Mohali on ahead of Wednesday's high-profile World Cup semi-final between India and Pakistan, which will be witnessed by the Prime Ministers of both the countries.
Over 2200 cops drawn from various districts of Punjab have been put on duty to ensure foolproof security for the day-night match.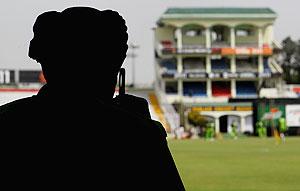 The semi-final between India and Pakistan is the first match between the two cricket-crazy nations on Indian soil since the 2008 Mumbai terror attacks. Security agencies also conducted intensive checking at the hotels in Mohali and Chandigarh. They checked the identity proof of the guests and also conducted a thorough check of their luggage, police sources said.
On Tuesday monrning , one could see endless streams of Punjab police personnel being deployed for duty in and around the stadium, which has virtually turned into a fortress.
Multi-layered security has been thrown around the stadium, including the Special Protection Group, National Security Guard, Central and State police forces.
Anti-aircraft guns will be placed strategically and NSG commandos will join a large number of security personnel to guard the stadium, which will be primarily taken over by the elite SPG.
Hotel Taj, Chandigarh, where the two teams are staying and the city itself has been brought under tight security.