Pakistan fast bowler Shoaib Akhtar and wicket-keeper Kamran Akmal were some of the first players to be taken for random dope testing ahead of the World Cup, a source said on Thursday.
Akhtar, 35, and Akmal, 29, were tested after a practice session on Wednesday by the International Cricket Council's drug inspectors, the source said.
"It's normal to test players before and during a tournament," he said.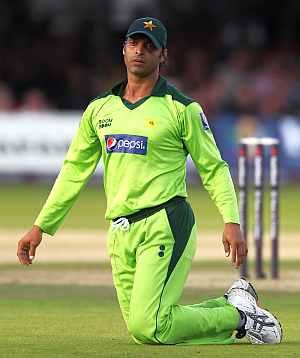 "Nothing fishy about it. Others will also be tested,"he added.
Akhtar, recalled for the World Cup after being out of action for a major part of the last three years due to a spate of injuries, tested positive for a banned drug nandrolone in 2006.
Pakistan face England in a practice match in the Bangladeshi town of Fatullah on Friday, a game the ageing Akhtar needs to perform in to make the team for their World Cup opener agaainst Kenya on February 23.
Akhtar did not bowl against Bangladesh on Tuesday with coach Waqar Younis admitting the fast bowler had yet to regain full fitness.
Akhtar, who last played a Test match in 2007, has claimed 244 one-day wickets in 160 matches at an average of 24.78.