A major concern for the Indian team was averted when Virender Sehwag was declared fit to play in the final Group B game against West Indies in Chennai on Sunday.
- Shoaib Akhtar bids moving adieu
The opener had suffered a knee injury during the match against South Africa in Nagpur on Saturday and had rushed to Mumbai to get it examined giving rise to speculations as regards his participation in the crucial game.
The fact that he didn't take part in the team's practice sessions in the last two days further fuelled the speculations.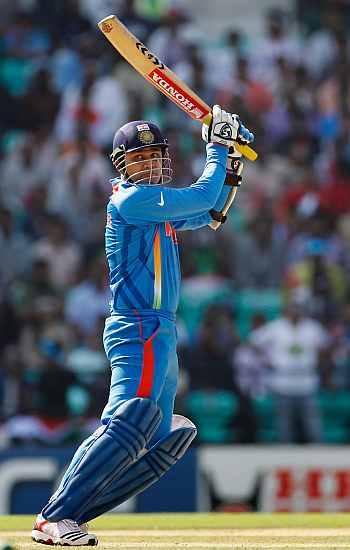 However, on Thursday the board confirmed that Sehwag would indeed be playing India's final group game.
"Sehwag will play on Sunday," said BCCI president-elect N Srinivasan.
"The issue was not particularly serious and so the board didn't come out with a statement earlier," he added.
It is imperative here to mention that the swollen knee was Sehwag's third injury in this tournament.
The 33-year-old had hurt his left thigh during the tournament opener against Bangladesh in Mirpur. It is to his credit that Sehwag continued to bat, albeit with a runner, and went on to post a memorable 175 thereby helping India to a comprehensive win.
The opener had also been hit in the rib cage during the practice ahead of India's game against England in Bangalore and had to be rushed to Delhi to consult to his doctor soon after the said match.
Prior to the World Cup too, Sehwag had to return home midway through India's tour of South Africa with a shoulder injury.
However, his being fit to play against West Indies is good news for a team still reeling from the effects of that defeat against South Africa.